Step-by-Step Renovation Guide: Kitchen Cabinets Defined
---
Step-by-Step Renovation Kitchen Guide
The prospect of renovating your kitchen cabinets in Toronto can be both exciting and nerve-wracking. A lot of money is riding on your decisions, and you want to end with a result that brings you joy and relief.
Below we provide you a guide into the many choices you must consider before making this decision.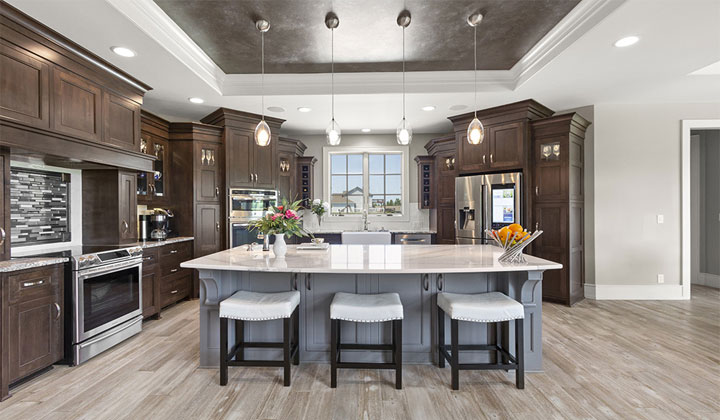 Kitchen Cabinet Styles
Always choose a kitchen cabinet style in keeping with your personality, preferences and needs. Also, consider how the other rooms blend with the look you are trying to achieve with your kitchen renovation. Here are a few options you can play around with:
Contemporary: This style is defined by open spaces and clean lines. The look is sleek, smooth and uncluttered. The focus remains on minimalism and functionality. What you see then are larger storage spaces, frosted glass cabinet doors, pendant lights and trendy stainless steel appliances.
Traditional: Traditional style implies a classic and timeless look, and is very popular with customers. The style favours decorative backsplashes, crown mouldings, marble/stone countertops and other intricate detailing to bring a decorous elegance to the kitchen.
Casual: Casual style is perfect for those who want to ditch classic formality, and yet want their
kitchen space radiating with familiarity and warmth. The style blends modern and classic elements.
Rustic: Plenty of woodsy appeal, these kitchens aim to recreate the countryside beauty of the outdoors. Everything is cherished in its raw, unpretentious form. What you will then see are butcher blocks, open shelving, grainy wooden cabinets, and wood floors.
What Are Kitchen Cabinets Made of?
This is probably the single-most important decision you have to make while renovating your kitchen cabinet in Toronto. There's a wide array of materials to choose from, depending on your taste, preference and budget.
Natural Wood selections are the top choice for custom-made kitchen cabinets:
Oak: Red and White Oak are extensively used for cabinets. Both are strong and durable, have a pronounced grainy texture, and accept stains well. They are available in colours ranging yellows, reds and pinks. Many people love the feel of original Oak, and what more, it is relatively inexpensive.
Hard Maple: A premium choice for semi-custom and custom-made cabinets, Maple with its pale colours and calm grain pattern goes fabulously well with traditional, modern and casual-style kitchens. It is among the strongest woods and is resistant to dents and scratches. Consider going in for lighter stains or natural finishes that will enhance its beauty.
Cherry: This natural wood has texture, colour and rich sheen that you can enjoy and cherish for years to come. Visualise a Cherry cabinet in natural finish contrasted with a grey-blue Granite countertop. The result? A stunning kitchen that will catch everyone's attention. The downside is the high price.
The other mid-end choices in wood are Alder, Birch, Pine and Hickory that are all quite popular. Although wood is a firm favourite for cabinetry, it is not uncommon for people to scale down budgets by opting to partially or fully use engineered woods. The costs come down considerably, and the result can still be impressive.
Plywood: Plywood consists of thin wood sheets compressed together like a sandwich. It is durable, water-resistant and a top choice for customers and manufacturers. It is affordable, and much stronger than particleboard.
Particleboard: Made from compressed wood chips, particleboard is mostly used for inexpensive, low-end cabinets. But high-end options within particleboard continue to be popular, especially for backs and sides of cabinets.
Medium-density fibreboard: While particleboard is made from saw dust, MDF is made of wood fibres that make it strong and durable. It is high-quality substrate that is easy to cut, shape and paint. It absorbs stains perfectly allowing you to get the result you want.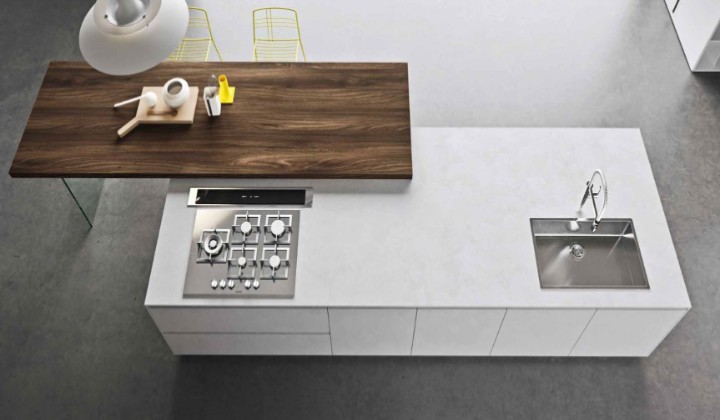 Countertops - materials and colours
Countertops are often the crown jewel in a well-appointed kitchen. Which material and colour you must choose depends on the look and functionality you are aiming for.
Marble: Marble has timeless appeal and can look ravishing in any kitchen. If you love the feel of this cool, natural stone that quietly glows like the moon in the dark, then go ahead and make this one-time investment. But remember, marble countertops need extra care and attention.
Granite: Almost as popular as Marble, Granite comes in hundreds of colours and shades. It is strong and can withstand heat, but do not take chances. Always use coasters, cutting boards and trivets to ensure its sheen and lustre remain. With a little care and precaution, your granite countertop will serve you well for years to come.
Wood: If you are aiming for a rustic style kitchen, then wood is a classy, budget-friendly option. Butcher blocks remain ever-popular. They are also a great temporary option, if you are postponing buying that expensive countertop for now.
Quartz: An engineered product, Quartz is made out of 90 % natural hard minerals and the rest with resins, polymers and pigments. The result is an extremely strong stone that is resistant to dents, cracks and scratches. It is a relatively new option, but is fast gaining popularity for its sturdiness and varied designs and colours.
Laminate: While Marble or Granite can be great to have, they are ultimately natural stones and therefore fragile. Laminate countertops are affordable, attractive and you don't have to tip toe around your kitchen or be mortified if a stain were to occur. Perfect for families with playful kids or if you are scaling down your budget.
Kitchen Cabinet Functionality
It is often easy to forget functionality in our quest to get the look, feel and aesthetics right. Make a list of all your specific requirements around the kitchen. Your aim should be to maximize storage space, and make your kitchen as accessible as possible.
It often happens that cabinets are too high to reach, forcing people to use step stools and chairs. Instead, avail of the pull-down shelf option that allows easy access to remote shelves.
Want to neatly tuck away the waste bin and recycling bin out of sight? What about having a hidden pull-out cabinet below the sink? Hidden cabinets are also excellent space-fillers. Have a spice rack in the space between the wall and the fridge. It is common to be faced with lack of countertop space during prep times. Create a pull-out countertop in the top portion of a cabinet for extra space.
Corner cabinets are the trickiest to manage. They have deep corners and spaces that get wasted. Often one has to blindly reach out to retrieve items, if one hasn't forgotten about them already. Use revolving shelves instead that nicely cover the entire space and give you easy access to items.
Kitchen Showrooms in Vaughan at Improve Canada Centre:
Once you have your preferences in place, you need the right people to make your dream a reality. Our Kitchen renovation and renovation experts in Toronto have the knowledge and expertise to guide you through this entire process. Call us at (905)677-2577 and schedule a consultation today.