The Best Faucet Brands of 2023
---
The world of bathroom renovation can seem daunting and difficult to navigate, but our vendors at Improve will make this process easier, more fun, and much clearer with their expertise! One of the most pressing questions homeowners have about their bathroom reno is how to properly pick the best bathroom brands that are available. This blog will walk you through the 5 most popular brands, and which Improve Canada Centre vendors carry them!
Picking a bathroom brand for your reno can be seen as an investment - it's an essential part of your house that will add so much value to it! Doing a bathroom reno right will make your home much more attractive, both for you to live in and as a potential property.
1. Delta
Delta faucets are a popular, cost comfortable pick for your bathroom! They utilize a smooth finish, cartridge, and water channel technology system, making them an unmatched option. In terms of your freedom of choice as a customer; Delta products come in a vast range of finishes to fit both your personal needs as well as the style and atmosphere of your bathroom. Choose from the wall-mounted, widespread, center set, or single-hole sinks or chrome, nickel, or matte black finishes!
In addition to faucets, Delta also carries soap dispensers, toilets, bathtub drains, shower heads, and bath accessories - all both stylish, high quality and affordable.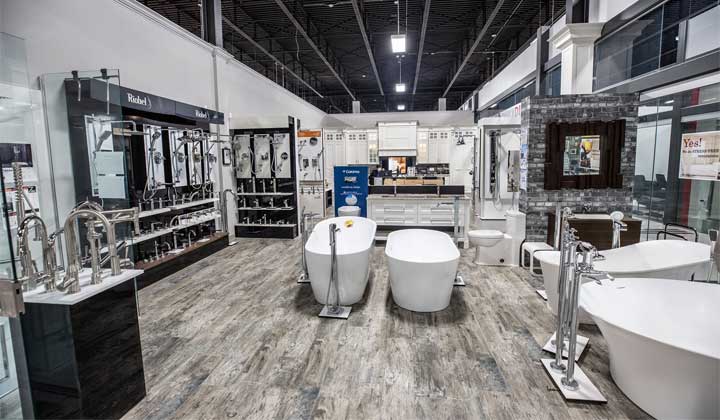 Bathroom and Kitchen Galleries Showrooms 187, 188.
2. MOEN
The Moen brand prides itself on offering comfort, luxury, and personal style through its products. For their bathroom collection, they offer bathroom faucets, shower accessories, bidets, electronic toilets, sinks, bathroom safety rails, lighting, and mirrors.
Moen bathroom products have a stainless finish, meaning that water usage or condensation droplets won't leave any pesky stains on the surface of their products - an attractive aspect! Furthermore, it should be noted that Moen is dedicated to creating products that are water-efficient and conserving, meaning that not only will your products be beautiful, but they'll be eco-friendly (both to the Earth and your water bill) as well!
3. American Standard
American Standard offers both traditional and modern style bathroom fixtures, a perfect array of variety for you to choose from when considering what products will fit the style, atmosphere, and energy of your home! Choose from toilets, faucets, sinks, showers, bathtubs, bidets, toilet seats, walk-in tubs, and bathroom accessories/furniture! In addition to providing products for residential bathroom renos, American Standard also provides products for commercial bathroom renos as well.
Their EverClean Surface technology keeps their products cleaner for longer, with Speed Connect offering a fast, time-saving connection with fewer parts and fewer headaches! Furthermore, their shower faucets are ADA-compliant, making them easier, safer, and more comfortable for those with limited mobility or disabilities.
4. KOHLER
Kohler is a longstanding brand with over a century of experience, offering innovative products for your bathroom - from sinks and faucets to showers, tubs, and toilets! They offer not only traditional and modern styles but also products in transitional styles. This is an elegant, timeless mix of both traditional and modern, and a unique aspect of this brand.
In addition to offering a wide range of product finishes, Kohler offers coordinated bathroom pieces with unique designs, as well as both wall-mounted and deck-mounted options for sink faucets. Their bathtub and shower faucets also come with a choice, allowing you to pick from single and multi-function options.
5. Grohe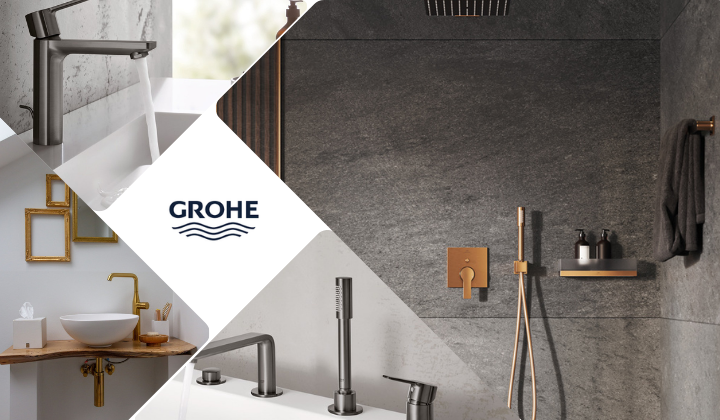 Grohe is one of the world's leading innovative brands for bathroom products, priding itself on combining style, comfort, and safety! Their products offer a wide range of shapes and styles - from traditional elegance to sleek modernity. When picking out bathroom faucets, choose from a single hole, vessel, center set, widespread, and touchless. Tub faucets also come in both deck-mounted and floor-mounted options! Choose from toilets, sinks, wall carriers, SmartControl showers, and countless bathroom accessories!