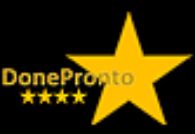 DonePronto
DonePronto is bringing homeowner and home improvement companies together in 3 unique and distinctive ways:
​
The world's most reliable customer satisfaction reviews based website.

The world's best rewards programs, dedicated to the home improvement industry.

A platform devoted to maximize customer engagements and interaction.
Our founders, realized that the three most powerful marketing strategies, customer reviews, customer rewards, customer interactions and engagements, needed to come together in one easy to use place for the benefit of both the homeowner and contractor.
​
The DonePronto is the first and only platform of its kind on the web today, it's free for everyone to use. You can research and review qualified service providers and home professionals on social media channels and home improvement review based websites easily from one place. With the ability to access millions of reviews on websites and social media channels, browse the in depth business profiles, as you search for quality, reputable, professional home service providers. You'll gain a more detailed understanding of the level of customer satisfaction and customer experience you can expect before you hire.
​
DonePronto has created a more reliable, transparent review forum. We are the first and only review and rewards based platform to applying blockchain technology to online reviews and members rewards. Blockchain technology (the technology behind Bitcoin) makes reviews more reliable and transparent because information cannot be corrupted, manipulated or deleted and it can only be added to by the original author.
DonePronto is the leading review platform helping local businesses collect member's reviews and leverage them everywhere. By allowing business to display reviews across multiple review based website, social media channels in order to highlight there business reputation, boost presents in the market, retain existing customers and capturing new customers.
​
To create loyal happy customers, businesses have to engage on multiple social media channels. The concept of DonePronto rewards and loyalty program does just that. It accounts for all the modern customer interaction and allows businesses to reward customers for all types of engagements such as purchases, social advocacy, reviews, sign-ups, referrals, photo sharing and likes on social media etc.
The most compelling components of DonePronto platform is the involvement of our online community members. Members are active in controlling the authenticity of review posted on the site and not just passive consumers. They have the ability to verify reviews, improve quality, and earn rewards for participating.
​
Reviews are more important now than they have ever been before but this applies only when homeowners are able to make valuable, accurate, and informed decisions based off true representation of the customer experience. DonePronto has identified these important needs for homeowners and contractors to achieving their full potential. DonePronto pick up were the others are falling short.
​
Please feel free to use this website, Research contractors, read the post, feedback and blog and discover some of the many advantages we offer our members. DonePronto offers this website free for you to enjoy, including all information, tools and services available to non-members from this site conditioned upon your acceptance of all terms, conditions, policies and notices stated below in footer.
Contact Us
None
7250 Keele Street, Unit: 294
Vaughan, ON L4K 1Z8