Your Guide to Flooring in Toronto
---
Flooring is an essential part of any home, not only does it serve an important function, but it also has a strong influence on your design. If you're taking on a new home renovation, you will find there is a huge selection of flooring choices to select from —from vinyl to hardwood, tiles and even specialty products like cork or bamboo.
I love innovation and when it comes to flooring, technology has allowed manufacturers to come up with new solutions to bridge the gap between form, function, and price. Vinyl flooring is now manufactured to imitate hardwood, and porcelain tile is made to replicate the look of Calcatta marble. Products like engineered wood also provide the same look you would get with solid wood at a more affordable price.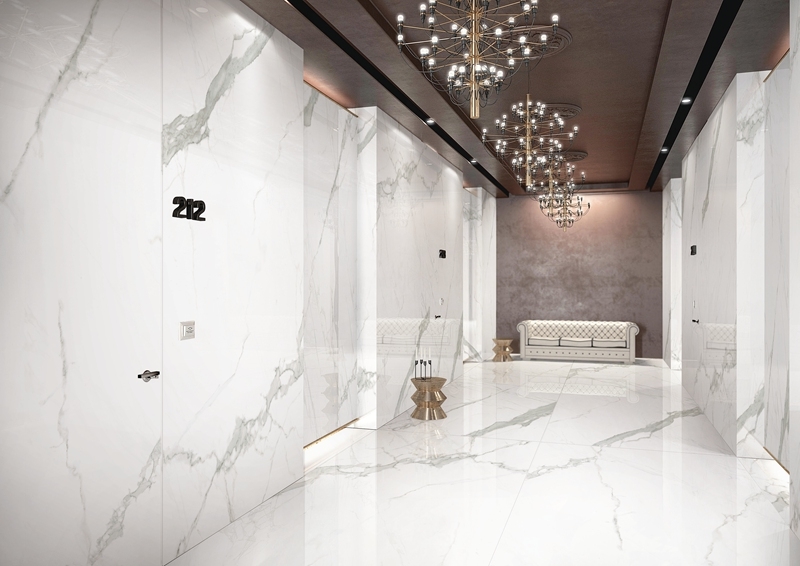 Wide range of Porcelain/Stone Slabs from Surfaces for All Purposes, Unit 305, 374
When choosing your flooring there are a few things you should consider, and if you're renovating and looking for materials in the Greater Toronto Area, Improve Canada is your destination with hundreds of vendors and products to choose from —so I have put together this guide to help you choose the right option for your home.
#1 - What Are The Main Types Of Flooring?
As I mentioned there are many options when it comes to flooring. Each material not only has a characteristic look and style, but they also differ in terms of durability, cost, and function.
Some of the most common materials include:
Solid Hardwood

Engineered Wood

Laminate

Vinyl or Linoleum

Porcelain or Ceramic Tile

Natural Stone

Carpet
Cork and bamboo are new alternative flooring materials made from eco-friendly sustainable materials. These options provide good additional insulation but may be considered more expensive in comparison to other options like hardwood, laminate and vinyl.
#2 - What Is Engineered Wood Flooring?
Engineered hardwood flooring is a cheaper alternative to solid hardwood, made up of a wood veneer glued to several layers of wood beneath it. Similar to hardwood, you can get oak or maple flooring, or even higher-end exotic wood such as Brazilian walnut which tends to be more scratch-resistant and dent-resistant —without breaking the bank.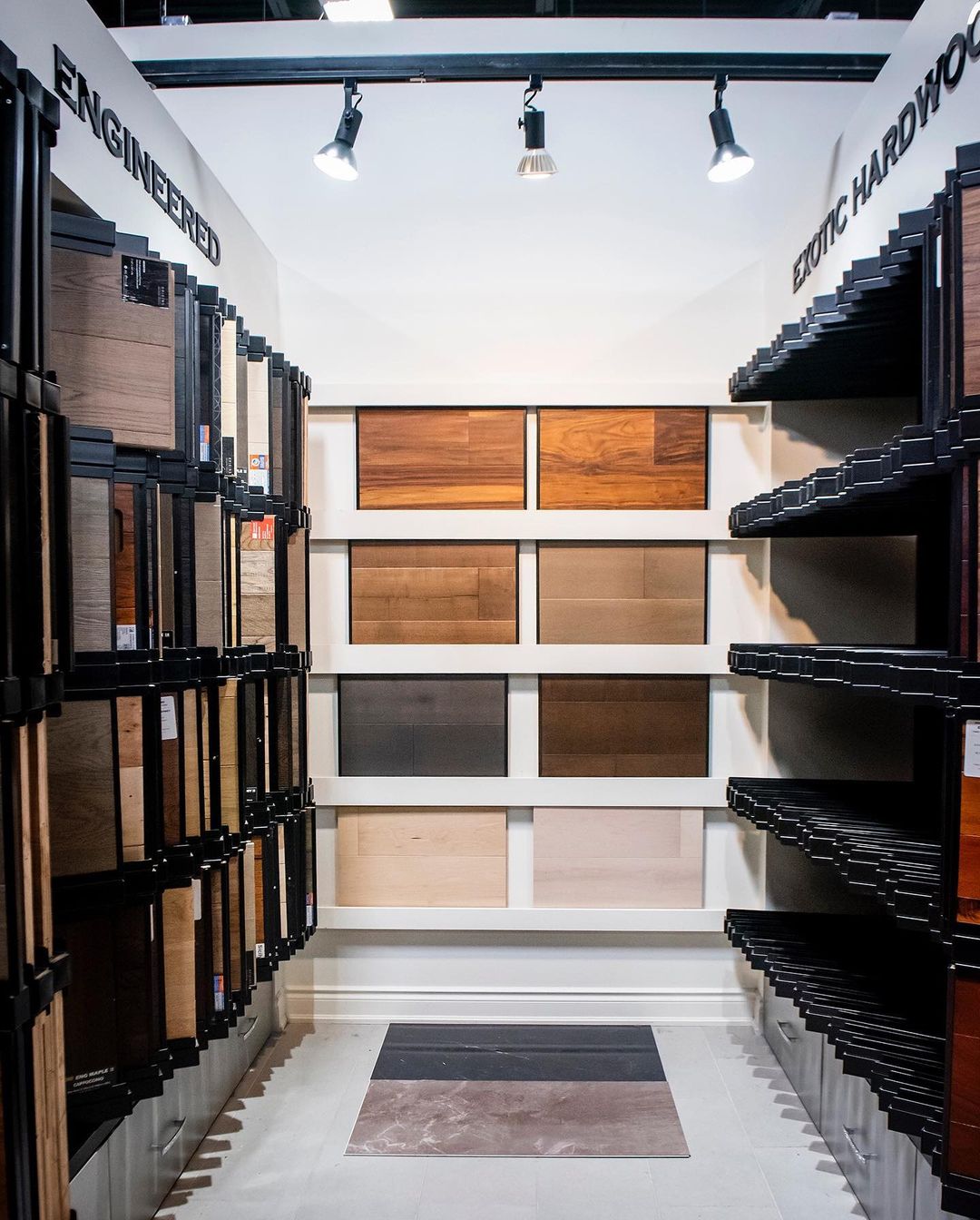 Large selection of Engineered Wood Flooring in Toronto at The Hardwood Outlet, Unit 96 & 109
Engineered wood has more stability than hardwood as it's made of multiple layers glued together, with their grain in alternating directions. This means it expands and contracts less with seasonal temperature changes, allowing it to be installed in any level of the house. However, engineered wood can only be refinished once or twice in its lifetime depending on the thickness of the veneer meaning it has a shorter lifespan.
#3 - Where Can Ceramic Tiles Be Used In The House?
The great thing about tiles is that you can't go too wrong with it. This material is waterproof and durable making it a great choice to install in any room in the house, especially areas like the laundry room, mudroom, foyers, kitchens, and bathrooms that are more likely to get exposed to water and spills.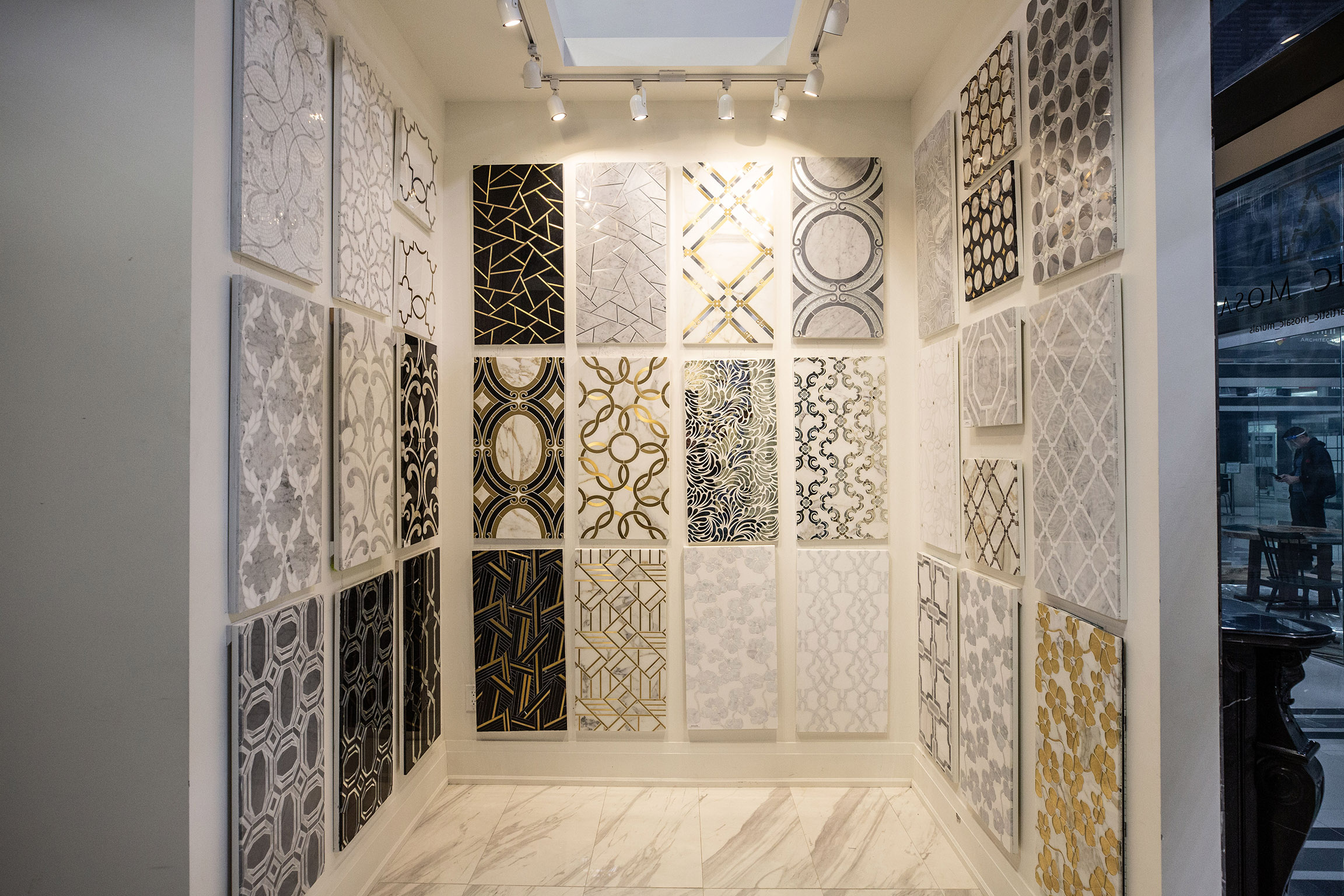 Variety of patterned tiles and styles at Artistic Mosaic, Unit 70
Tiles come in a variety of colours and patterns allowing homeowners to mix and match to create unique designs and make their home stand out.
Ceramic tiles have a hard surface that doesn't hold onto dust or pollen making them an ideal choice for people with allergies or asthma. The glaze finish also creates a protective coat, making spills and splashes easier to wipe away. However, unlike porcelain, ceramic tiles have a more porous surface and are slightly more prone to damage.
#4 - What are the cheapest flooring options?
Vinyl and carpet are two of the cheapest flooring options on the market. While carpet may feel a little outdated and harder to maintain, vinyl is a great option for those on the lookout for durable flooring that offers a variety of style options.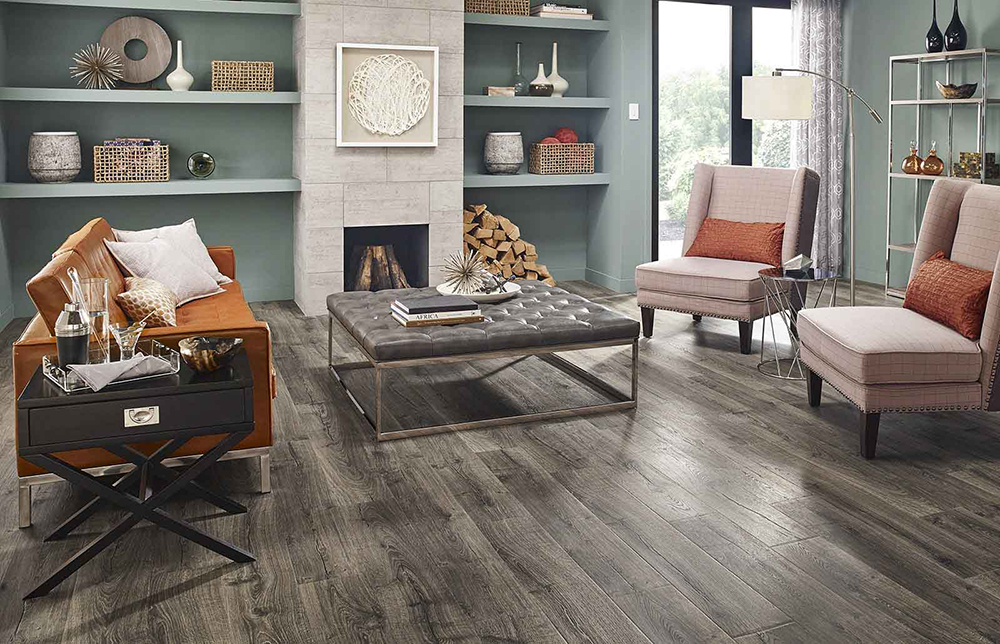 Vinyl Flooring from Art De Vie Renovations, Unit 318, 357
Another great advantage of vinyl flooring is that it is stain proof and waterproof making it easier to maintain. This is a great option for families especially those with young children.
Laminate is also a cheap flooring material that is easy to maintain and install. While it is designed to replicate the look of wood, unfortunately it may be possible to spot the difference. That's why I personally recommend installing it in low-traffic areas like the basement or bedrooms where you may want to get something that's trendy and durable, but budget-conscious.
#5 - What are the most durable flooring options?
Generally, anything with a non-porous surface that is easy to maintain is a great option because you won't be afraid of any spills, water, or stains damaging it over time. Concrete, vinyl, ceramic, and porcelain tiles, are great options for durable flooring.
When it comes to hardwood floors, bamboo, travertine, and vinyl sheets are some of the most durable options on the market.
#6 - What is the best type of flooring for the different rooms in the house?
If you want to install the same flooring material throughout the whole house you may want to consider something like solid hardwood or tile, as they are durable and work well in most rooms.
However, some flooring materials works better in some spaces more than others, that is why it is important to choose your materials based on the room you are renovating.
When it comes to areas in your house that are more likely to get exposed to water, like your kitchen, bathroom, laundry and mudroom, I always recommend options like porcelain or vinyl that are waterproof, low maintenance and easy to clean.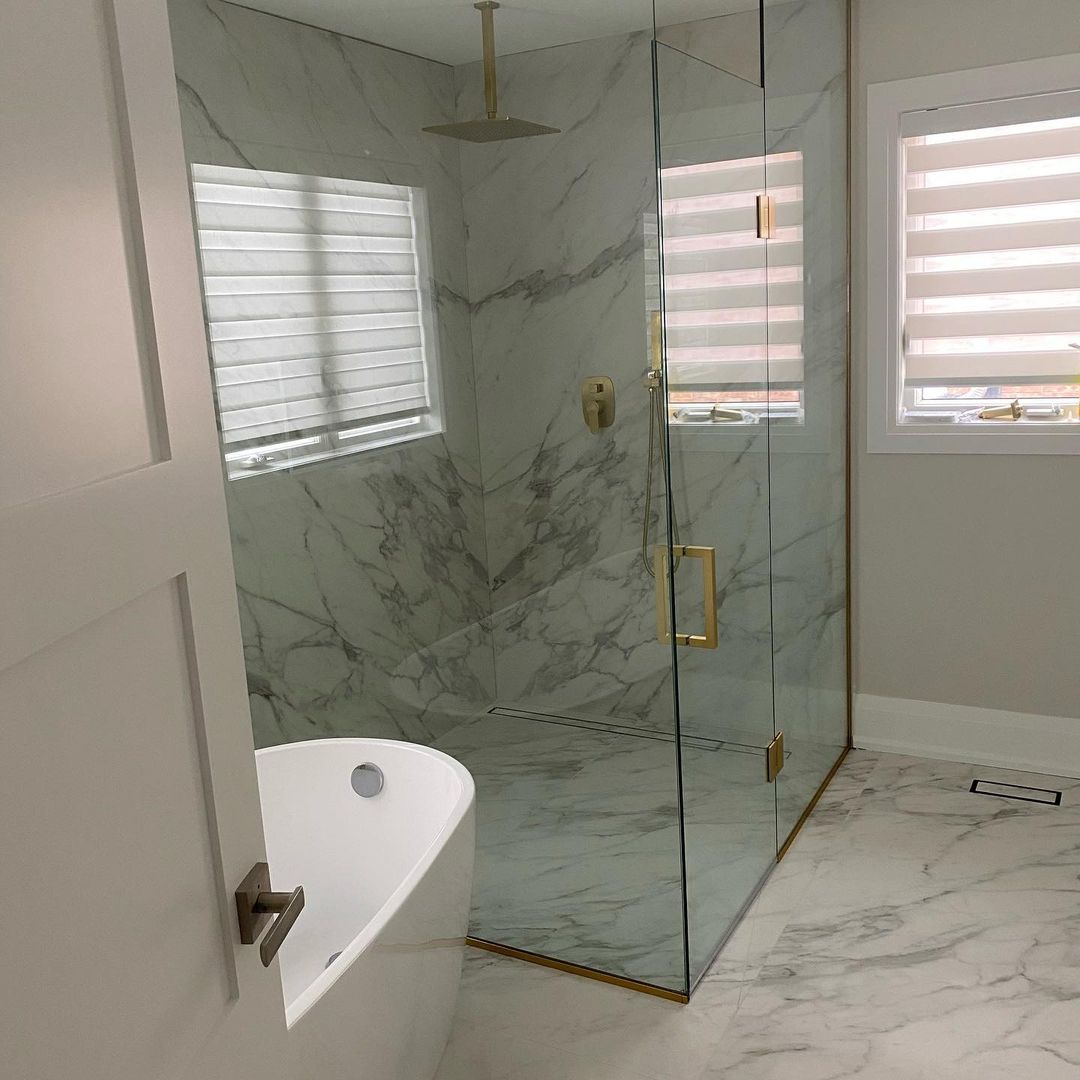 Porcelain tile options in Toronto from MESH Porcelain Slab and Tile, Unit 354, 321
Compared to other flooring options, porcelain has great scratch and dent-resistant qualities, making it a good choice for high-traffic areas in your home.
For a cheaper option, vinyl is a great alternative. It is also easy to install so if you are looking for a DIY project you can save on some of the installation cost and time by doing it yourself. It is more prone to get scratched so I suggest installing felt bumpers on your furniture and buying an extra set of planks to ensure that you have a perfect match in case of any damage.
For dining rooms and living rooms, I personally like solid wood especially pre-finished planks that are ready to install directly in your home. As mentioned, solid hardwood has better longevity, but engineered wood is a close alternative that is more affordable.
Condo Renovation in Greater Toronto Area completed by Moose Condo Reno, Unit 113
Your basement, even if finished correctly, is prone to exposure to moisture, ranging from dampness coming through the subfloors to major water damage cause by flooding from storms or plumbing failures. That is why I recommend vinyl as it is water resistant and less prone to damage by moisture
#7 - What are some factors to Consider When Choosing Flooring?
Family Situation

— If you have young children or pets, water-resistant, scratch-resistant, and slip-resistant flooring options like vinyl, porcelain, or stone are ideal choices. Cork or carpet are good alternative flooring options if you're looking to soundproof your space.

Budget

Price varies widely based on the material, style, and finishing, not to mention the area of the space you are renovating, so keep that in mind when budgeting for your project.

Installation Requirements

—Some materials are easy to install yourself while others need

professional contractors

to make sure the job is done right. This can affect the length of your project and cost, so it is important to keep that in mind. It is also important to consider if there are any specific floor installation requirements, for example, if your floor needs levelling or an underlayment pad, which may cost extra.

Style

—Are you looking for a polished or a classic aesthetic? Certain materials like tiles can help you create a statement design due to the variety of colours and patterns available, while other materials like hardwood and laminate create a more classic style.

Maintenance

—Before purchasing your flooring it is important to understand the level of maintenance required and assess your ability to keep up with its cleanup. For example, ceramic tiles and stone should be swept regularly to protect the finish from wearing away. Similarly, wood should be vacuumed and swept regularly to avoid dirt from accumulating in between the planks and to avoid dulling and scratching.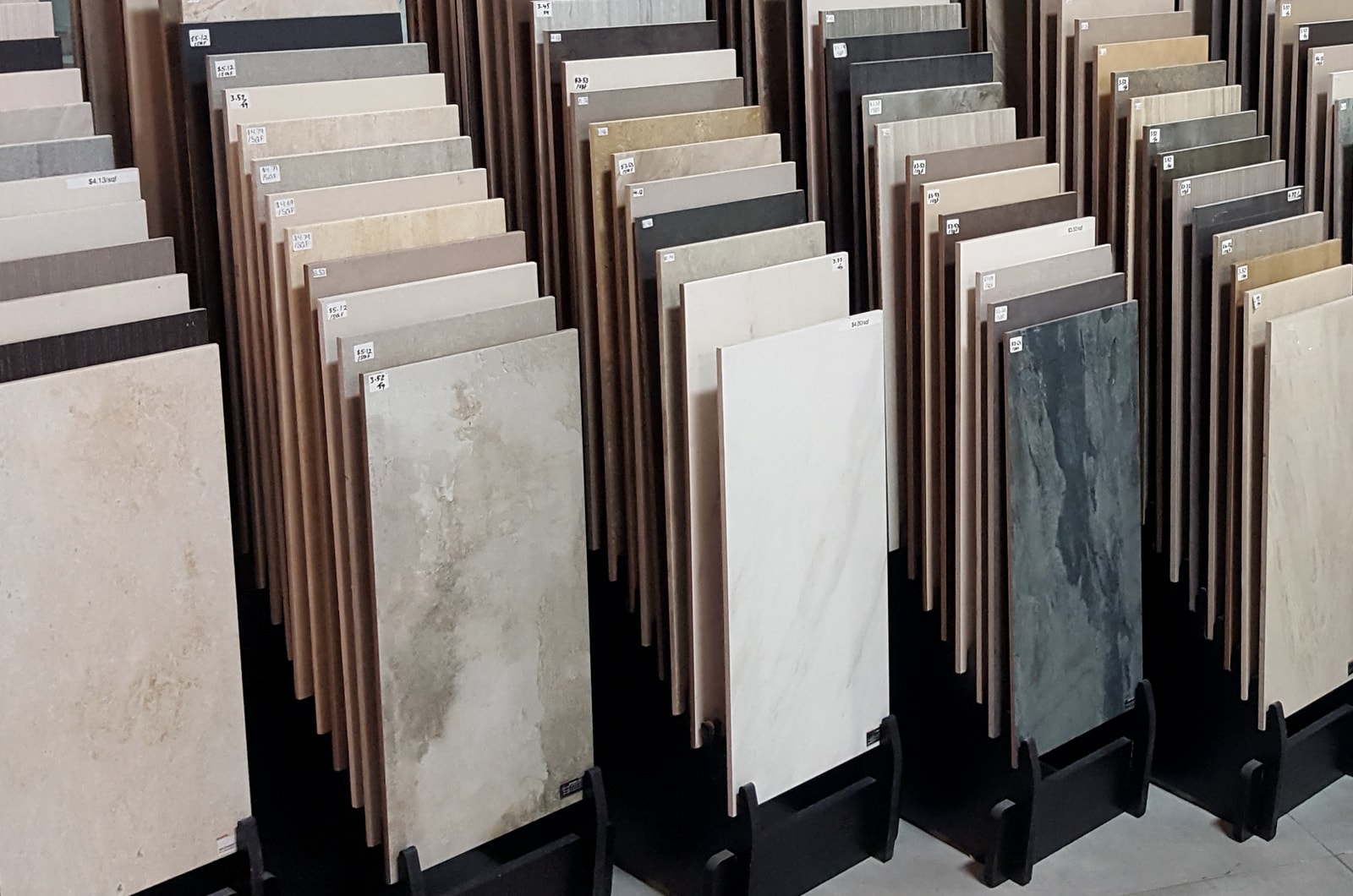 Variety of tile and flooring options in Vaughan at Pyramid Home Improvement, Unit 111
The best thing to do when choosing your flooring materials is to do your research and keep in mind all the different factors mentioned. It may also help to do a cost-benefit analysis to better assess the available options.
Luckily if you are in Toronto, Markham, Richmond Hill, Oakville, Mississauga or generally any city that is driving distance from Vaughan, Improve Canada has you covered with a wide range of materials and hundreds of experts available to help you every step of the way from picking your flooring to getting it installed. And did I mention that you can shop for multiple options and quotes all under one roof?
Book your appointment today at https://improvecanada.as.me or call their customer service team at (905) 677-2577 to speak with their experts.