Interior Design Trends of 2020
---
As we end one decade a begin another, design trends start to pop up that are vastly different and new, as well as some that are returning favourites from previous years. From luxurious new furniture to extremely creative designs for custom homes, there are many beautiful trends that are starting to arise coming into the new year. If you are curious just what the year of 2020 holds for design trends, we have a great list of many of the home design choices you`re sure to see popping up in the next year.

Handmade Furniture
There is nothing more at the height of contemporary luxury that having handmade furniture. A piece of furniture that is unique and one of a kind is the epitome of modern design. Custom, hand-built furniture will last you for much longer than anything that comes off of an assembly line so it is more than worth the investment - and not to worry, custom made furniture will never go out of style.

Antique Art
Another trend that seemingly never fades is antique art. The look of classic art gives your entire space a look of opulence and sophistication like nothing else. A wonderful antique piece of art doesn`t degrade in cost like most other purchases, it can be a long term investment that could pay off if you ever think of selling it.

Wood Paneling
You may see wood panelling and believe it to be an old or out of date style. However, that is seemingly starting to change. More and more modern homes are starting to incorporate wood panelling, done in a slatted, thin style. It is usually applied to different parts of the home being set in creative angels. This can be set in just about any room, with bathrooms and kitchens being prime choices.

Natural Shapes
This applies to just about any furniture. Any bed, lighting solution, chair or table can be transformed into a work of art by giving it a free-form, organic shape. By creating your own piece of furniture with an organic shape you give your space a natural look that puts a new twist on modern furniture.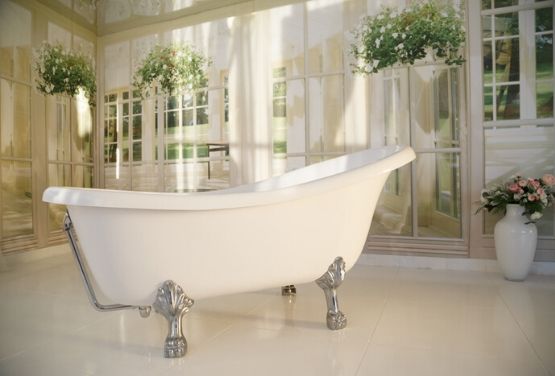 Free-Standing Tubs
A beautiful addition to any bathroom would be the free-standing claw-foot-tub. This is a look pulled straight out of the Victorian era that gives your entire bathroom an air of sophistication that can`t easily be beaten. This is a clear choice for all modern bathrooms.

Canopy Beds
If the free-standing tub wasn't enough modern-luxury-Victorian chic for you home, a canopy bed is sure to help. The canopy bed is back in style and is a trend that is seen more and more in modern homes. You will feel like royalty sleeping in a bed with fabric that covers your entire bed which will also keep out the sun, so you no longer need a sleep mask!

Statement Tiles
Tiles are a great cost-effective way to improve any room, whether its through wall covers, ceiling coverings or using it as a typical flooring solution. A big trend that is starting to catch on is the use of patterned, bold tiles in bathrooms and kitchens. This is a great way to get creative as tiles come in many different colours and patterns. Go crazy and create your own designs with creative placement of tiles.

Built-In Seating
The perfect way to get that minimalist modern look all homes have been going for in recent years is with built-in seating. Whether it's with a window-side perch or a little rectangular indent in the wall that is perfect for sitting in on a lazy day, built-in seating adds personality to a room and is great for space-saving.

Arches
While it would seem that arched ceilings or doorways would be at odds with the minimalist design that permeates contemporary homes, however, they come together to create a unique environment that is very in.
Indoor Gardens
Having a plant-friendly home is in no way new to interior design trends, but having a dedicated spot for a full garden is something that is starting to pop up. This is perfect for any of that space that you haven't utilized yet. An indoor garden is also great for air purity while also creating a spot for relaxation.
Here are some great ideas you can incorporate into your home. Most of these follow the modern, minimalist style that has been running strong for a few years now, but we are starting to see some more creative ideas being introduced into interior design. Could this be a turning point in the future of interior design?
To see a large collection of fresh interior design ideas, we invite you to visit Improve Canada, Canada's largest home improvement centre. We have over 350 showrooms of products and services that can make your home a work of art.