7 Easy Tips to Refresh Your Bathroom With Improve Canada
---
Over the past 2 years, our lives have been challenged and we're doing things differently, such as spending a lot more time in our homes. So, it's not surprising that Stats Canada recently revealed a 7% increase in building permits in Ontario – equating to approximately $6 billion dollars. That is a lot of renovations in the works.
Generally speaking, kitchen and bathroom remodelling projects that increase the value of your home. But what if you just don't have the time or the budget to do a full-scale bathroom renovation? How can you freshen up your tired bathroom?
There are a number of things you can do that don't require a building permit application. If your tub and tiles are in good shape then a bathroom refresh can be done without too much effort. However, if you are thinking of moving your toilet, bathtub or changing the plumbing or electrical, then you will need permits and a professional to do the job.
No matter what route you take, here are some tips that can help you put new life into your bathroom.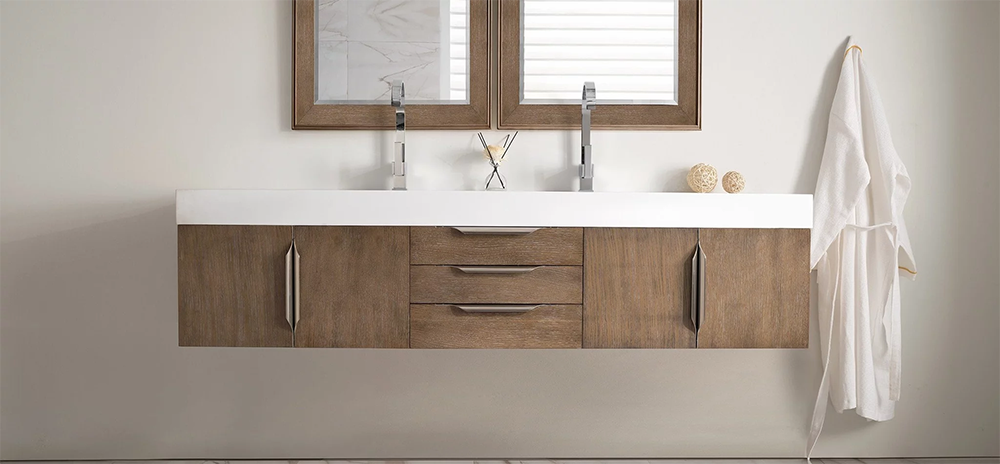 Tip #1 - Refresh Your Old Handrails, Towel Racks and Hardware
Updating your bathroom hardware, like handrails, towel racks, and toilet roll holders, is a simple change that can completely transform the look of your bathroom. Update your towel racks, by adding new ones, or why not install a heated towel rack for some added luxury? Heated towel rack models are available in plug-in versions as well as hardwired models. So keep in mind that you may need to consult with an electrician depending on which model you choose.
Changing your cabinet door handles can completely change the look of the room too. Knobs or handles, glass, metal or ceramic – the choices are endless! There are no set rules but a combination of knobs for doors and handles for pull drawers is a practical option. Remember to choose a colour and finish that complements your other finishes for a cohesive look.
You might even want to consider switching out your main door handles as well – again, just remember to stay consistent with the other finishes in the space.
For all your bathroom renovations contact one of the many bathroom contractors and product showrooms at Improve Canada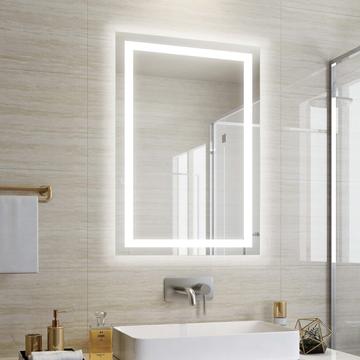 Lighting from C&C, Unit 64
Tip #2 - Refresh Your Lighting
We use our bathrooms everyday and it's essential we have enough lighting so we can see what we are doing! For a fully functional bathroom I always suggest a variety of lighting options for tasks as well as ambient lighting. Having a bath bar, vanity light, or wall sconces on either side of a mirror will provide plenty of light, while overhead lighting can provide ambience.
It's also essential to consider the type of light. I prefer to have light that is the closest to daylight. There are several options when it comes to the type of bulbs you choose, with LED light bulbs being the most popular and energy efficient nowadays. You can also still get incandescent or fluorescent bulbs, they all have pros and cons, but just pay close attention to the brightness that each of the options provides —which are measured in colour temperature, colour index or lumens.
If you live in Toronto, Ontario contact the lighting specialists at Improve Canada for all your lighting needs.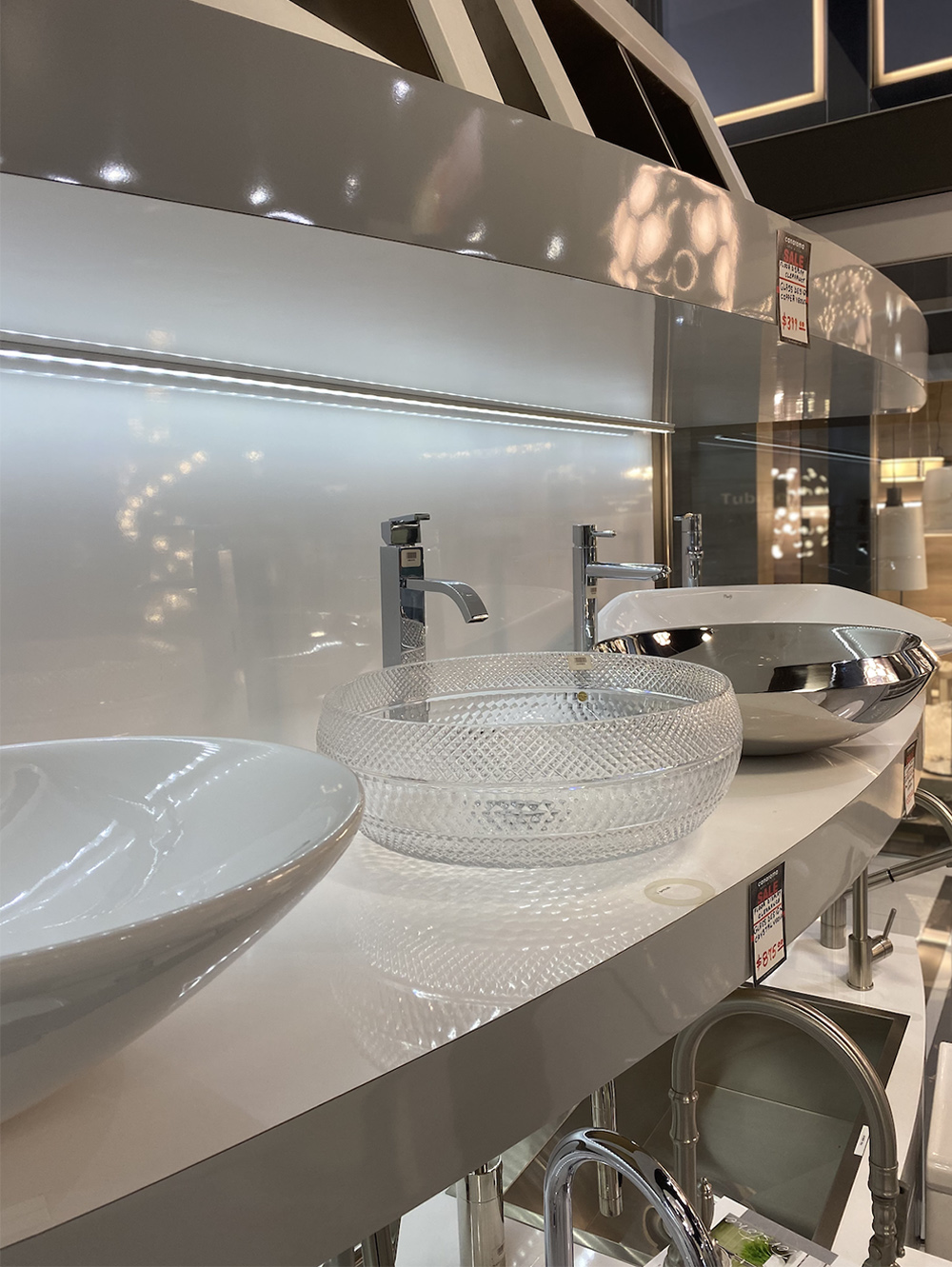 A stunning variety of solid surface basins from Canaroma at Improve Canada, Unit 231 & 232
Tip #3 - Replace Your Sink or Basin
Replacing your bathroom sink is a relatively easy way to refresh the look of your entire bathroom. Things to consider would be whether or not you want to keep the same style of sink or change things up! Bathroom sinks come in a wide variety of styles, for example semi-recessed, solid-surface, and undermount. Vessel sinks are one of the most popular trends now.
Sinks also come in a variety of materials, like ceramic or glass.
If you are planning on the replacement sink being the same size and style but perhaps introducing a new colour or patterned basin the install should be fairly straight forward. However, if you are planning for a completely new look then you will have to consider several other steps to accommodate the new sink!

There are some really unique sinks at Improve Canada – contact them today to find out more.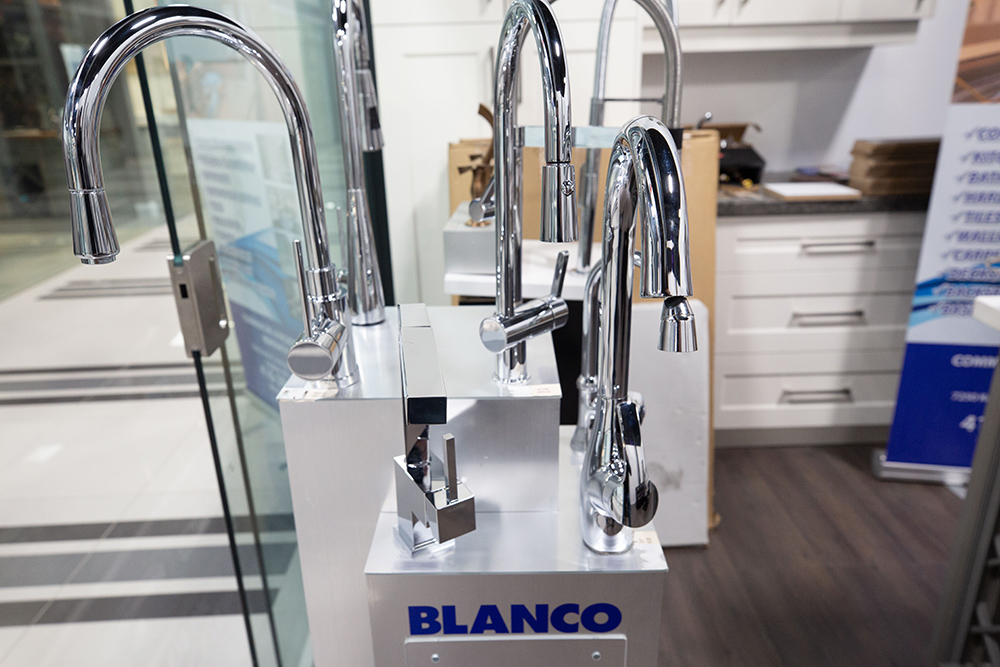 Builtwright Renovations, Unit 48 at Improve Canada provides all types of home renovations
Tip #4 - Replace Your Faucets
Many faucets today come with a coordinating sink, which makes it easy to find the perfect set to complement the space. If it's a straight replacement you will have to use the same style so the holes match up. If you are thinking of switching from a three-hole to a single hole faucet, then more work will be required.
No matter what style or price-point you choose, just remember to purchase a well-made model from solid brass, brass-based metal or corrosive-resistant metal. If you are feeling overwhelmed by all the choices, consider consulting with one of the many bathroom specialists at Improve Canada.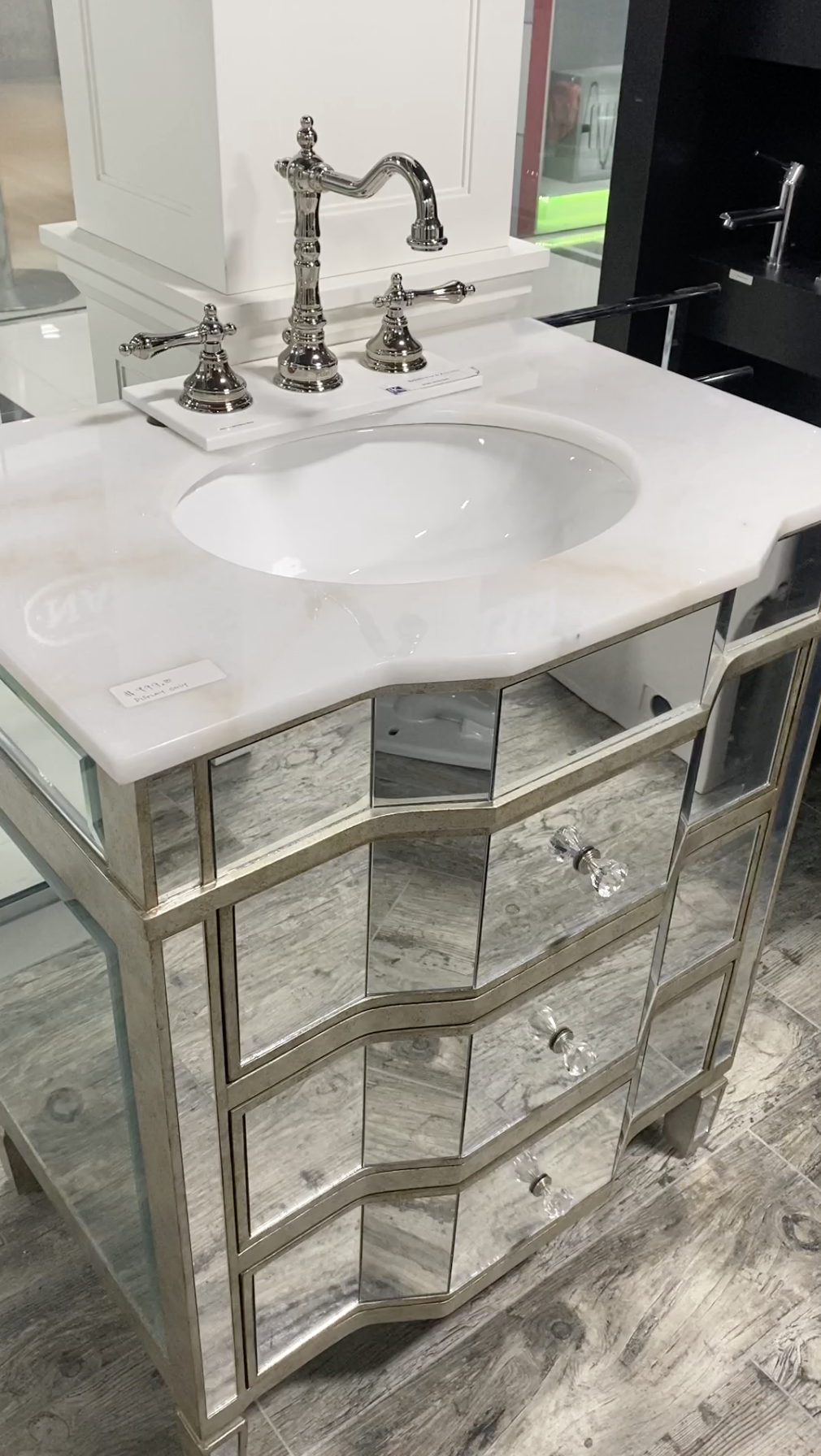 Bathroom and Kitchen Galleries, Unit 187 and 188 at Improve Canada offer a unique range of vanity options for your bathroom
Tip #5 - Update Your Vanity and Add Some Extra Storage
Updating your vanity could change the look of your bathroom and provide much needed additional storage. Again, it comes down to personal needs and the main function of the bathroom.
There are lots of ready-made vanity and sink sets available too, but you can also have a custom made vanity that can be built to your exact specifications.
You should check out the custom craftspeople at Improve Canada for your next project. Another way to create some extra storage is to add several floating shelves or a cabinet above the toilet.
Be sure to check out the custom craftspeople at Improve Canada for your next project.
Tip #6 - Update Your Old Toilet
Consider installing a new low-flo or dual flush toilet – you will save on water consumption. New toilets have come a long way from 20 years ago and they use far less water - anywhere from 3-6 litres per flush versus 16-20 litres per flush with the old models. That's a lot less water consumption.
Did you also know that there are two kinds of toilets based on the flush? Gravity flow toilets rely on the gravitational pull of the earth to empty the toilet, whereas a pressure-assisted toilet use a tank-in-tank design to propel additional water into the bowl per flush.
Pressure-assisted toilets also tend to use less water and typically average about 4 litres per flush which is slightly less or comparable to a dual-flush or single-flush models.
And if you want to add a bidet but don't have the space, check out this bidet toilet from Eko-Technologies Canada at Improve Canada. It's a bidet unit that attaches to your existing toilet!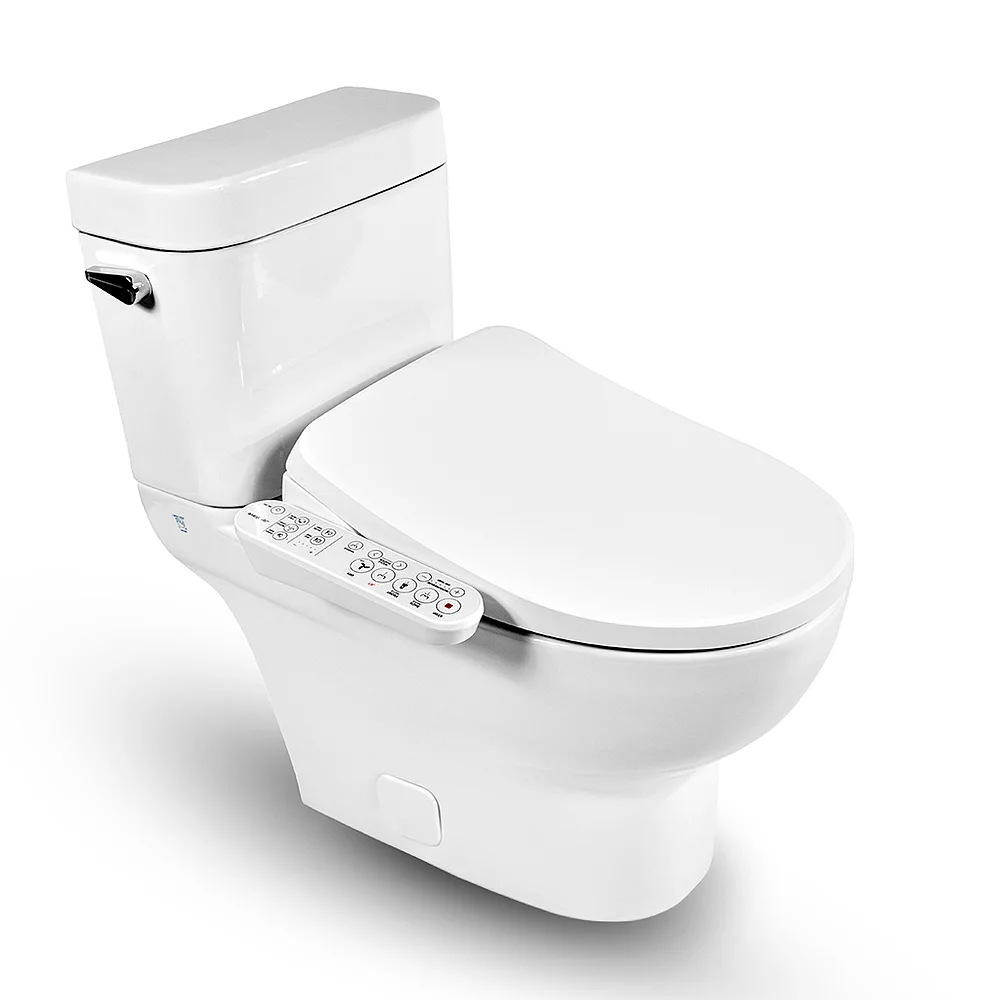 Check out the Eco-Jet Wave at Unit 48 at Improve Canada.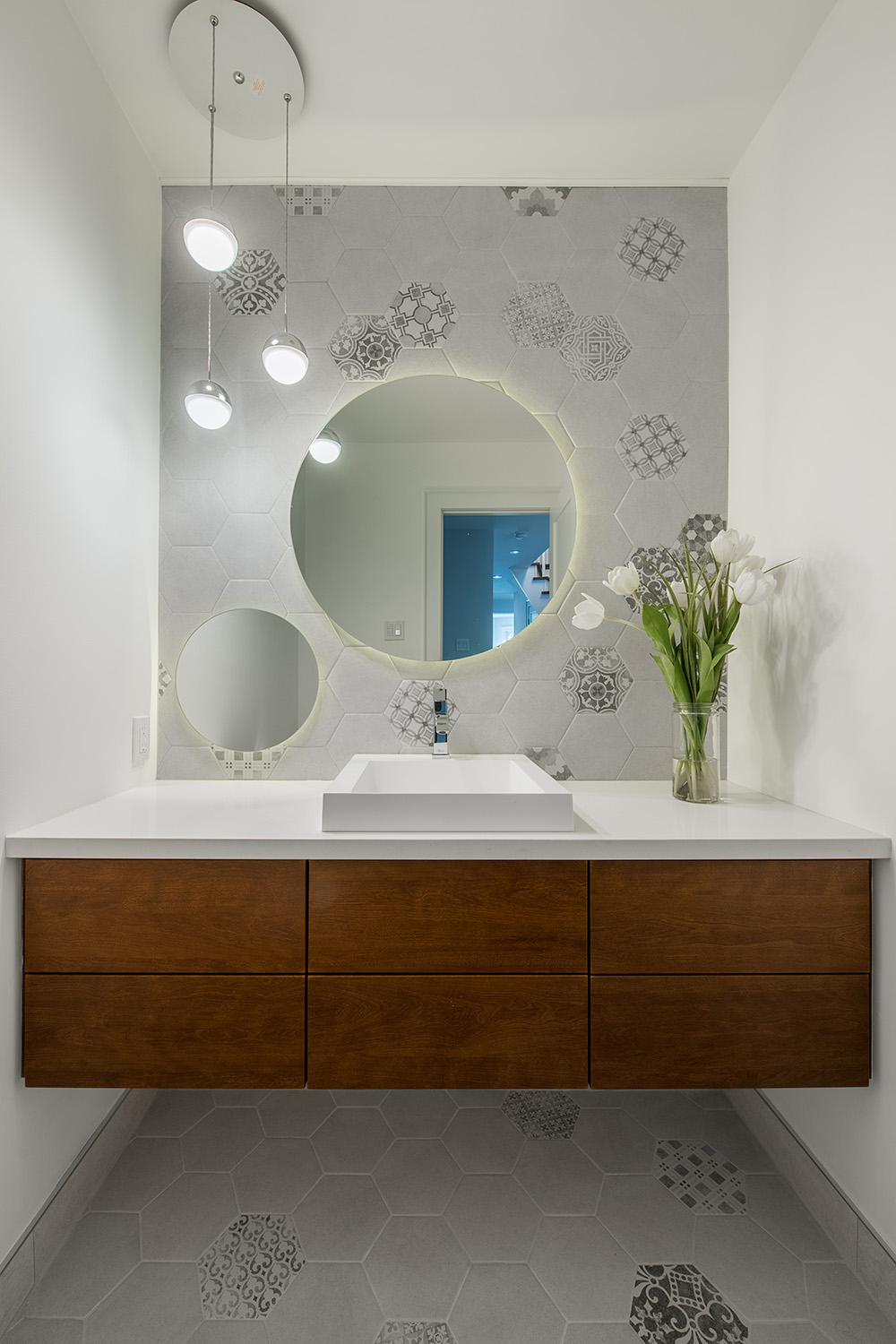 Sosna at Improve Canada (Unit 372) can help with all your bathroom renovation needs.
If it's a simple update and no plumbing changes are required a seasoned DIYer should be able to do the job. However, if you decide to move your toilet then you will need to consult with a plumber and you will also be required to get a plumbing permit from your local building authority.
Tip #7 - Create an Accent Wall with a Splash of Colour or Texture
A splash of colour can do wonders in transforming a bathroom. Consider painting the walls or add wallpaper to create an accent wall. If your house is older, the old paint could be oil based.
How do you know if the paint on the wall is oil based? Do a simple alcohol-test. After cleaning a small area of the wall with mild detergent and water and pat dry with a clean cloth, rub the area with an alcohol soaked cotton ball.
If the paint rubs off, the paint is latex based, if it doesn't, the paint is oil-based. If it's oil-based and you want to use latex paint you will need to paint the surface with a bonding primer before you apply your new paint.
I'd always recommend exploring the many low and no VOC paint options available. There are many natural, minerals, and no-VOC paints that are mold and mildew resistant too! Choosing, low and no-VOC's paint is a smart choice as there will be minimal off-gassing, which means your indoor air quality will stay healthy.
If you decide to do wallpaper make sure you do this after you've painted the wall, as you don't want to risk getting paint on your wallpaper. Fill-in imperfections and sand the wall so you start with a smooth, clean surface.
There are also many different kinds of materials that can be used to create a truly unique accent wall. If you are looking for a customized finished carpentry, moulding, lattice-work, fabric panels, wallpaper and high end coating and finishes check out Feature Surface, or ombre-gradient walls to semi-precious and Swarovski crystals finishes check out Galaxy Décor; your imagination is the only limit!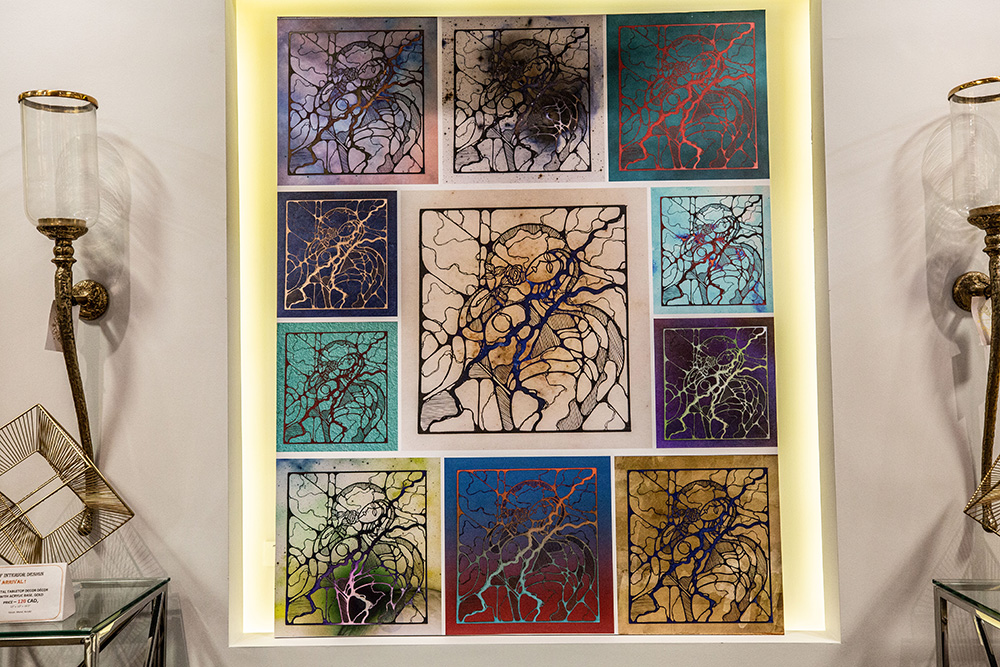 House of Interior Design at Improve Canada (Unit 81) can help you with any of your design, art or accessory needs.
Some of the ideas I've mentioned are quick and easy solutions that any homeowner can do, but for others you will need to consult with a professional. Understand the scope of the project and watch videos and learn as much as you can before starting any home improvement project.
Having an electric drill and a well-equipped toolbox is a must for every homeowner and make sure you take all the necessary safety precautions when doing any improvement project. And finally, if you think you are over your head, call in the professionals.
With over 150 vendors from builders, to general contractors, renovators, designers, and material suppliers, you can find everything you need for your next home improvement project right under one roof at Improve Canada.
Ready to renovate your home and protect it right? Book an appointment to speak with Improve Canada's customer service team who can help you meet with the right experts for your projects.