Stylish Modern Kitchen Trends for 2017
---
Kitchens remain the heart of the home, and as homeowners you always want the heart of the home to look its very best. There are many ways to update the look of your kitchen in 2017. Whether you in the market for a total kitchen renovation or remodel, one or two of these style trends will refresh your kitchen and offer a more contemporary look to your home.
Steal Hearts with Steely Grey Palettes & Finishes
White continues to be the most prevenlant trend in kitchen home improvements. But that may soon change as we are beginning to see much more grey in kitchen colour palettes and finishes this year. Leading kitchen design experts and manufacturers still continue to feature lots of white and ivory shades in contemporary, classic and modern kitchen designs, from cabinetry to backplashes and sinks, but now 50 shades of grey are climbing the charts! Modern kitchens and dining rooms are showcasing soft shades of grey on drapery and rugs while highlighting an accent wall in stronger greyish hues. Even if your kitchen is new or newly renovated, choosing grey palettes in your dining decor can add an extra touch of sophistication, modernity and class.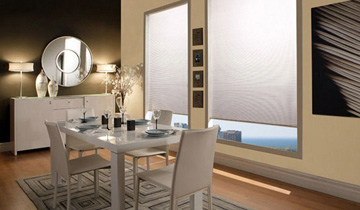 Contemporary Kitchens are Functional
Contemporary kitchens prize functionality above everything else. Not only are the colour palettes changing to reflect functionality — cabinetry and hardware manufacturers are revolutionizing the way cabinet doors, drawers and kitchen automation lead to better functionality in the heart of the home. This year kitchen cabinet makers are leading the way with easy-close doors and making the multi-functional use of kitchens in smaller spaces in condos and home renovations a top priory. Designers are combining grey hues into cabinetry and using grey on walls to compliment stained wood flooring to create a trendy, modern look that's fresh and functional. Image courtesy of Lussora Kitchen Studio.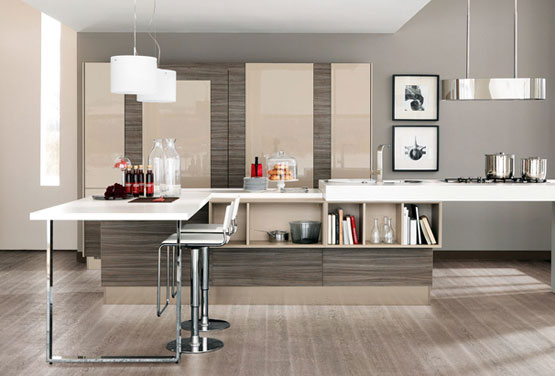 Architectural Lines are in Vogue
One of the top new trends in contemporary and modern kitchen designs are fine architecture lines. Architectural lines are in vogue! Updating your look to enhance your kitchen with sharp architectural lines has never been easier with the hottest new kitchen designs. You don't need to do a complete kitchen renovation to take advantage of this stylish trend, either. Replacing and updating a faucet that offers a minimalist, modern design has never been easier! Visit Improve Canada's kitchen showrooms for expert advice for eveything you need. Image courtesy of Lussora Kitchen Studio.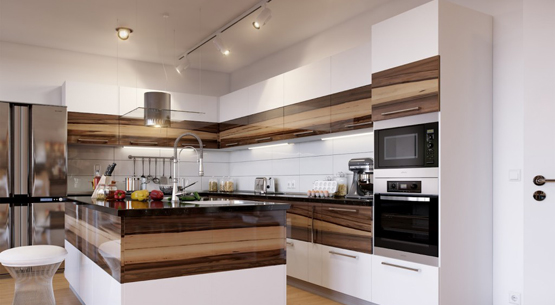 For more tips and ideas, visit http://www.lussorakitchenstudio.com