How to Properly Style Your Windows
---
If you are looking to add the final touches to your residential or commercial space, window treatment is a cost-effective and easy way to do so. Not only will window treatment add to the look of your space, but they will also give it a more complete feel. You can find a vast array window furnishing options that come in many different styles, colours and patterns to suit your style and preferences. When picking a window option you should consider the existing aesthetic of your space and try to find window furnishing that matches that. What is the best choice for your situation though? Each option has its advantages so you should find something that aligns with your needs and space. Here are 3 of the most common window treatment options and their distinct advantages.

Blinds
Blinds are the easiest and faster way to add a little extra personality to your space. Blinds are one of the most commonly used window treatment options and because of that, they are easy to find and come in a wide variety of styles and colours. Blinds will not only enhance the look of your space but also have many other benefits.
Affordable - Because of the simple construction of blinds, they are often the cheapest option you can find when it comes to furnishing your windows.
Broad Range of Styles - Blinds are available in many different colours, tints, textures, and different fabrics, so you are sure to find something to suit your space.
Low Maintenance - Blinds are incredibly easy to maintain especially when compared to other window treatment options. A quick dusting now and then will keep them pristine and presentable.
Long Life Span - If you go with blinds made of wood or metal, they will last you a very long time. Most of the time blinds will only need to be replaced when you`re looking to change things up.

Drapery
While draperies can be more costly, they also have many additional advantages that other options don't. The lining with drape provides extra weight and an overall luxurious look due to the cascading drape folds. Drapery can be a key element in the design of your space. They can help add a bit of colour or help pull a room's theme together. On top of drapes being both beautiful and functional, there are many other advantages drapes have over other options.
Noise Reduction - Due to the lining in drapes adding extra weight, the amount of outside noise that makes it into your home is greatly reduced. This is preferable for those who live on busier streets.
Control Light Intake - No one appreciates being awoken by the sun in the morning. Luckily, with drapes, you can control the amount of light that is let into your room, thanks to the thick material.
Insulation - While all window treatment options provide some level of window insulation, the fabric used in drapes allows you to have even more added insulation to help you save on your energy bill.
Touch of Class - One of the biggest reasons people decide to use drapes over other options is due to the high-class look that they provide.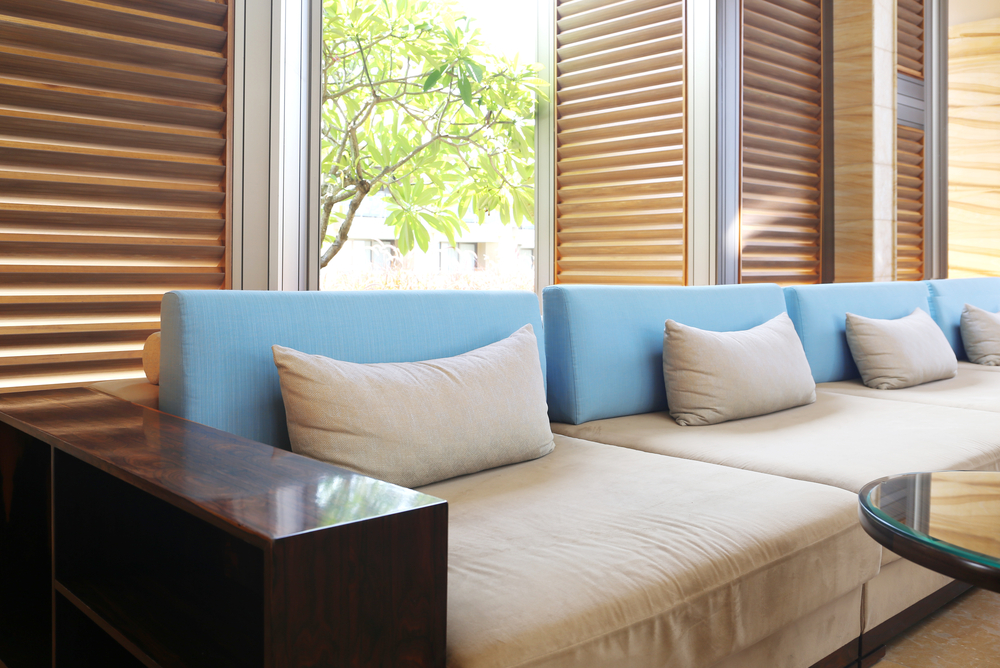 Shutters
Shutters are often overlooked when it comes to window furnishings. Be people tend to turn to drapes and blinds and ignore the odd but attractive alternative. The semi-permanent option is not only durable and quite strong but because they are installed on the exterior of the home they occupy very little space and are easily maintained. On top of being a nice and stylish alternative, they also have many other practical benefits as well.
Security - Shutters are equipped with a latch or lock to prevent them from flying open. This feature also provides an additional layer of security to your windows.
Customizable - Shutters come in many different sizes, making finding the right size any easy task. If however, you cannot find the right size, you can grab a slightly larger size and trim them with a saw for quick customization.
Dust-Free - Unlike blinds and drapes, you do not have to worry about shutter accumulating dust due to them being on the exterior of your home. This is ideal for those with allergies.
Easy to Use - The great thing about shutters is that anyone can use them. Drapes are too heavy and awkward to move for small children and the rope and latch mechanism on blinds can be cumbersome for anyone - shutters, however, are easy to use for anyone.
Picking the right window treatment option for you comes down to your space. If you want something traditional and inexpensive, blinds are a good option. When you are looking for something beautiful and practical, go for drapes. For something modern, easy to use and easy to maintain, shutters are the way to go. With these benefits in mind picking the right choice is really based on your preferences and your household.
To see a great wealth of window treatment options, we invite you to visit Improve Canada, Canada's largest home improvement centre. We have over 350 showrooms with 13 of those dedicated to window treatment options.