Getting the Right Vanity for Your Home
---
Generally speaking, the size of your bathroom will determine the ideal size of a vanity. However, there are several other elements to choosing the right vanity for a home that you should keep in mind. You want to find the right size, but you will also want to choose the right style. Colour, finish, storage options, and wood types are examples of additional elements to this subject that you will want to think long and hard about.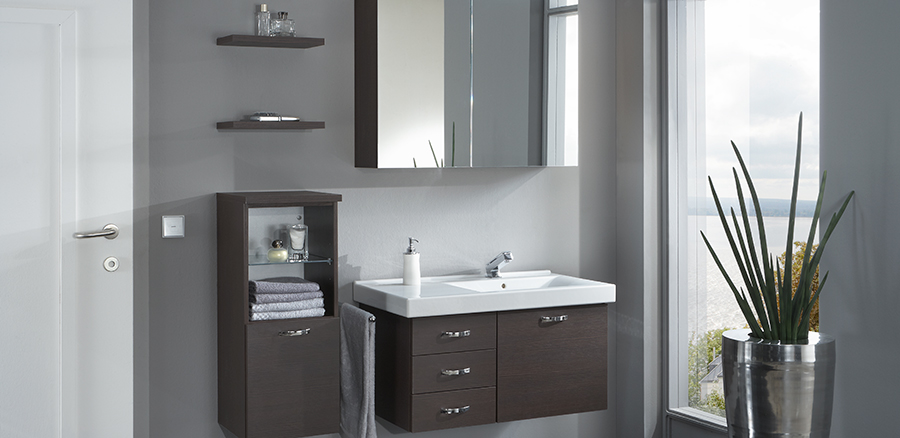 Remember that you aren't just choosing the right vanity for yourself. You also want to keep in mind something that will benefit the resale value of your property---even if you aren't planning to sell for quite some time.
Factors To Consider When Choosing A Vanity
The vanity is one of the essential components of a bathroom. It is one of the main elements that will grab the attention of someone in the space. To that end, here are some of the most important considerations when installing a new vanity:
The size of your vanity. Your bathroom's size will obviously play a role in choosing the right size vanity. You will want to check out the width of where you plan to establish your vanity, while also making sure doors and similar things can open without catching. The people in your home will also have an impact on your choice, especially when it comes to factors like depth, as you don't want a vanity that knocks against anyone's toes. The height of those using the vanity will also need to be considered.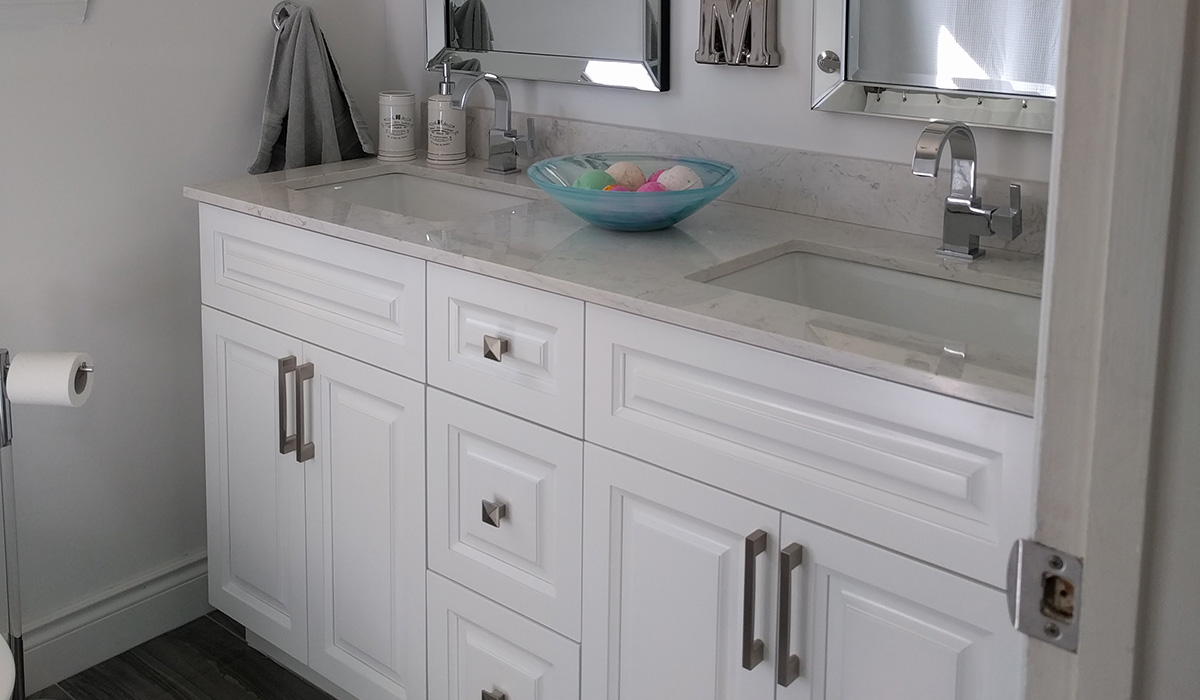 Where to put the vanity. Naturally, you will want to put your vanity in a place that is convenient for everyone using the space. This means setting it up somewhere that will not get in the way of traffic flow within your bathroom.
Plumbing? Unless you have a ton of money to burn on a bathroom renovation project, you will want to make sure the vanity is kept as close to the other plumbing fixtures as possible. Removing, rerouting and redoing your plumbing system in the name of a new vanity is obviously something that will cost you a lot of money.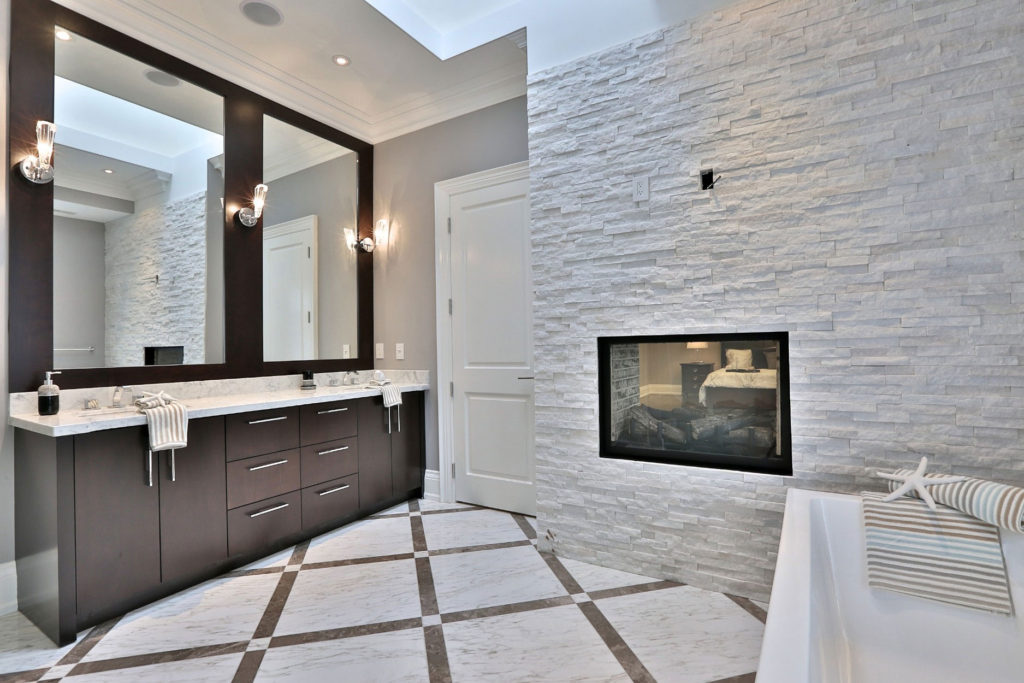 Materials. A bathroom tends to be a hot, humid space. To that end, you want to choose materials that will be able to stand up to such an atmosphere. Sealed/lacquered wood, laminates and thermofoil are all possibilities that you can explore in greater detail.
If you are putting together a bathroom from scratch, consider this: Picking your vanity, before doing anything else, is often the best way to go about things. Finding tiles after choosing a vanity tends to be a lot simpler than putting in the tiles and then trying to find a vanity that will work with what you chose.
Additional Factors To Consider With Your Vanity
The floor line of the bathroom, combined with the existing plumbing, will ultimately put you in the right direction for a vanity. Width, depth and height are all going to be considered. You may even have to determine the number of sinks you are planning to include. Many homes prefer one sink, but there is often a pretty good case to be made for two sinks. Obviously, this is something that will be determined by the size of your bathroom and the number of people who use it regularly.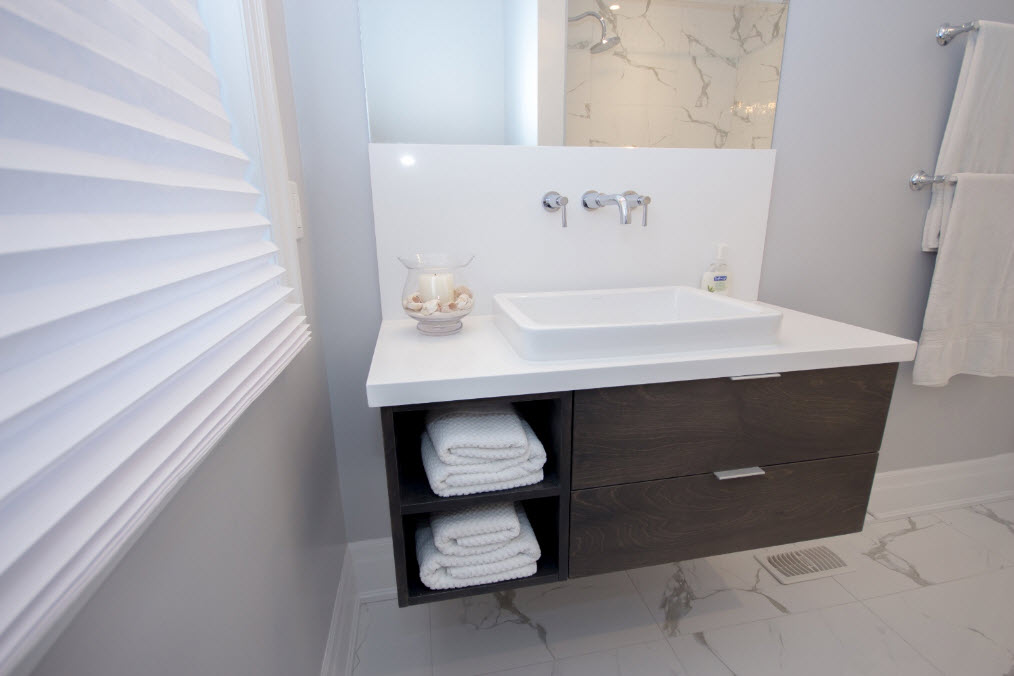 Freestanding vanities, wall mount vanities, and corner vanities are the main mounting options available to you. Undermount, vessel, drop-in, and integrated are the main sink types you will ultimately have to consider, as well. Each type of sink comes with advantages and disadvantages to consider in greater detail. Vessel sinks offer a unique look, but they can take up a great deal of space. On the other hand, integrated is perfect for those who want to combine the countertop with the sink in one continuous piece.
You should also keep in mind that different bathrooms will have different vanity needs. Unless you have several huge bathrooms, it stands to reason that you have a powder room, a guest bathroom, and then the main bathroom. You do not need to meet the same requirements for all of those spaces. Ultimately, most homeowners choose to put the bulk of their bathroom vanity budget towards the main bathroom.
The best place to get design inspiration is Improve Canada. With over 45 showrooms dedicated to bathrooms, you'll find the perfect vanity for you at Improve.
Featured Showrooms
- Canaroma (units 231/232/249)
- Houser Fine Cabinetry (unit 266)
- Kitchen & Bath (units 375-378)
- Pyramid Home Improvement (unit 111)
- Remodel Canada Carpet One (unit 205)