Design a Luxurious Dining Room with the help of these 7 Improve Showrooms
---
If you have just moved into a new home with a dated dining room, or your current dining room just isn't cutting it, you may be considering a redesign. Finding everything you will need from trusted companies can be a little tricky. Buying from the wrong place could leave you with low-quality furniture and poor craftsmanship that won't last very long.
Luckily, you can find everything you'd ever need for designing a dining room under one roof. Improve Canada is Canada's largest home improvement centre with over 350 showrooms filled with great products and services for making your home a work of art. We have collected 7 of the showrooms to visit when you are designing or renovating a dining room.

TON
We will start off with the dining chairs. Dining chairs should be simple while also being comfortable. While dining rooms are a small piece of the dining room, picking one that will match the overall tone of the space will add to the look of the room.
At the TON Canada showroom, you will find a large selection of beautiful, modern chairs perfect for a luxurious dining room. Their chairs are made from manually-bent beech wood which is done using a technique for bending wood that was pioneered in the 19th century. They provide chairs made entirely of wood, and chairs that are upholstered.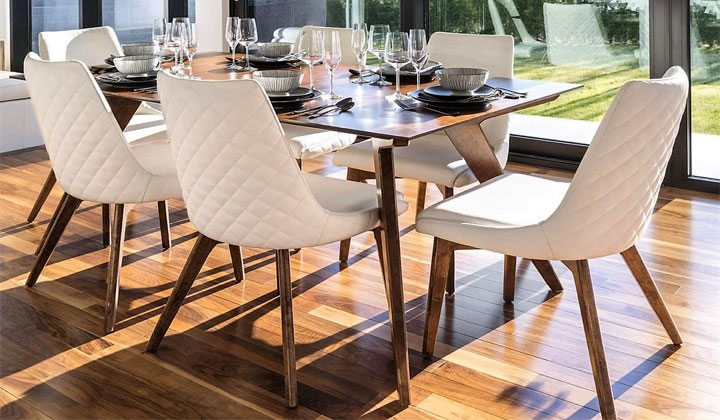 Canadel Furniture Downtown Collection
CANADEL FURNITURE
It's no secret that Canadel Furniture is best known for its dining-room furniture. The company has a stable reputation for high-quality furniture: tables, chairs, buffets, kitchen islands, and benches.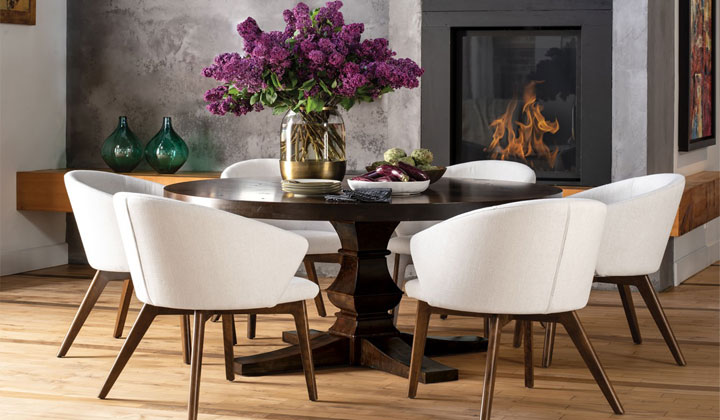 Canadel Dining Furniture

Canadel Furniture is a Canadian-based company that both designs and produces furniture made in Canada. The company manufactures products that are hand-assembled and hand-finished following the highest quality standards in the industry, according to environmentally-friendly processes. Canadel Furniture is offering personalized furniture products tailored to meet the specific needs of each customer's home. Canadel Furniture showroom has the following furniture collections: Canadel, Champlain, Downtown, East Side, Gourmet, Loft, and Signature which provide a wide selection of styles from classic furniture style to modern.

ART DE VIE RENOVATIONS
When choosing a flooring option for your new dining room, finding something that matches the tone you're going for is key. If you are planning on getting the previously mentions wood chairs and wood table, you might want to get hardwood flooring to help complete the look.
At Art De Vie Renovations, there are many different types of flooring options to choose from. They have solid and exotic hardwood flooring, a variety of laminate floors, maple flooring, and more. They have been providing flooring for over 10 years, working with some reputable companies and delivering on high-quality products.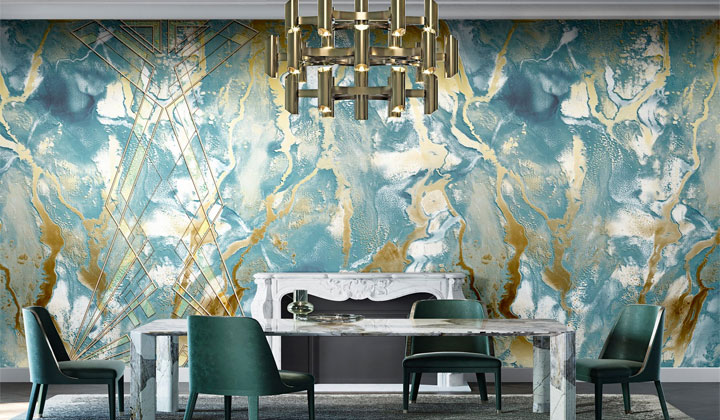 Glam Décor
Painting the walls within your dining room is a quick and easy way to finish the walls. However, if you really want your dining room to stand out and have a look that will turn heads, wall coverings are a great way to do so.
Glam Décor provides a broad range of wallcoverings that come in many different colours, patterns, and styles, so finding some for the established aesthetic of your dining room is simple. You will find many different styles in their showroom like classic, minimalist, vintage, ultra-modern chic, and more.

Tubicen Lighting
Lighting can transform a room. Whether you want a room that is dimly lit to create ambience or a room that is generously lit that accentuates the room's features, the amount of light and choice of lighting can drastically change a room.
Tubicen Lighting offers high-quality lighting that combines energy-saving and environmentally friendly LEDs with decorative designs. Bring ambiance to your space with their wonderful selection of lighting options.

Tane Art Gallery
Now that you have the majority of your room set up with furniture, wall coverings and flooring, you can now add some artistic touches.
At Tane Art Gallery you will find a large selection of art pieces that are up for auction every month. Adding a piece of high-quality, authentic art will make your dining room come together and provide an air of luxury.

Haute Couture Drapery
A great way to finish off a room is with window treatment. Applying window treatment will put the final touches on your space and give it a more cohesive feel. Why have a dining room fully dressed with beautiful tables, chairs, lighting, flooring, art, and wall coverings then leave your windows bare?
At Haute Couture Drapery you can get customized draper options that can suit any need. They will work with you at each stage of the process to make sure you get the exact drapery you had envisioned.
This is just a small taste of the products geared towards redesigning a dining room that you will find at Improve Canada. After you have visited the halls of Improve you will leave with so many ideas about what exactly you want to do with your dining room.
To see a large collection of dining room products, we invite you to visit Improve Canada, Canada's largest home improvement centre. We have over 350 showrooms of products and services that can make your home a work of art.