7 Tips to Renovating Your Basement
---
As we spend more time at home, a lot of homeowners are searching for ways to expand their space without having to move. If you are lucky to have a basement, finishing it or renovating it can add a lot of space and function to your home.
Whether you're looking to add more bedrooms, an in-law suite, a home office, more storage, or more space to entertain, a well-designed basement renovation is a great investment that will add value to your home.
Consider these 7 tips to get the most out of your basement renovation:
#1 - Hire the Right Contractor
Professional contractor and TV host, Mike Holmes always advises homeowners to take their time when hiring a contractor – do your research and get several quotes.
If you are considering a full basement renovation, it is highly recommend to hire a general contractor (GC). They will be able to act as the project manager and will handle all aspects of the project. It is important to remember to always get a detailed contract outlining all aspects of the project. Remember, a written contract protects both parties.
However, you should note that certain jobs will also require you to hire specialized contractors. For example:
Generally, renovating a basement is a big job and it can be overwhelming but having a place like Improve Canada can help.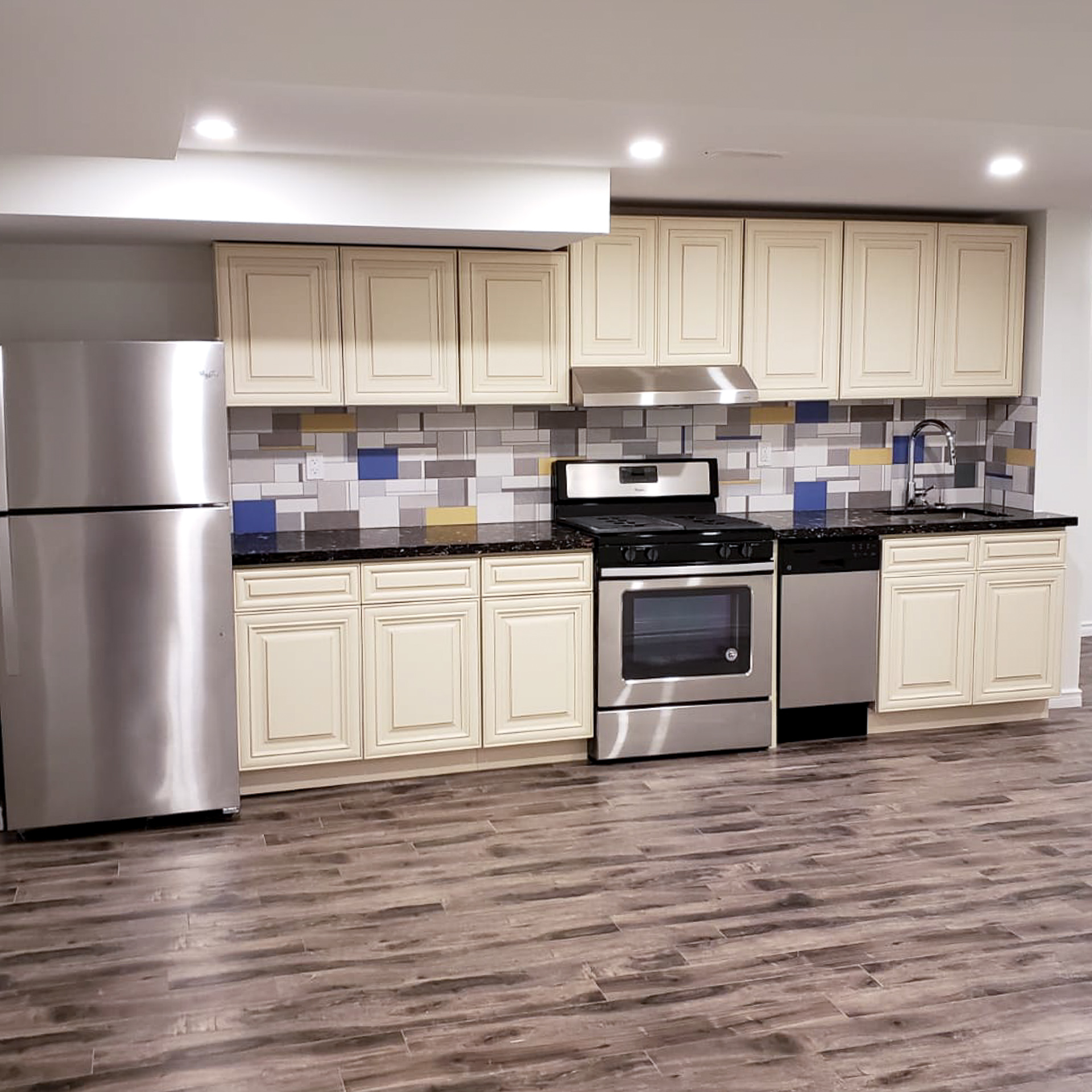 Moose Basements, Unit #161 is one of several home renovation specialists at Improve Canada
If you are looking to renovate and are in search of contractors in the Greater Toronto Area, we at Improve Canada can help you as we have every kind of vendor you will need to have a successful renovation project! Our customer service team will help you book your appointments with our resident experts, who will then help you every step of the way from planning and design to installation and finishing.
#2 - Create A Multipurpose Space
Our homes may be getting a little crowded these days and the need to create separate spaces for our different activities is becoming more essential, like a home gym or home office.
Depending on the available space you have, many homeowners are opting to convert their rooms into multipurpose rooms, like a family room can also transform into a guest bedroom or a recreation room can double as a home gym. Today's furniture manufacturers are designing styles that have multipurpose in mind, like storage ottomans on wheels, sofa bed and chairs, wall beds and built-in storage systems to help you stay organized.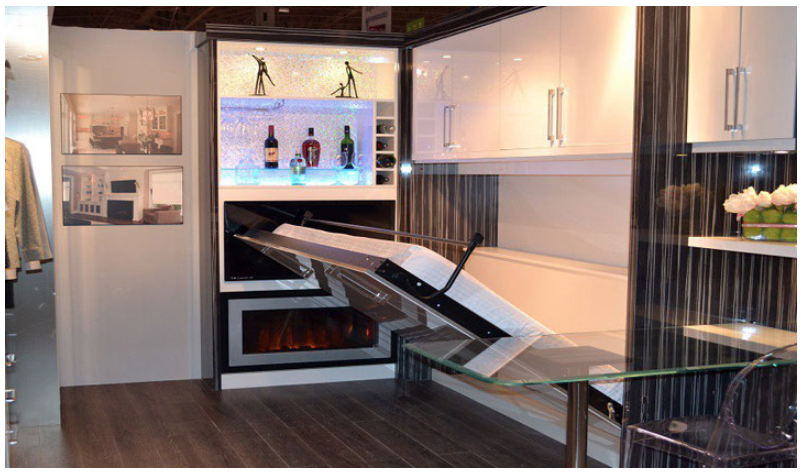 Design to Fit Interiors can help with all your space planning needs, Unit #300 & 301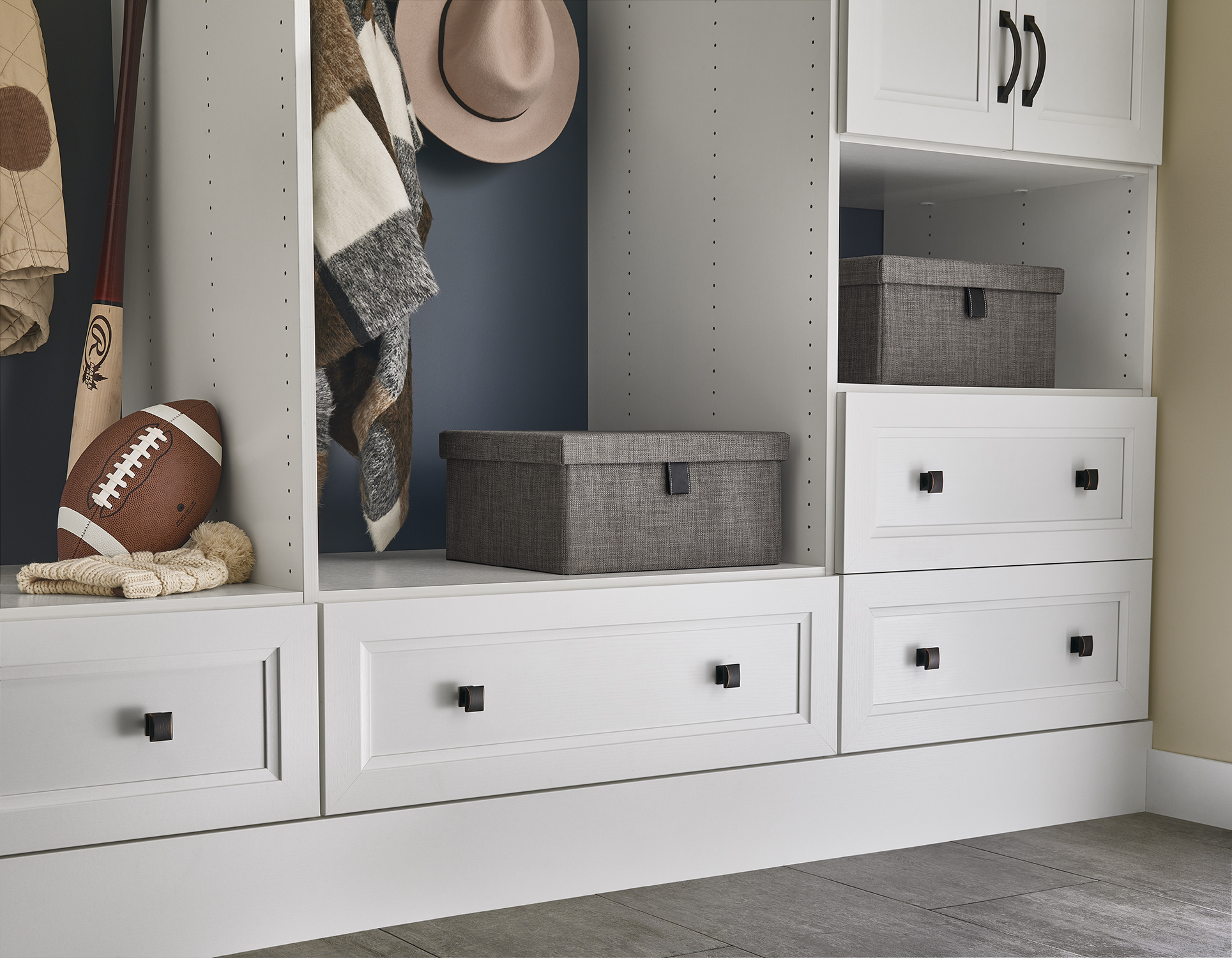 Built-in cabinetry and shelving can minimize clutter and organize any space, Trendy Closets Unit # 200
#3 - Basement Apartments Can Act As an Income Source
Basement apartments can be a great investment and a great source of income but there are a few extra things you will have to consider to ensure that it is legal. This includes zoning, occupancy, fire and electrical safety standards – and let's not forget about permits – see tip #1!
This is where an experienced general contractor will ensure you have all the necessary requirements. They will also help you create a design that incorporates important things like a separate entrance and minimum ceiling requirements (min 7'), and help you choose materials and finishes that are durable and easy to maintain.

Master Doors, Unit #5 offers a wide selection of interior and exteriors doors.

#4 - Basement Bathroom Can Increase Your Home's Value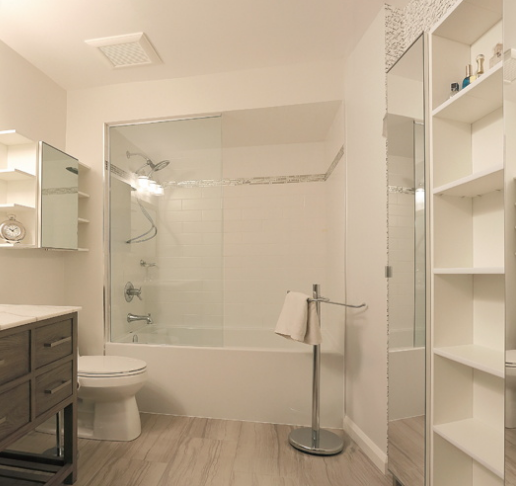 Bathroom renovations by Sosna, Unit #372
Adding a basement bathroom can increase your home's value, not to mention the convenience of having another bathroom when entertaining a basement full of teenagers.
(Post-COVID of course once you're able to have people over again).
However, it's important to have a clear plan on what you want and what your space will allow for. One of the things to watch out for is making sure your bathroom is properly built and sealed to avoid any potential water damage. You should consider a waterproofing membrane over your substructure as well as invest in a good extraction fan to keep humidity levels low, says Mike Holmes, especially with a 3-piece bathroom or stand up shower.
Improve Canada vendors offer a wide selection of products to create your perfect basement bathroom, Unit #111 and #109 & #97, #231.

When it comes to electrical and plumbing, Mike Holmes also advises homeowners to hire a pro. A licensed contractor will ensure your job is done right and the correct permits are pulled as needed. Remember water and electricity don't mix so you want to make sure the installation is done correctly and safely.
The vendors at Improve Canada offer a wide variety of products, styles and price points to help you complete your basement bathroom renovation wherever you are in the Greater Toronto Area.
#5 - Consider your Light Sources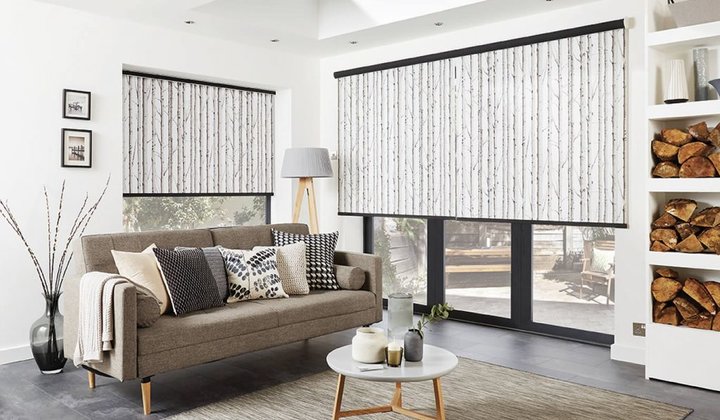 This basement renovation takes advantage of the natural light source, BuiltWright Inc. Unit # 39.


Over the years basements have been known to be dark and unwelcoming, but add some great lighting options and you can transform the space. Where possible, plan for windows and doors that will allow natural light into your basement.
In fact, work with your general contractor to see if you can enlarge existing windows to allow for more natural light. It is very important to ensure there is no compromise to the structural load of the house says Mike and remember this will require permits too!
If this isn't an option remember to use a combination of light sources. For example, recessed or pot lights are very popular in basements and are known to brighten up the space. However, you may want to add additional lighting such as task and accent lighting to complete the look.
Remember, if you are doing a complete basement apartment a licensed electrician will ensure all the wiring is done correctly and will probably suggest you install a separate panel for the area. This won't be cheap but it will be safe and there will be no fear of overloading your existing panel.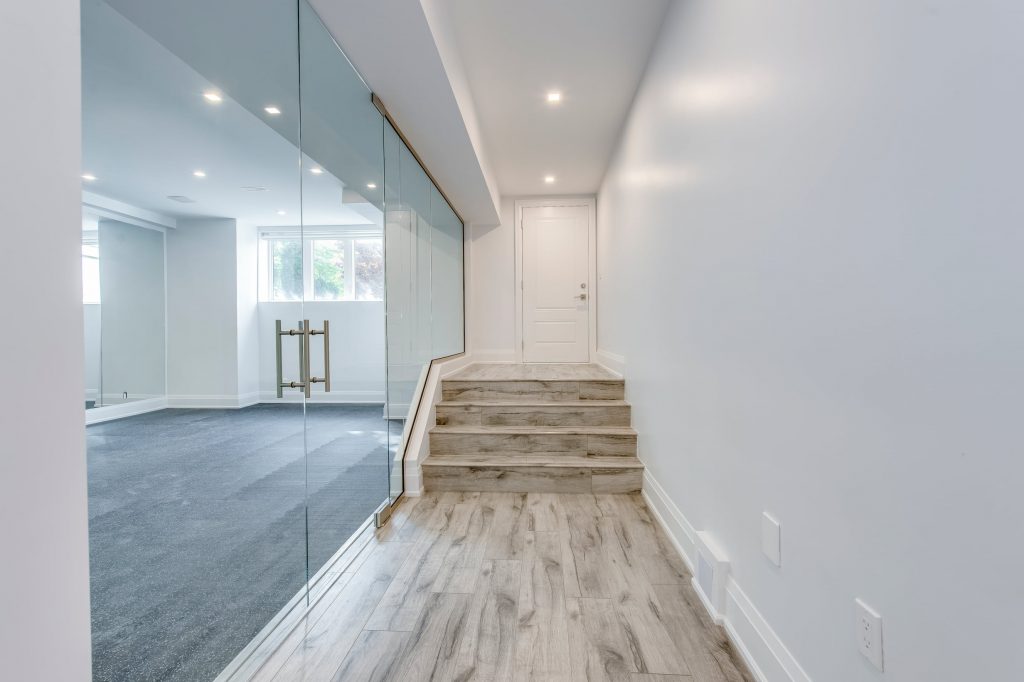 Light coloured wall paint and flooring, mirrors and glass will help keep your basement bright, Unit 64 C & C Lighting.
#6 - Pick the Right Flooring for your Basement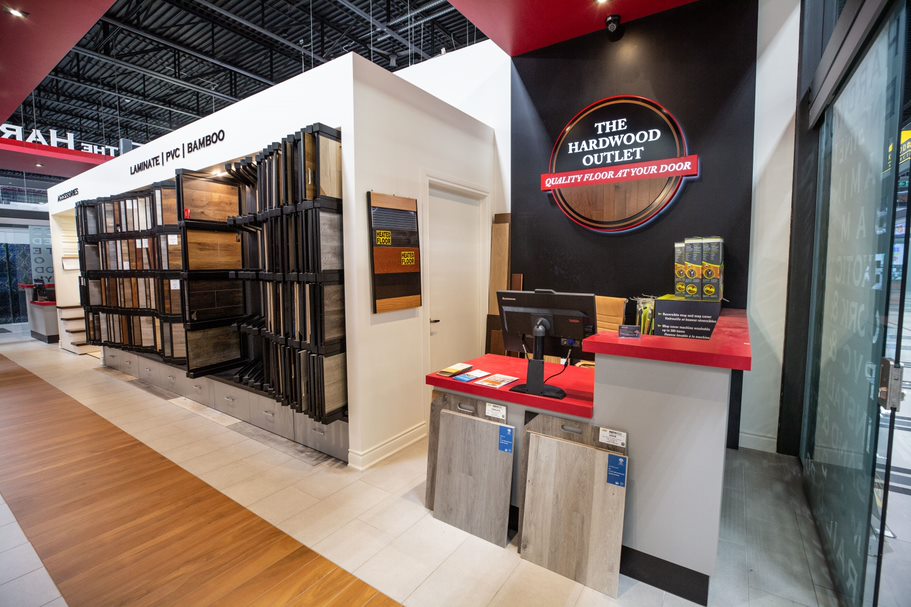 The Hardwood Outlet offers more than just hardwood flooring! Unit #109 & 90
Another essential feature of a basement renovation is the choice of flooring, and while colours and types of materials are important, the subfloor plays an equal role in the overall comfort and longevity of your flooring.
"At minimum, you will need to install a vapour barrier, but before you install any flooring make sure your concrete is dry and free of cracks or moisture. There is no point in spending your money on a beautiful renovation, only to have it damaged by a flood or water issues," says Mike.
Specialty subfloors include a space for drainage and moisture, plus rigid foam insulation, and a composite layer substrate for the flooring. Installing a heated floor is also a great option and would be a welcome benefit to a basement bathroom floor.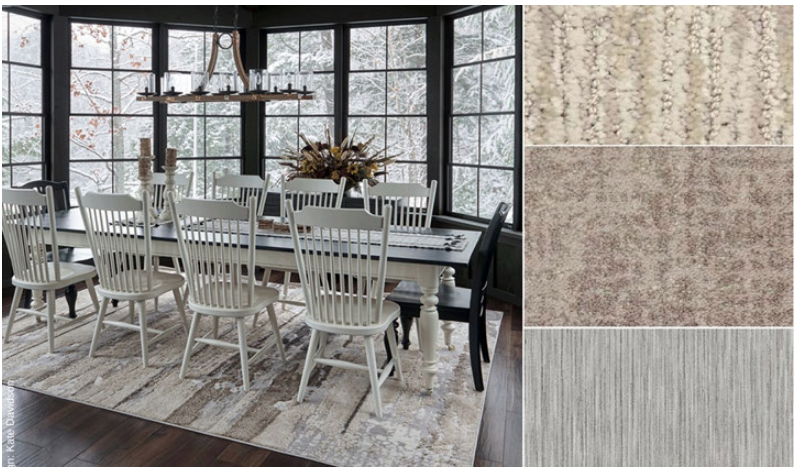 Remodel Canada Carpet One, Unit #205 has a great selection of flooring options.
Any kind of flooring can be installed on top of the substrate. However, because of the potential for moisture, Mike suggests products like vinyl planks, or ceramic tile that are water-resistant. If you're opting for a hardwood floor look, he also suggests a laminate or a combination with partial carpeting, rather than hardwood, and it's more budget-friendly too!.
If you're in search of flooring materials in Toronto, Markham, Oakville, Mississauga, Vaughan or neighbouring cities, our showrooms, at Improve Canada are the place to visit. With hundreds of vendors and no shortage of material you are able to shop multiple quotes and materials all in one location –make an appointment today to speak with the flooring specialists.
#7 - Make sure you File for the Right Permits
Another thing that Mike talks about is permits and the importance of getting them. A permit is a document that is issued by the local building authority that ensures the local building codes are met. For example, some local building codes demand egress windows in order for a basement room to be considered a bedroom, and an enclosed closet may also be required.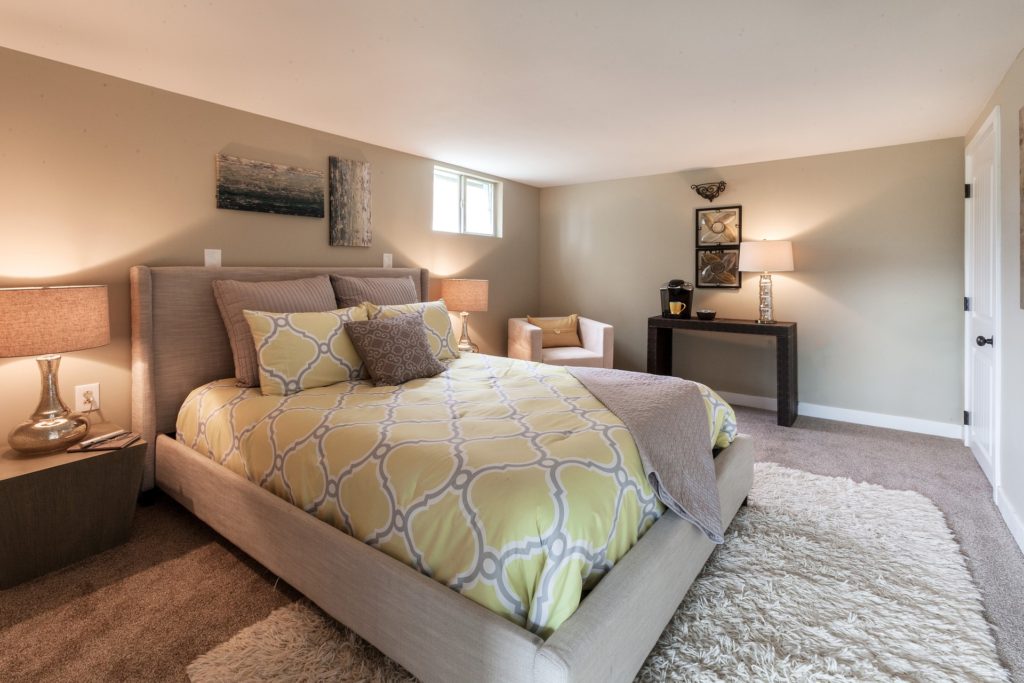 Moose Basements, Unit #161, can help you understand all that is required for a professional renovation.
There are several additional permits that may be required under the general permit for a basement renovation project. Separate permits for electrical work and plumbing for example, will be required and the licensed contractors doing the work can help you pull these permits.
Work with your contractor or better still contact your local building authority to find out what you will require. Even if your contractor tells you they will get the permits, ultimately it is the homeowners responsibility to ensure that permits have been obtained, says Holmes. If this doesn't happen the result can be costly, with stop orders, repairs and fines!
Now that you're ready to get started on your basement renovation, book an appointment to speak with the experts at Improve Canada to make your dream renovation a reality. Book your appointment online at https://improvecanada.as.me or call the customer service team at (905) 677-2577.