5 Tips to Improve Your Kitchen's Functionality
---
Working in the kitchen needs to be a harmonious experience, which means that the layout of your kitchen is extremely important. A kitchen that has an organized and methodical layout is a functional kitchen. Functionality is the name of the game when it comes to having a kitchen that works with you rather than against you. Ideally, you want a kitchen that can store every tool and appliance you need in a neat and orderly fashion; so that you're not having difficulty finding something in a cluttered drawer, and you have ample space to work.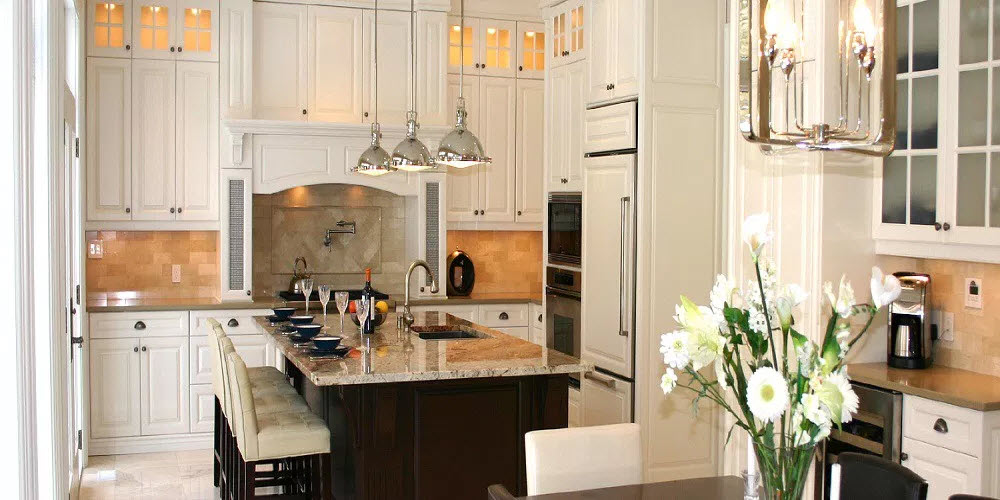 Homeowners are constantly looking for design inspiration to help maximize the utility of their kitchen space to allow for greater functionality. Whether you live in a city condominium with minimal square footage or a suburban home with lots of space, kitchen function will be top of mind as you consider reorganizing or renovating your kitchen. Below are five tips you can follow to help increase your kitchen's functionality.
Tip 1: Install a kitchen cabinet with storage on the bottom for larger items and a pull out counter on the top to allow for extra counter space. One of the best uses for large kitchen pull out drawers under the sink is to allow for a multiuse drawer specifically dedicated to compartmentalizing garbage, recycling, composting, and possibly another container for fish as is custom in European kitchens. Furthermore, having a drawer with lots of storage space gives you options. You can neatly fit many different types of pots and pans, along with utensils and various appliances in the drawer.
Tip 2: Install smaller kitchen appliances. By decreasing the size of a standard stove top or, even better, by selecting a kitchen design that incorporates a stove top and oven appliances into the cabinetry, you can save valuable square footage in your kitchen. This is the perfect solution for condo dwellers who don't have a lot of space, but have some ambitious interior design goals. Incorporating smaller appliances into cabinets not only improves functionality of a small kitchen space, but it can also be made to look really stylish.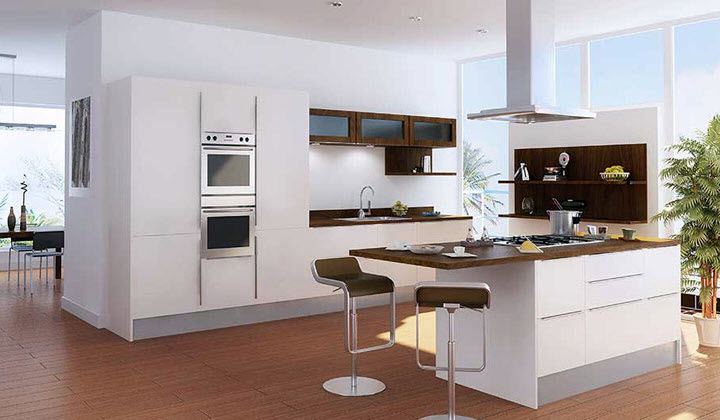 Tip 3: Utilize wasted space. Some areas may not be an ideal shape, but sometimes a built-in may greatly increase your storage space. Depending on the space you have available, you may be able to add a small home office or a hidden laundry pantry to store your detergents, ironing board and iron. For example, this tip can be especially helpful in high-rise gallery kitchens because many developers are now installing laundry units adjacent to the kitchen or in hallways leading to the kitchen.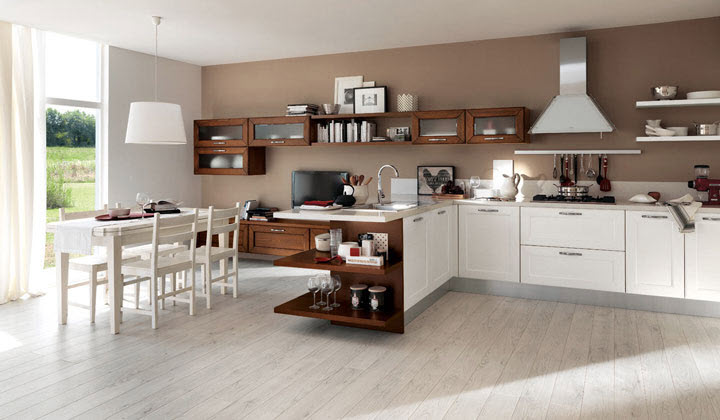 Tip 4: Use your walls to vertically expand the functionality of your kitchen space. When a city doesn't have space to build homes, they build up with condominiums. This philosophy can be used in the kitchen as well. Homeowners often need help maximizing the space they have inside of their cabinets. If you have small items for shelfs with a lot of height, get another shelf so you can store more things. You'd be amazed at how big of an impact this design choice can have in your kitchen. It opens up your spaces and can add some much-needed breathing room.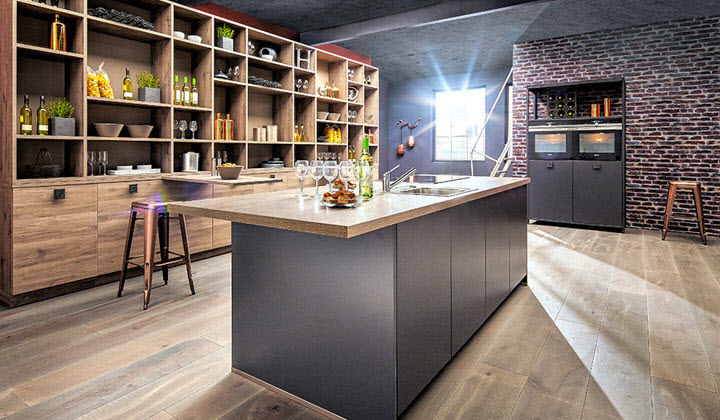 Tip 5: Use your walls to enhance functionality, especially in small spaces by hang your pots and pans to gain extra storage. One of the benefits of this is that you will always have your kitchen tools within arms-length. This is a solution that can greatly enhance your efficiency in the kitchen. Rather than looking for something you use frequently in a cabinet, you can hang it just above your stove. This is a great option for any kitchen, but particularly small kitchens that don't have an abundance of storage space. On the flip-side, this is not highly recommended if you are still using unsightly pots and pans.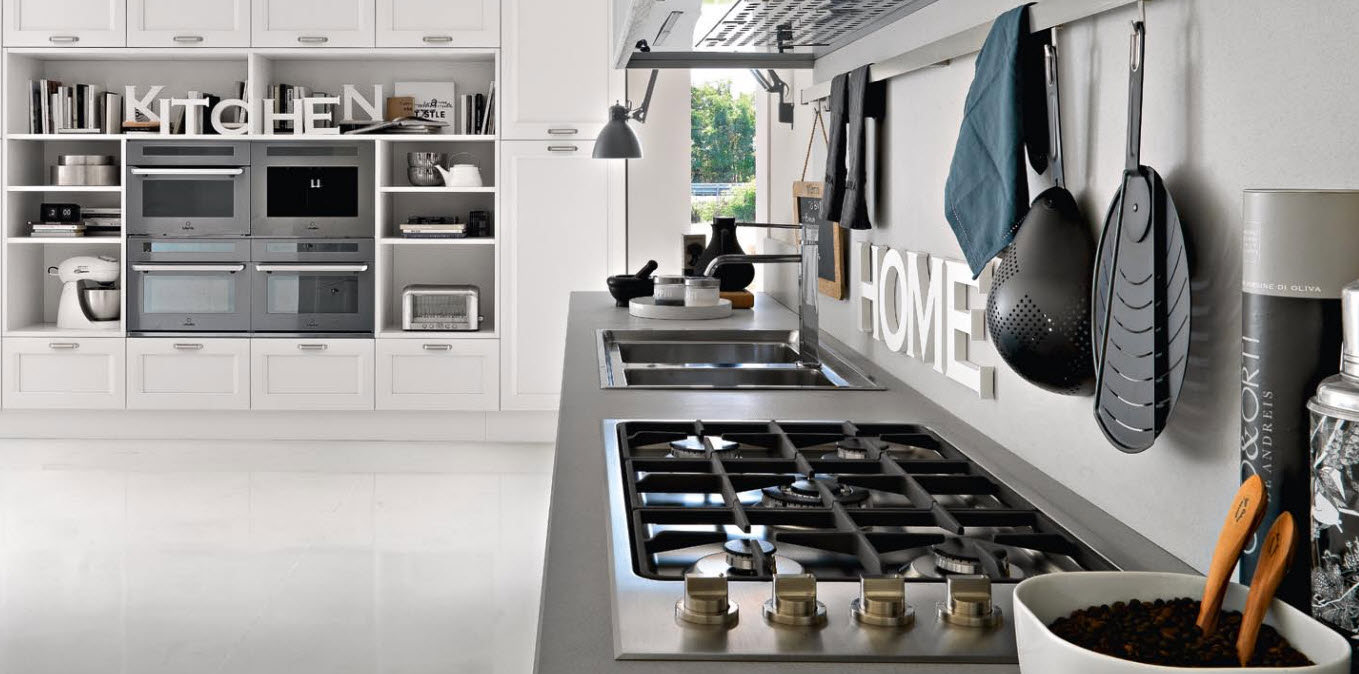 As we mentioned before, functionality is key. A well thought-out kitchen layout can go a long way towards you loving that space. Spending the time now thinking about the layout of your kitchen will save you a lot of stress and aggravation in the future.
Participating Vendors:
- Lanxin