Tips for Designing Your Perfect Closet
---
Let's face it we could all do with more space in our closets, but more importantly, it needs to be organized, nicely spaced, and well lit. Hands up who has a closet that is super packed? It happens and we all have one (I know I have one) or more and sometimes you just close the door to deal with it on another day.
But, what if you had the opportunity to design the perfect closet? Custom cabinetry with pullout drawers, specialty drawers, cupboards, cubbies, shelves, tasteful lighting, glass doors, and mirrors are just some of the things that can create the walk-in closet of your dreams.
Here are some tips that you should consider:

Utilize as much space as possible
When designing your dream closet remember to take advantage of ALL the space. First, be aware of the width you will need. The general rule is to have a closet that is at least 24" deep (but 30" is ideal) – this will ensure all your clothes will fit nicely.
Second, make sure you have room for other items, like folded sweaters and tops (up to 15"). Third, make sure you have sufficient height for long coats or dresses. A good height to consider is approximately 68" of height, pants and jeans require approximately 50" and skirts require up to 45" of vertical space.
Ultimately, you want the closet to suit your needs, so if you have a deep passion for knee-high boots then here's an opportunity to make room for them. Another great way to maximize your space is by using curved closet corners of the closet or space.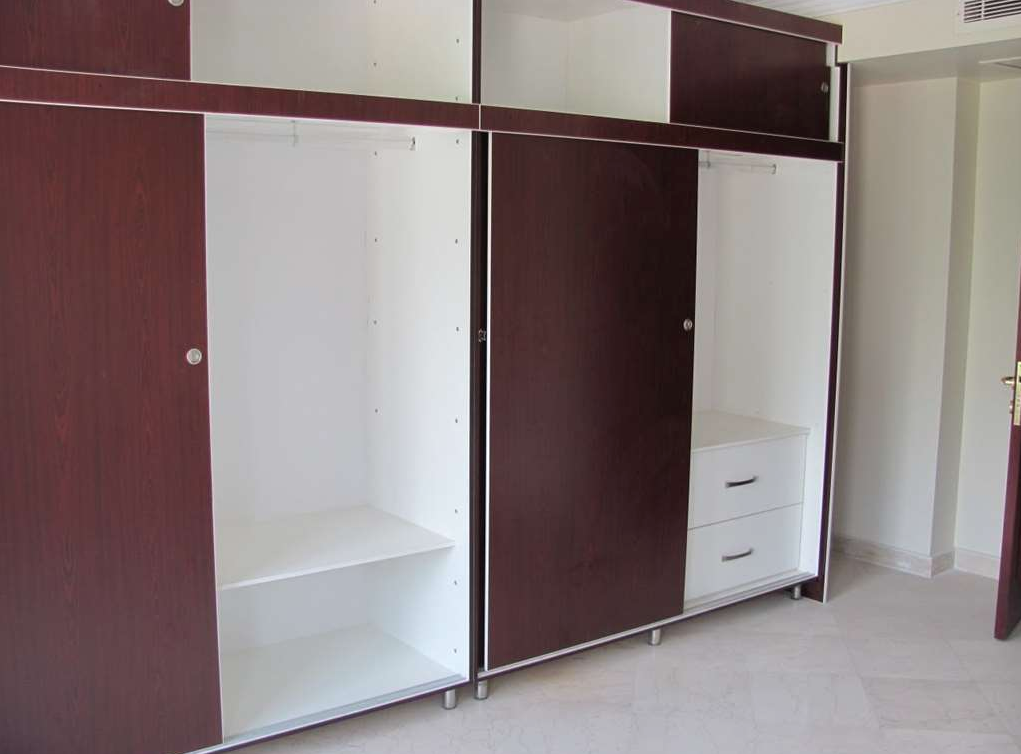 Built-in closet provides hanging racks, shelves, and pullout drawers from Starwoodworking, one of the many specialty vendors at Improve Canada.
Hanging Closet Organizers
Hanging closet organizers are a must for any custom closet but make sure you include the right amount of double and single hanging sections. Men's closets usually only require double hanging sections, while women may need single hanging sections for dresses, long coats, etc.
Reaching up or stooping to grab items can be annoying, especially as we get older, so make sure they are positioned for easy access. Pullout racks are a simple solution to accessing all your clothes with minimal reaching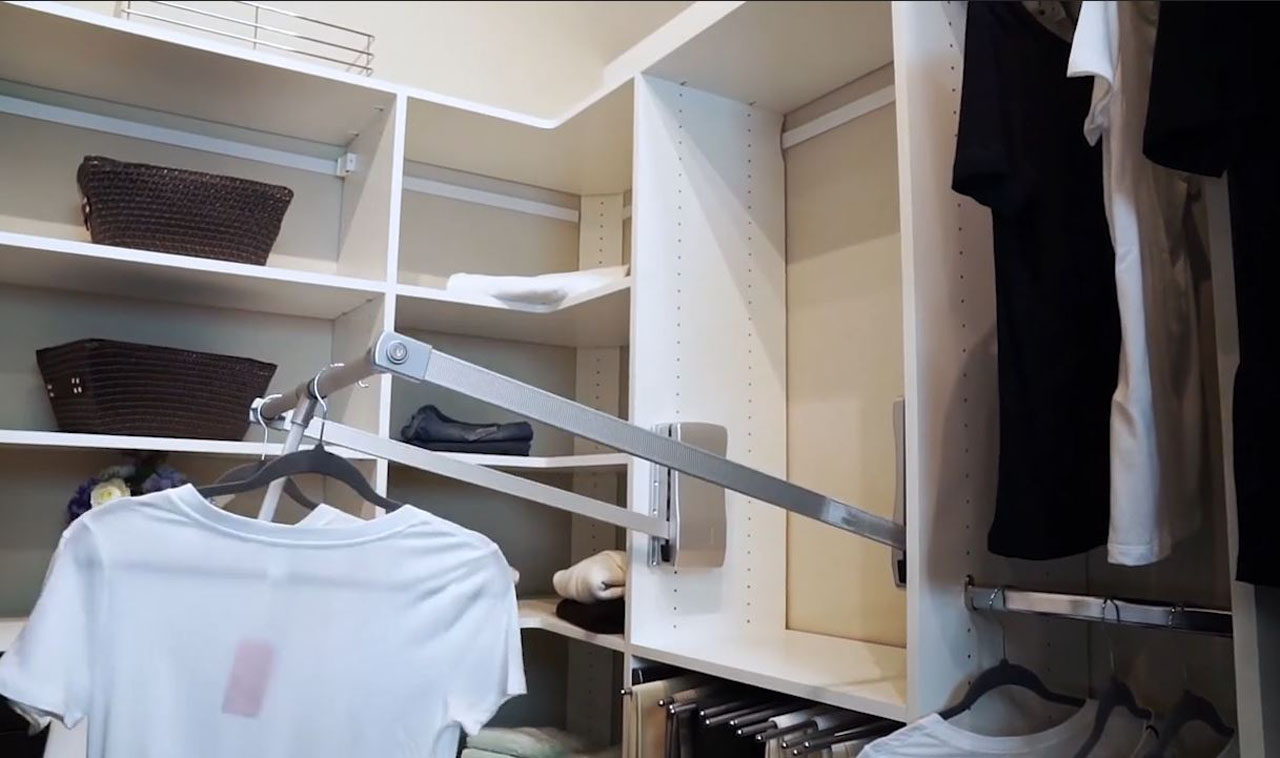 Pull out racks provide easy access and display options for your clothes by Design to Fit Interiors at Improve Canada.
Consider the extras!
Island Chests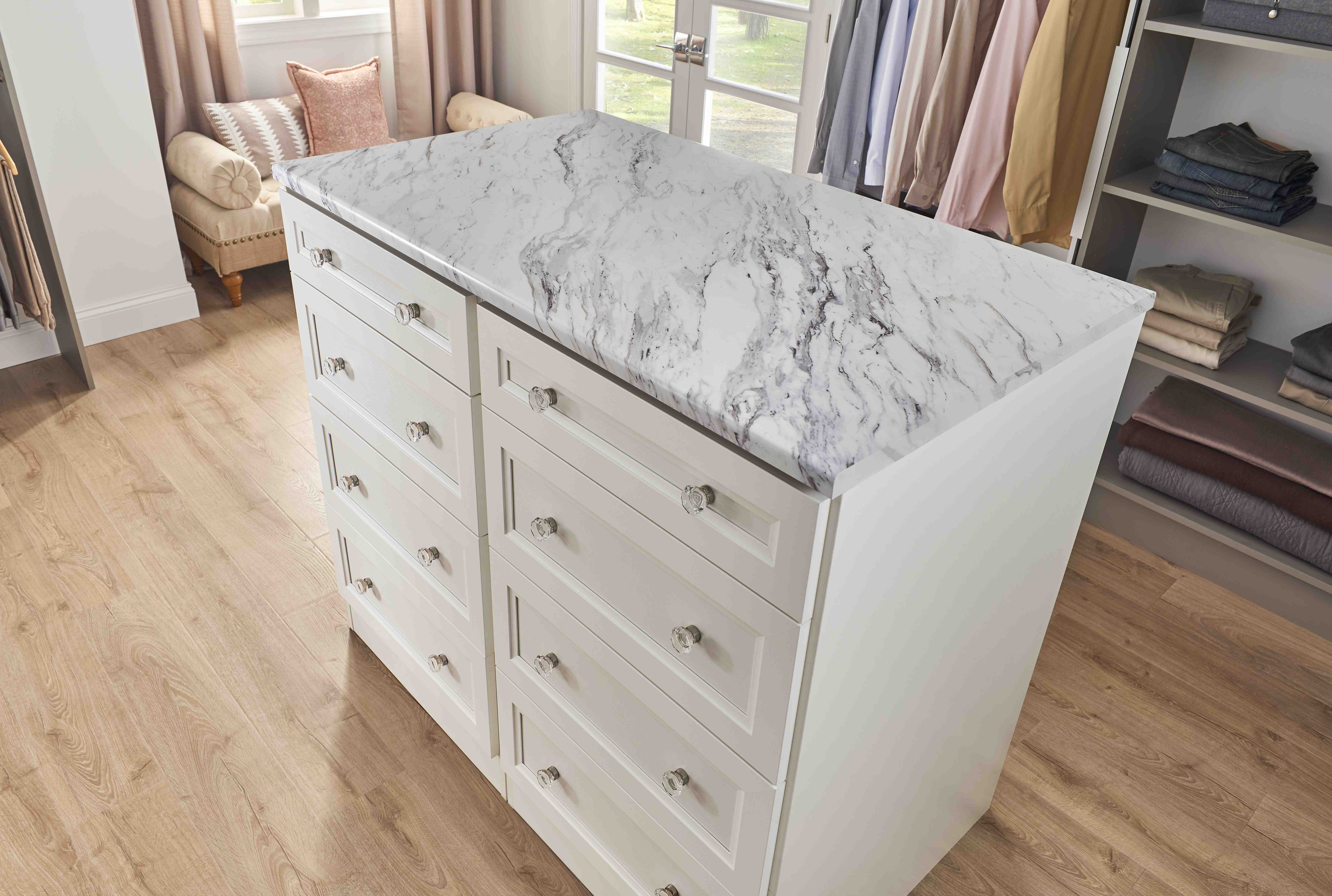 An island chest in a walk in closet is a luxurious addition, providing more storage and countertop space. Adding a chair or bench is perfect for putting on your shoes too! Walk-in designed by Trendy Closets at Improve Canada.
If you have space, add an island chest for added storage which also offers the convenience of extra countertop space. Having sufficient space to move around and to pull out drawers is key 36" of space around the chest is ideal and I wouldn't go any less than 24".
Bench Seating
Adding some sort of seating near your shoes is a great idea for putting on your shoes. Alternatively, you can add an accent chair or bench at one end of the island or in the corner of the room. If you are fortunate to have a window in your walk-in closet consider adding a cushioned window seat with an added drawer allows for more storage and the natural light.
Hang a Couple of Mirrors
Mirrors are essential when designing a closet – you need to make sure the outfit works! Mirrors also add dimension as they create the illusion of space by making a room appear bigger and help reflect light.
A full-length mirror is an important feature to have when designing the perfect closet. Sliding doors with mirrors are another great option, or you could hang a mirror on the back of the closet door. If you have the space a corner mirror allows you to see both sides of your outfit. Alternatively, a smaller mirror could be added to a wall or as part of the overall closet design.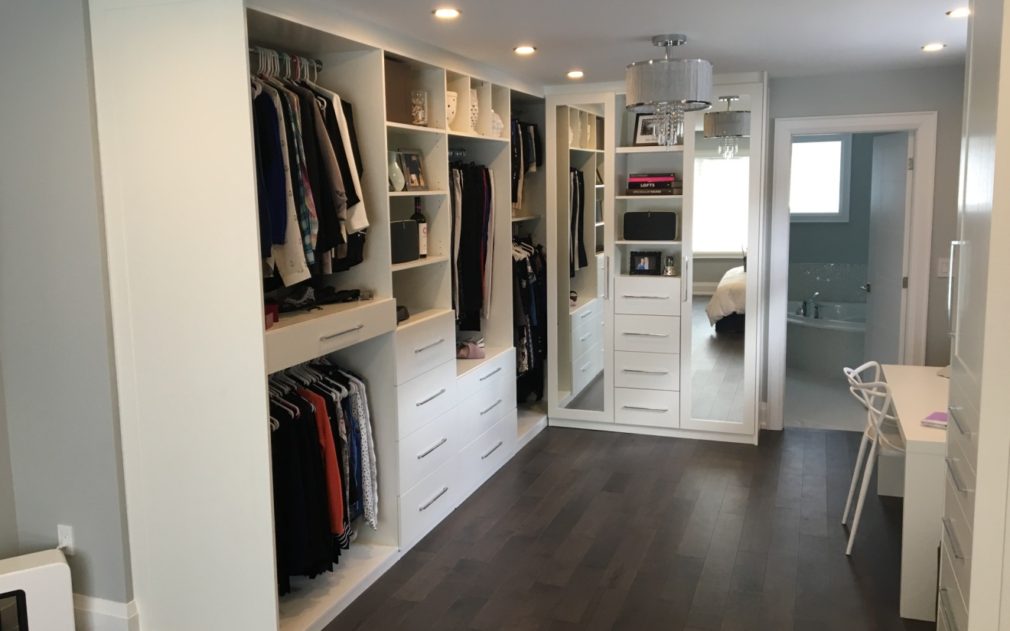 Mirrors provide function and aesthetics to this closet area designed by Komandar at Improve Canada.
Specialty Drawers
Jewelry, Ties and Belt Drawers
Don't forget to add specialty drawers like a jewelry drawer. Jewelry drawers with specialty dividers will help keep all your jewelry pieces organized and easily displayed. A jewelry drawer can include trays, dividers, and even specialty inserts for rings.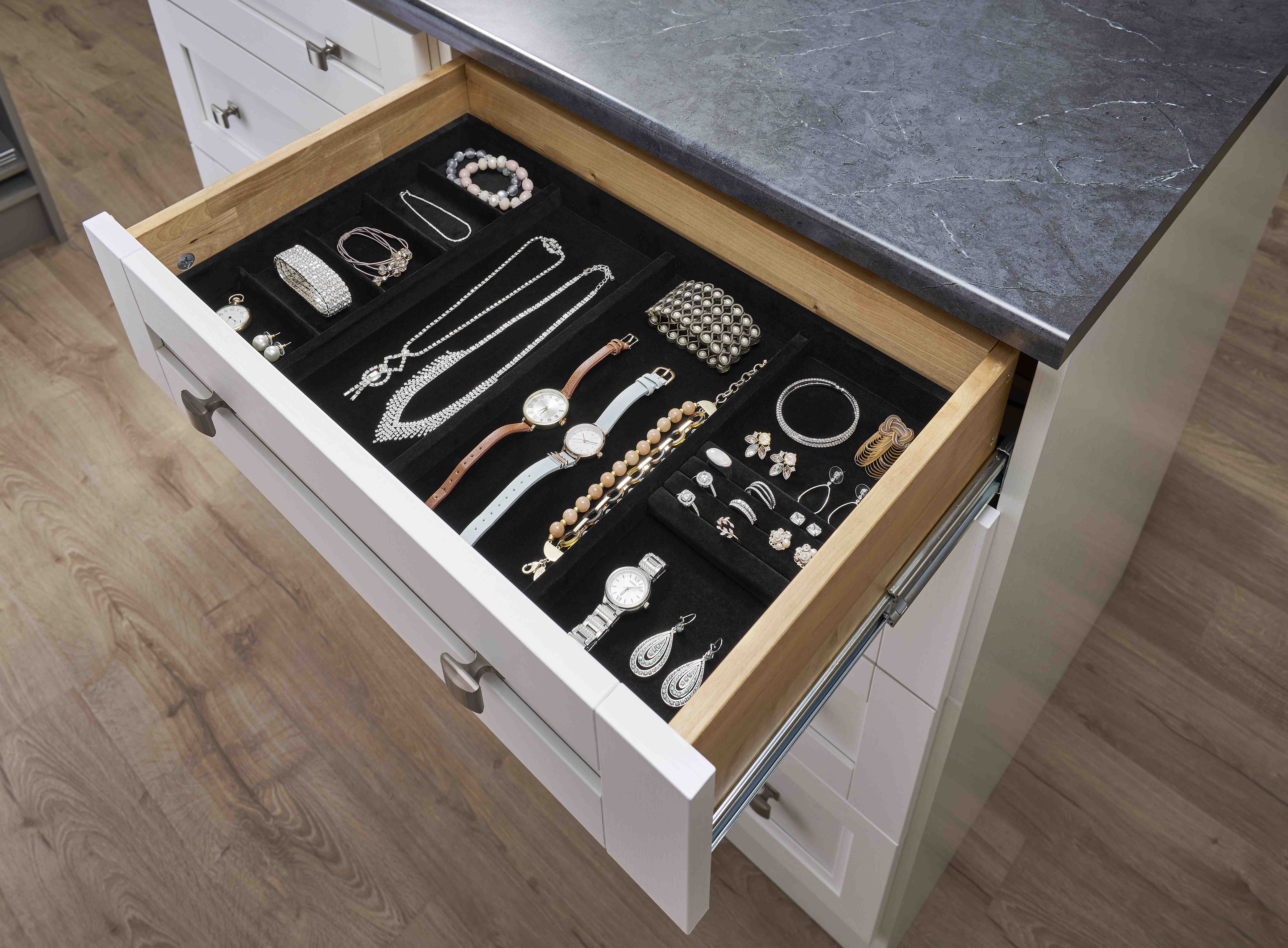 Jewelry drawers with special inserts allow you to easily display all your jewelry accessories by Trendy Closets at Improve Canada.
Hampers and Baskets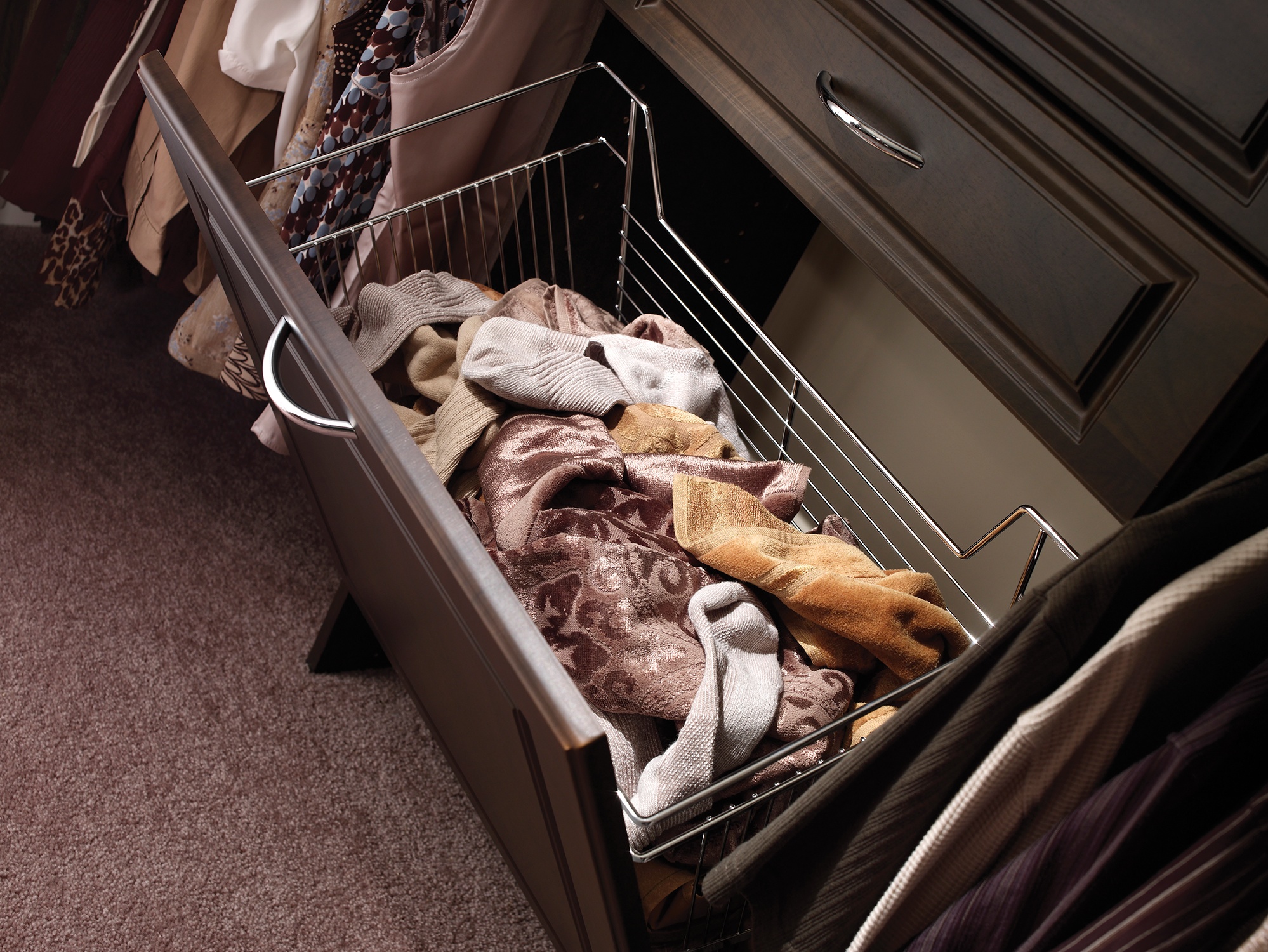 Tilt out wire hampers are great for custom laundry hampers – all nicely tucked away for a clean streamline finish, by Trendy Closets at improve Canada.

Hampers and baskets provide versatile storage solutions. Hampers are a great solution for keeping laundry organized and separated and are available in pullout or tilt-out styles and sizes. Baskets and fabric boxes are multi-functional and come in variety of style plus they are perfect for keeping things neat and tidy!
Shoe Racks!
For a shoe lover like me, it would be a dream come true to have a large shoe rack display.
The rule of thumb is to allow between 7 to 12 inches of space per pair, with the exception of knee-high boots (allow for 17"). Another option is to have a pullout shoe organizer.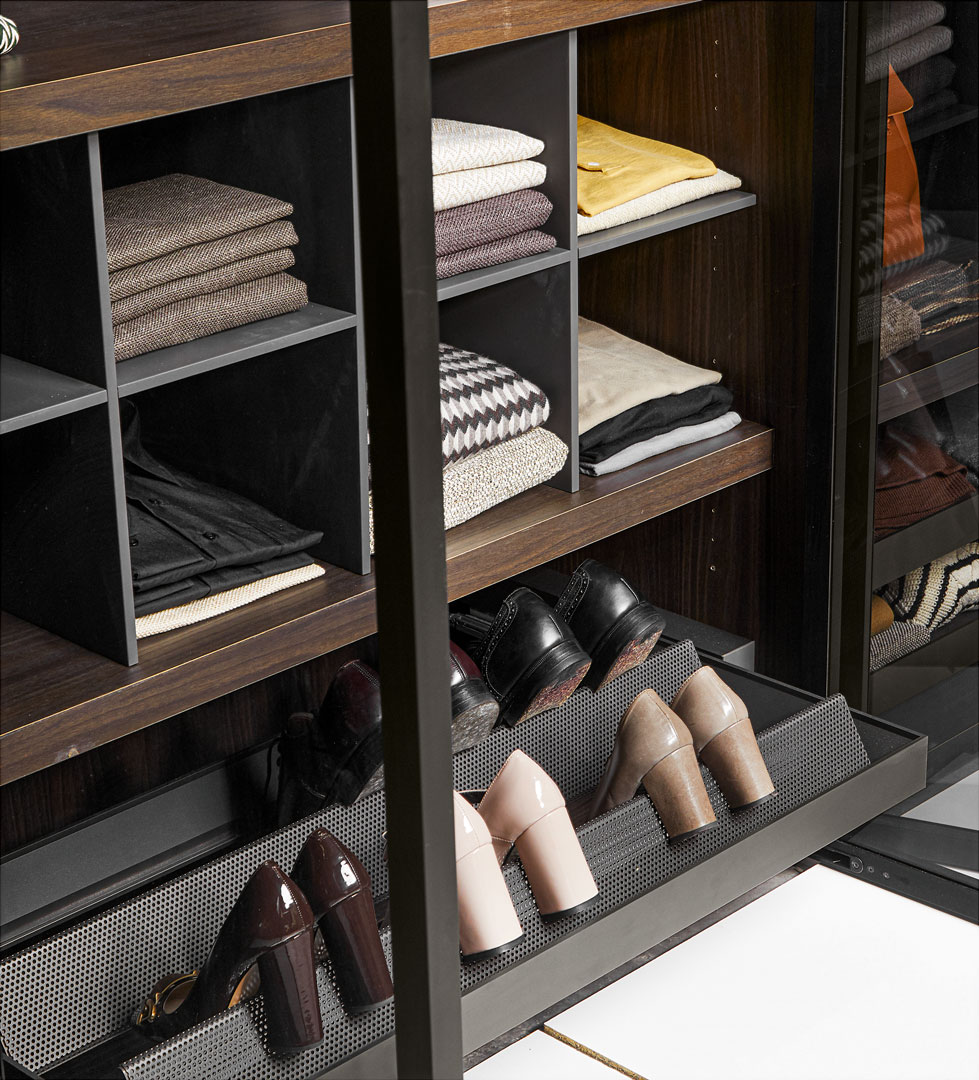 Pullout shoe organizers can provide easy access and display of all your footware at once. Designed by Faer Ambienti at Improve Canada.
Accessories: Belts and Scarves
Pull out hooks and racks are ideal for organizing belts, ties and scarves. Organize belts by color, and hang them in an area that is out of the way (close to the edge of the closet) but still accessible. Separate scarves by length and colour so they are easy accessible. Keep thick knitted scarves or warps separate and folded.
If you don't want racks or hooks for belts and ties, they could also be kept organized in a specialty drawer.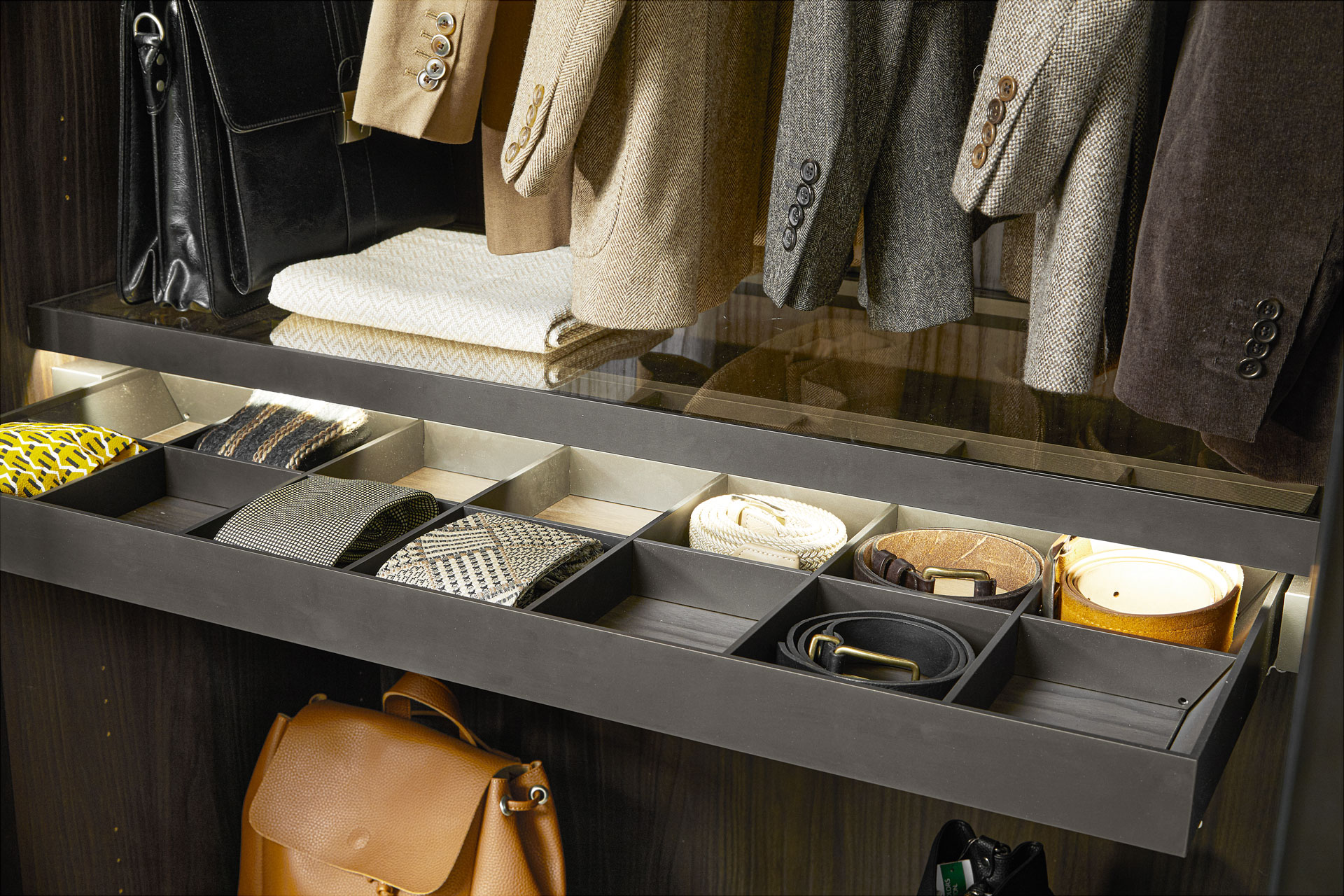 Custom tie and belt drawer by Faer Ambienti at Improve Canada

Don't Forget Lighting!
You know the phrase "did you get dressed in the darkl?" . A poorly lit closet will only lead to frustration especially when you are unable to find things or see things properly, like colours and patterns. Don't ignore lighting your closet properly.
Lighting fixture decisions should be made once the overall design of the closet has been finalized. A selection of different lighting styles, like ambient, task, and accent will provide you with the maximum impact. LED lighting and lights that don't produce heat are a good choice.
Pick cool white lights over yellow lights as white light mimics daylight and helps you see the true colour of your clothes.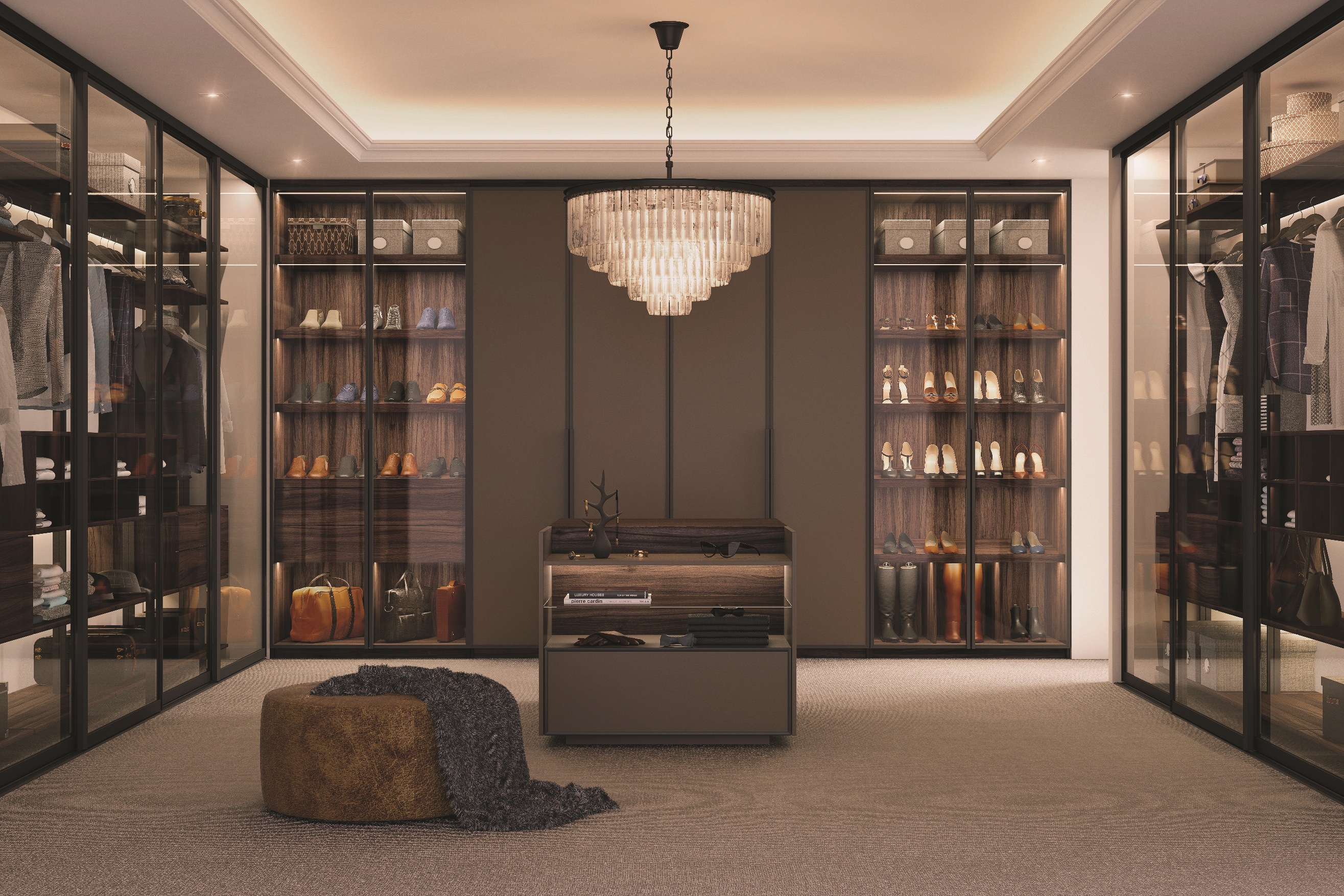 A fabulous chandelier and potlights provide task and ambiance; closet design is by Komandor at Improve Canada.