6 Ways Artwork Can Define A Space
---
6 Ways Artwork Can Define A Space
Sherry Holmes
If you know my family and me, you know that we are passionate about home renovations, good quality materials, and the best installation practices. My dad always says to leave a home construction project and major repair work to the pros. Trust me, we have seen a lot of DIY jobs go wrong.
But if you are looking for a simple way to bring some creative flair to your home, picking a blank wall is a great start. But what do you do with your blank walls?
RELATED: To learn more about accent walls ACCENT WALLS THAT POP!
There are a few different things you can do, like creating a statement or accent wall using tiles, wallpaper, or contrasting paint color. But have you thought about artwork?
I think you are never too young or too old to start investing in original art and becoming a collector.
Artwork helps define a space. It can create a focal point on a wall, either with one large piece or a series of smaller pieces, or perhaps a piece of sculpture or wall covering. Artwork offers you the opportunity to show off your personality while complimenting your style and décor. Artwork can also be an invitation to the viewer to enter a space and perhaps even take them on a journey.
#6 Art invites conversation
Original contemporary paintings, photographs, mixed media, and sculptures are some of the many styles you will find at Indulgences Art Gallery. As most of you know, I love to travel and experience local culture and customs. This beautiful Amerindian inspired wall mask by Jocelyne St-Denis will be sure to spark conversations.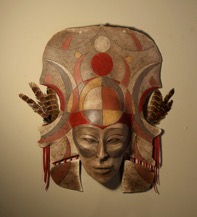 Amerindian inspired wall art, by Jocelyne St. Denis, Indulgence Gallery.
#5 Use artwork to show off your personality
If you want to channel your inner rock star, Marilyn or Holly Golightly, from Breakfast at Tiffany's, check out the artwork from NOT ART Gallery. They offer modern and contemporary artwork, specializing in pop and street art movements in acrylic, mix media, silkscreen, and neon. These pieces will provide impact, color, and add personality to your space.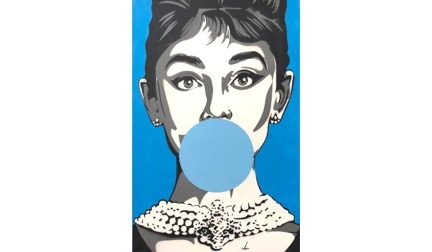 Hepburn Gum (Blue), Commissioned, Not Art Gallery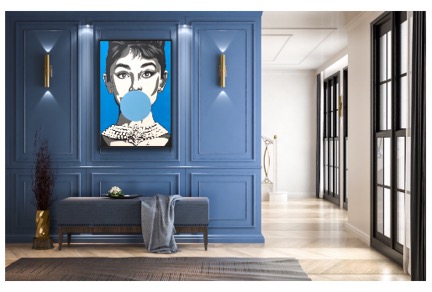 The artwork creates a focal point and helps anchor a space.
#4 Art can provide inspiration and positive emotions
Art offers a visual focal point to a wall or room, but it can also provide inspiration and positive emotions. As we have started to spend more time at home, I think artwork is a great way to make your space more inviting.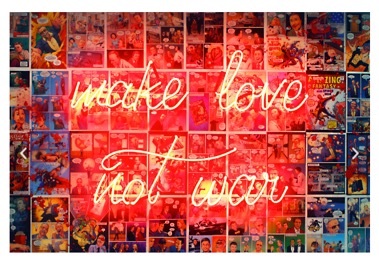 NEON Make Love, Hand-cut comics, resin, hand-embellished acrylic, glass neon, NOT Art Gallery
#3 Up your home décor game
Artwork increases our self-awareness and opens us up to new ideas and experiences. Be bold with this abstract piece by Michael Sparaco from Gallery M2. They offer a wide variety of styles and price points to meet every budget.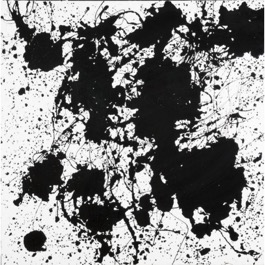 Abstract, by Michael Sparaco, Mixed Media On Board, Gallery M2
#2. Art tells a story
A great piece of artwork can provoke questions and allows us time for reflection. Specific images may resonate with us more than others. Yulianna Dolgonos is a wonderful local artist. You should check out her work at Improve Canada.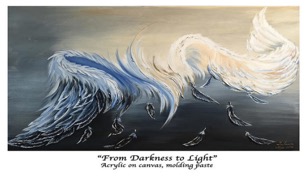 Painting by Yulianna Dolgonos
#1 Art is an investment
By buying original artwork, you support the livelihood of artists directly, allowing them to continue their craft. It is also an opportunity to start becoming a collector. Unlike buying a fabulous pair of shoes, you will have the piece of artwork for your entire life because you've invested both emotionally and physically. Artwork can represent a moment in your life, and the connection you have with your artwork is timeless.
Ness Gallery features many up and coming artists. Investing in young artists at the beginning of their career allows them to purchase their pieces at a lower cost before they become more skilled and well established.
Sculpture from Ness Gallery
My Tip for Finding the Perfect Piece
If you are new to artwork, I suggest starting small with a few pieces. The more you experience different artwork, the more you will understand your connection and what you like. I also love supporting local artists that are early in their careers and select pieces that resonate with you. If you have a larger budget, then check out established art galleries or even online galleries. In our new pandemic world, online galleries will become more popular as social distancing restrictions will hinder the traditional gallery openings.
If you need help finding that perfect piece of art that speaks to you, book an appointment with one of the art galleries at Improve Canada today.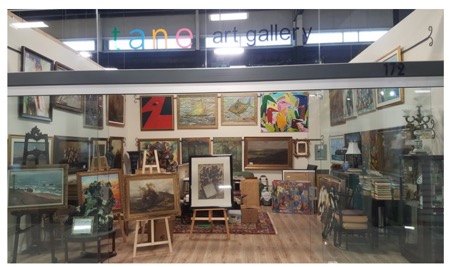 Tane Art Gallery is an auction house that offers a wide assortment of styles. Book an appointment today!
If you don't purchase a framed piece, many galleries offer framing and installation services.