5 Tips to Get the Most Out of Your Multipurpose Room
---
Our homes need to be more flexible than ever before. Whether you are using your dining room as a home office or guest room doubles as a workout room, or laundry room is also a pantry and storage area most of us try to get the most out of our existing space.
We didn't plan for our daily lives to change so dramatically last year. I imagine most have haphazardly created multi-purpose rooms. Still, with a little organization and some small changes, you can create flex spaces that are multi-functional, organized, and stylish.
Here are five things that will help you transform any room you have in your home into a multi-purpose room.
#1. PICK FURNITURE THAT PROVIDES DOUBLE-DUTY
A multi-purpose room allows you to have the flexibility to use it for several purposes, so having furniture that is versatile and adds functionality is essential. If you have a guestroom/home office/playroom, consider furniture that can provide some extra uses.
Pick lift-top tables, ottomans, or footstools that provide hidden storage for things in like toys and games, or extra pillows and linens. Or, maybe consider filing cabinets on wheels that can act as side tables when your room is being used as a guest bedroom. Furniture that is lightweight and has wheels is a major bonus – this will help when you have to reconfigure your space.
Your multipurpose room could also benefit from having a day-bed. A daybed with lots of cushions could be a great place for your teenagers to hang and watch movies but can also easily function as a guest bedroom. Consider a captain's bed with drawers in the base for added storage for pillows, gaming equipment, or crafts.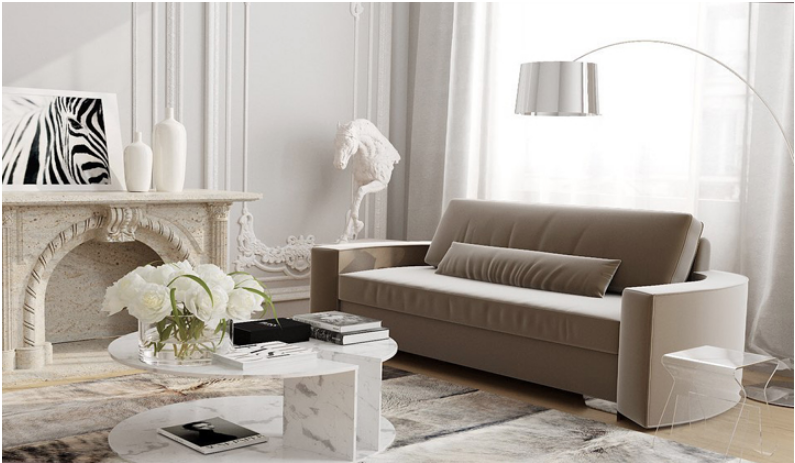 Sofa Bed by Sofa Bed Central Unit 43 at Improve Canada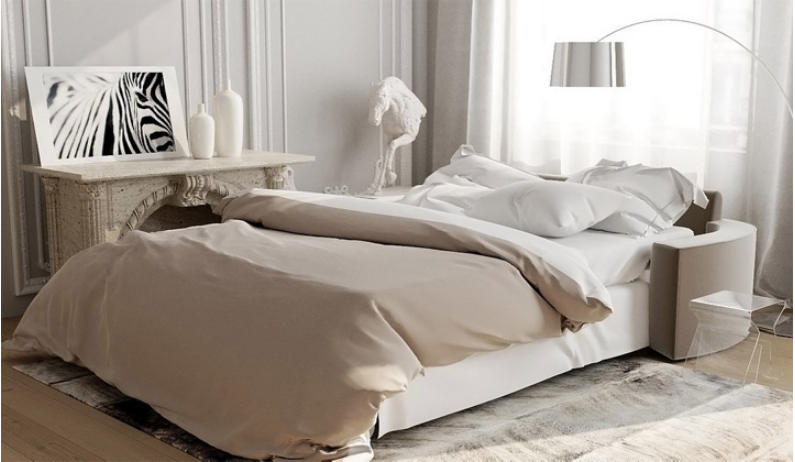 Sofa bed revealed by Sofa Bed Central Unit 43 at Improve Canada
A sofa bed is another great furniture option that provides double-duty – it's a bed at night for guests and a functional sitting area during the day. Today you can even get sofa chairs in all sorts of styles and colours – it's a great option if you are short on space or want to create an open landing reading niche. These furniture pieces provide versatility and functionality as well as an extra bed without having a properly designated bedroom.

Sofa bed chairs are another great idea to transition into a multi-purpose room, Unit 43 Sofa Bed Central



#2. STORAGE & BUILT-INS
Who doesn't need more storage? Built-in cabinetry can maximize your storage area while keeping everything neat, tidy, and organized! Add baskets or containers to hold items that can be easily transported to another room. No matter how high your ceilings are, maximize all available space by going floor to ceiling. Go as high as you can but remember for safety purposes make sure to properly anchor your unit to the wall. Remember to keep items you use most often close at hand, and stow occasionally used items in less convenient locations, like high upon shelves.
With a little creativity and vision, custom cabinetry can be essential to a well-organized multipurpose room. Consider getting a customized wall unit and Murphy bed/wall bed combination. This type of furniture has been around for a long time, but today's versions are quite remarkable.
Murphy beds can be hidden in a wall unit with lots of cabinets, shelves, or drawers. It can also be designed as a bed that converts into a couch or a bed that can easily convert into a desk and office area.
Check these innovative design ideas: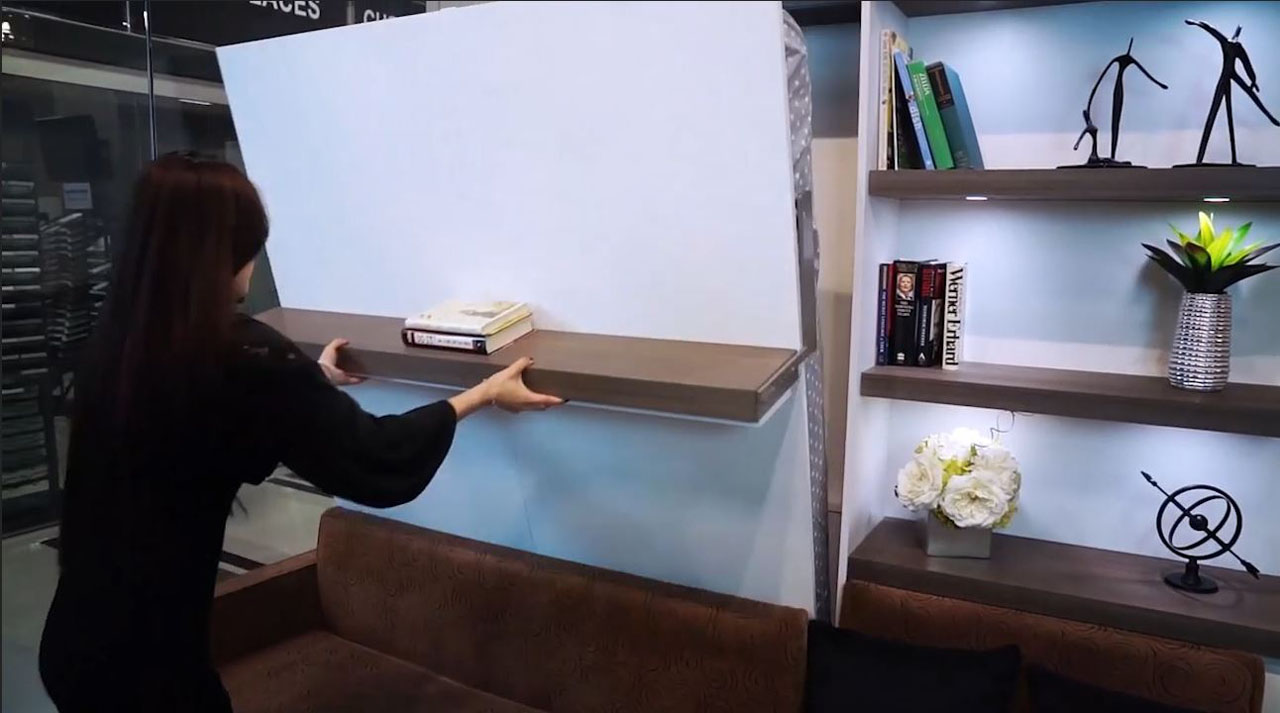 Design To Fit Interiors, Unit 300 provides customized solutions and help you get the most out of your space.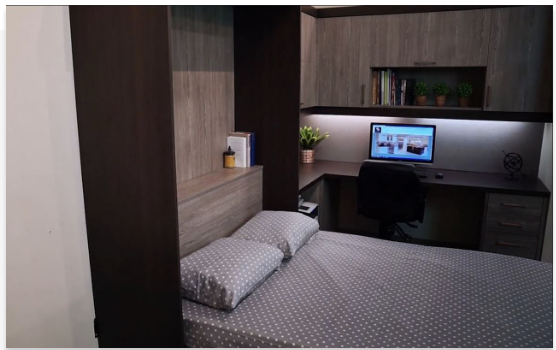 Turns a home office into a guest bedroom, design solutions by Design to Fit Interiors at Improve Canada, Unit 300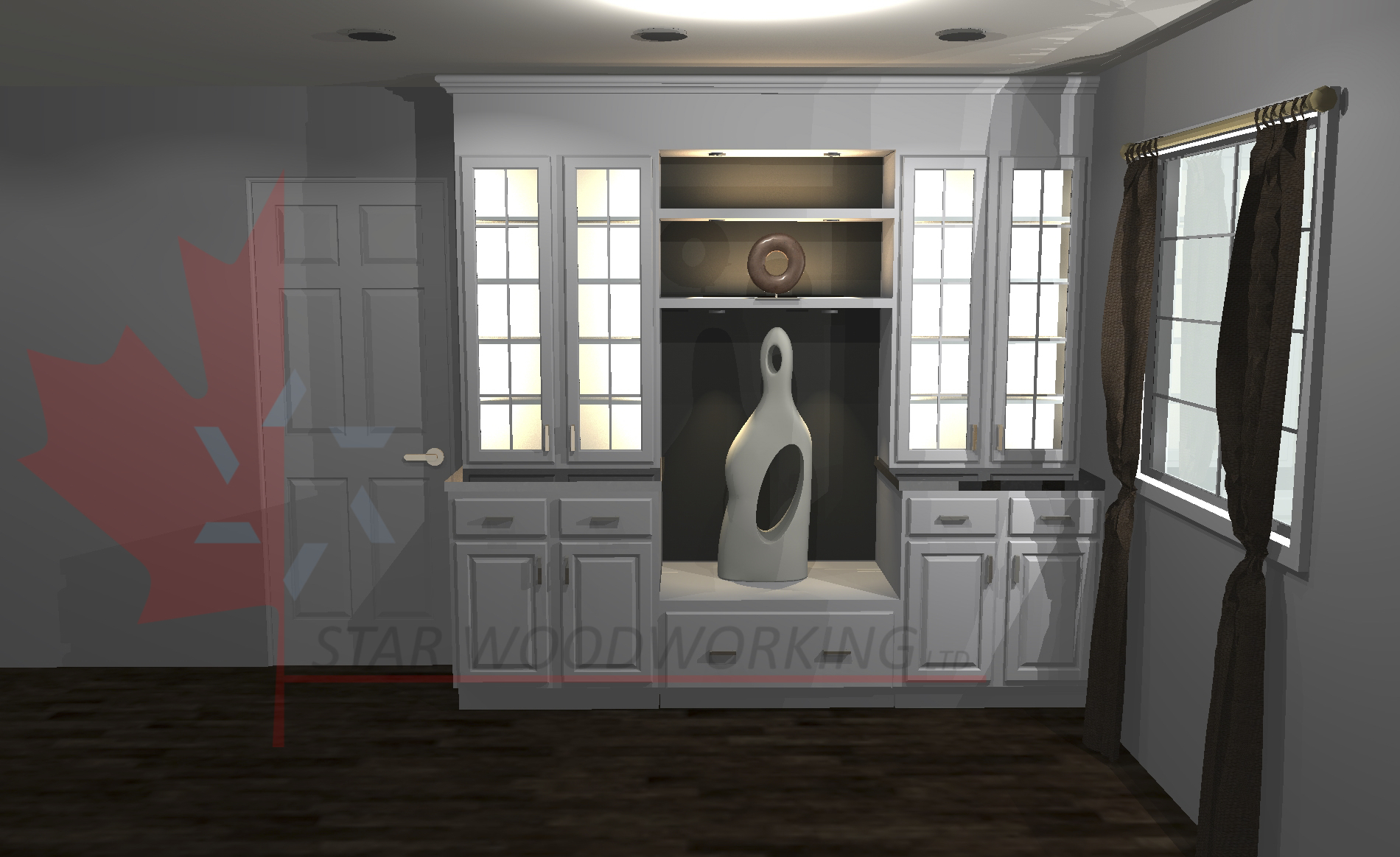 For all your custom cabinetry and millwork needs contact Starwoodworking, Unit 136 at Improve Canada.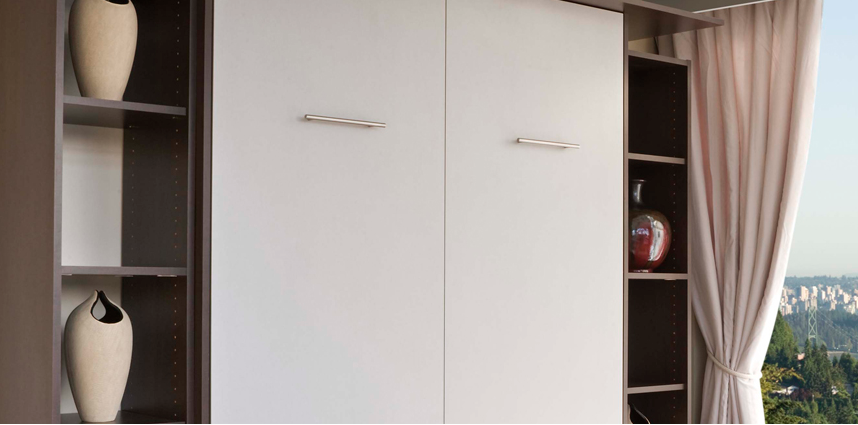 A cleverly designed wall unit by Komandor at Improve Canada Unit 87 hides a murphy bed.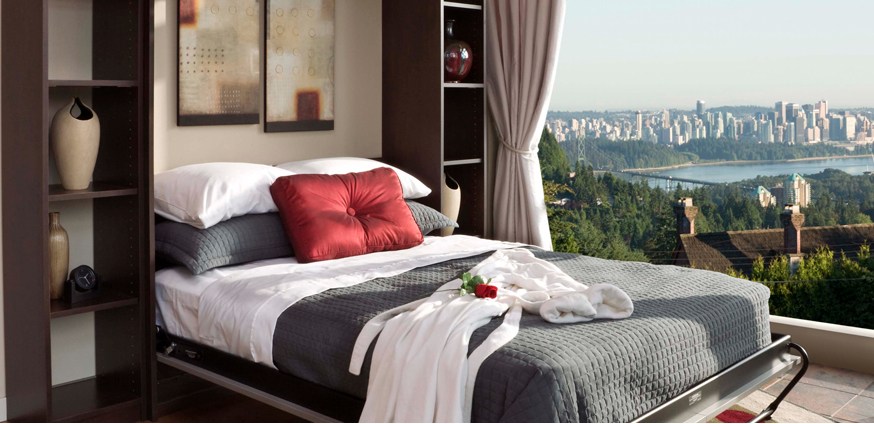 Murphy bed creates a great bedroom area and the hidden artwork completes the space when the bed is in lowered.
#3. CORNER DESK OR L-SHAPED DESK
If you have limited space, why not consider a corner desk? Corner desks don't take up a lot of space and leave room to pull out a bed or room to exercise without too much maneuvering. Again, maximize the height to get the most storage space and use cabinet doors to hide all your office work.
If a corner desk doesn't work for you, opt for a small L-shaped desk. Both styles are perfect for a multipurpose room and take up much less space than traditional desks.
#4. PRIVACY
I am sure that everyone has become quickly aware of the noise levels and distractions that come from the whole family being together all the time! This poses a challenge if you are trying to conduct business and have video-conferences and calls. Some homeowners are even considering sound proofing options.
If you don't have a door to shut, consider dividing the space with a piece of furniture or screen partitions. Swapping out the solid door for French doors or a glass door will provide privacy and the visibility to keep an eye on the kids if need be.
Adding a pocket door or sliding track/barn door can also be a stylish solution, but you might need to call in a contractor for this job!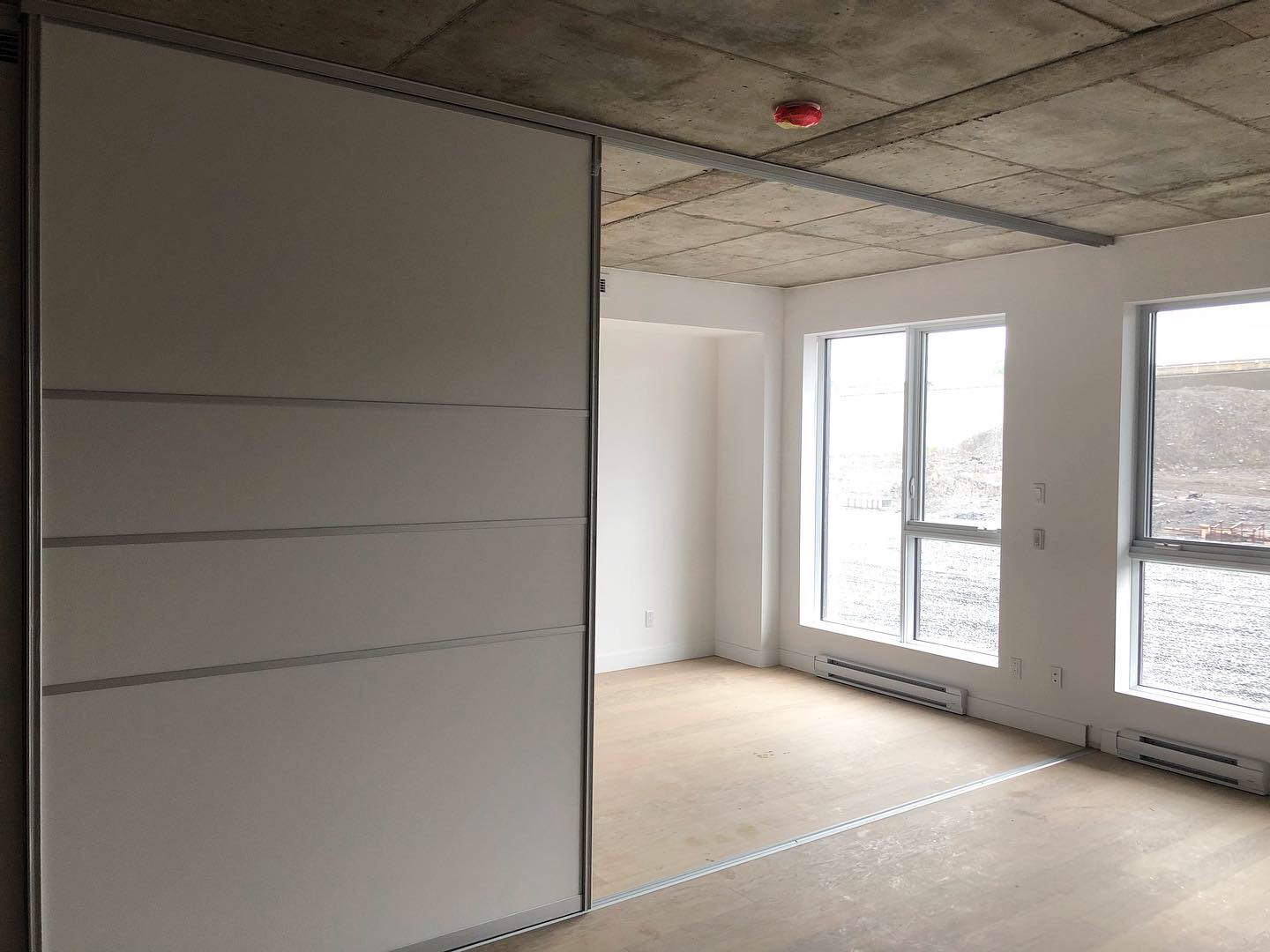 Partition walls can provide that much needed privacy for an multi-purpose room at Alumcomplete Unit 184.
#5. INCREASE LIGHTING
If your multipurpose room is now being used as a home office, then you may have to add more lighting options. Natural light is the best but for a home office you may want to consider adding an adjustable desk light for computer work and tasks. Remember, however, to avoid direct overhead lighting. Facing the window instead of having your back to the window will help your computer screen's visibility at certain times of the day.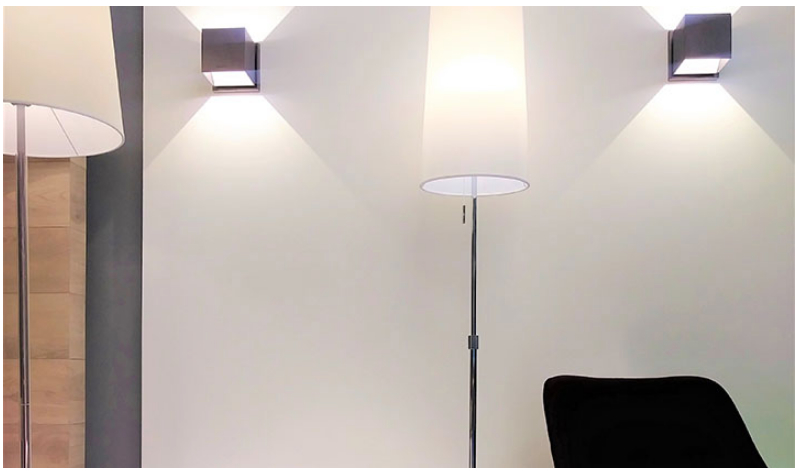 Check out the lighting specialists, like Tubicen Unit 282 & 283 at Improve Canada


For more renovation ideas check out:

7 DESIGN TRENDS THAT HAVE EMERGED FROM THE PANDEMIC

SMALL SPACE RENOVATIONS – TIPS AND IDEAS FOR RENOVATING A SMALL SPACE