10 Tips For Easy Kitchen Renovations
---
Most families spend a fair amount of time in and around their kitchens and this makes sense, it's the heart of the home, where we eat meals, play board games, gather around, work, and so much more.
Now as we spend a lot much more time in our homes and kitchens than we ever imagined, your space may be in need of a refresh.
If you are budgeting or don't want to take on a full renovation, here are a few easy tips that can breath new life into any tired old kitchen.
10. ADD WINDOW TREATMENTS
When we think of window treatments, many of us think of our grandmother's eyelet curtains. Today's window treatments, however, are modern, stylish, and practical and can really help transform any space, even kitchens.

Faux wood blinds or shutters are an ideal for a kitchen window above a sink or near a stove, also known as splash zones. They are durable, won't fade or warp and easy to clean while also providing lighting control and privacy.
Roman shades, fabric roller shades or wood shades (woven wood shades are made from natural materials, such as bamboo, grasses, reeds and jute) are another great option to freshen up your kitchen windows. They work really well in today's neutral monochromatic kitchens and are an easy way to add a pop of colour, patterns or textures.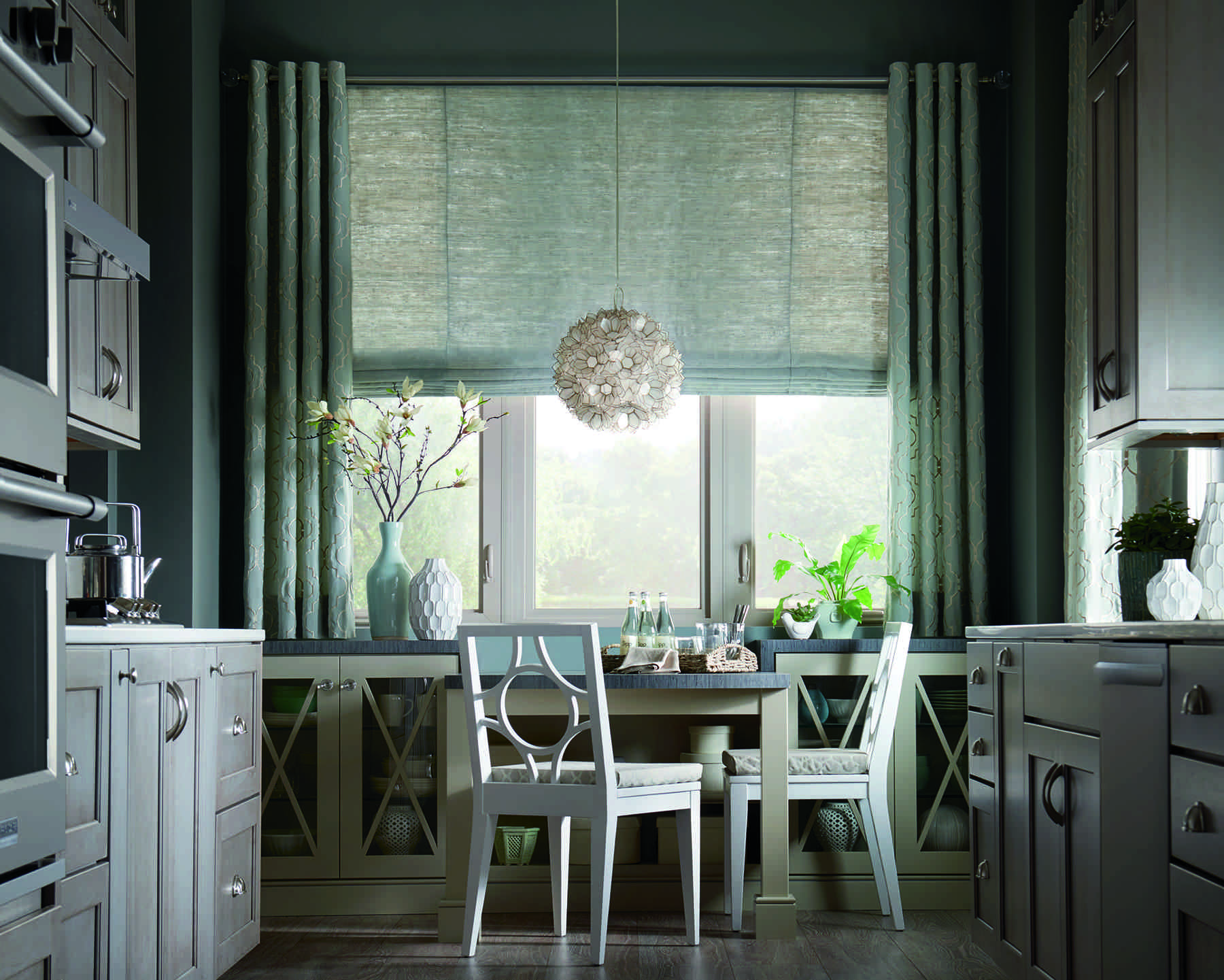 A drapery and roman shade combo provides a subtle elegance to this breakfast table. Trendy Blinds Unit 200-201
Cellular shades are similar to other shades but provide a layer of insulation that helps improve overall energy efficiency. Cellular shades are constructed with honeycombed shaped air pockets or cells and that provide a layer of insulation between your window and the room temperature. A great option for homes in extreme climates and kitchens with a lot of windows.
9. UPDATE YOUR KITCHEN FLOOR
Changing up your kitchen floor tiles can undoubtedly transform your kitchen. However, this is not a DIY job and you will have to remove the lower cabinets to do the job properly. Some people cut around the existing tiles around the cabinets to avoid having to remove them completely, but I wouldn't recommend this. Changing your floor is a great idea and will have a big impact but it's also a big job and should be done by a professional. There are so many beautiful tiles available today you can do some really cool things.

RELATED: FLOOR TILES – TOP 5 BENEFITS OF FLOOR TILES
Still, because the kitchen is a high traffic area and has water sources, I would always suggest avoiding wood flooring and using porcelain or ceramic tile. Porcelain and ceramic tile are more durable, and easier to maintain. Plus, the colours and styles are limitless and there are even tiles that can nicely mimic wood flooring.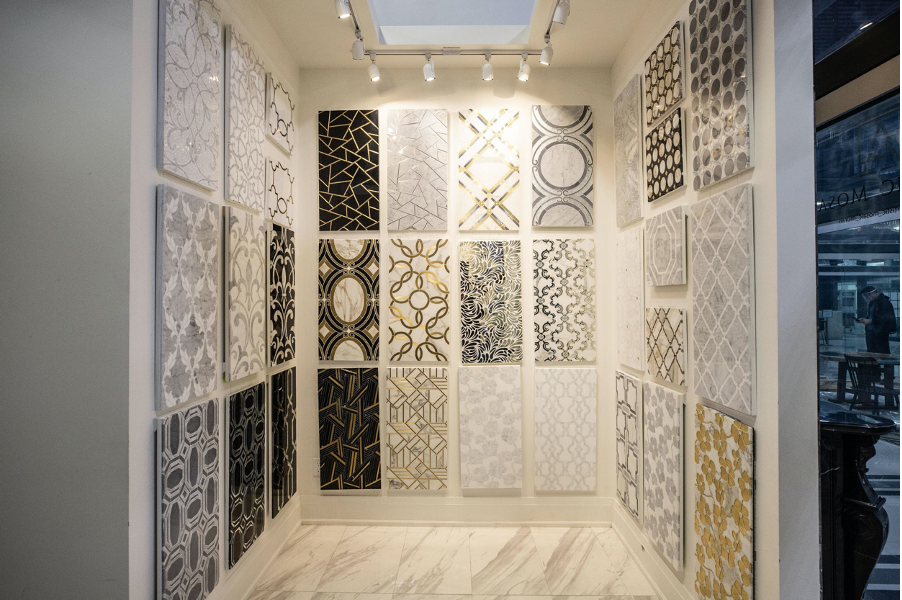 Lots of great patterns to add some flair to your kitchen. Artistic Mosaic Unit 70



8. CHANGE OUT YOUR KITCHEN SINK
Changing out your kitchen sink is another way to breathe new life into your kitchen. There are two types of kitchen sinks: drop-in or topmount sinks or undermount sinks. Drop-in or topmount sinks rest on top of the counter with a rim and can be installed on any countertop material, secured with clips underneath. They are easy to install and a great choice for an affordable way to update the look of your kitchen. Plus, sinks now come with a wide variety of accessories, including cutting boards, drying racks, and utility trays.
Undermount sinks are also a great choice but tend to be more expensive, and you will need to contact a granite fabricator to do the install as they will have to cut out the existing sink and attach the new sink. Also, undermount sinks can only be used with solid surface countertops, such as granite, marble or composite.
Stainless steel is still the most popular. However, many manufacturers are introducing different finishes, like black and white granite, porcelain and enameled cast iron and copper. If you can, it's a good idea to update the sink at the same time you update your faucet.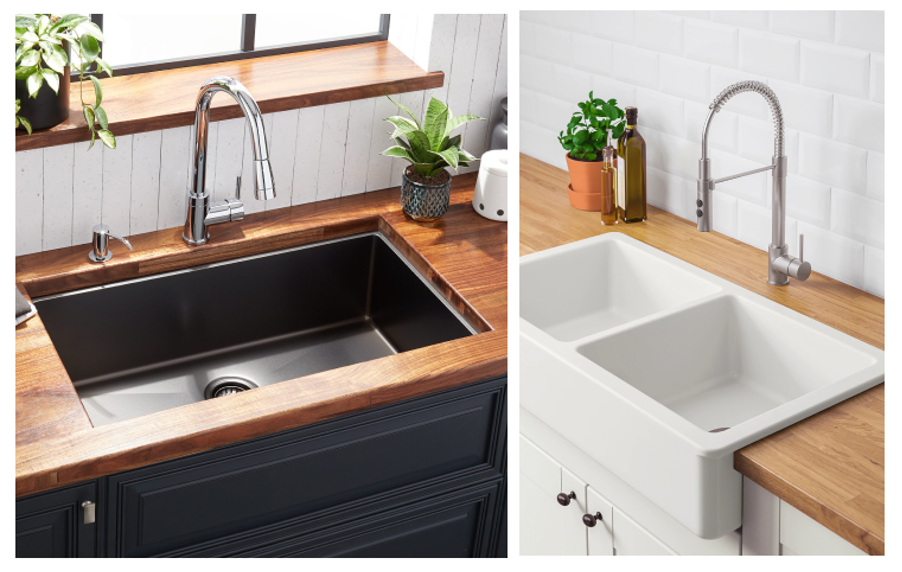 Sinks come in many styles, colours, and finishes. Bathroom & Kitchen Galleries Unit 187, 188
7. CHANGE YOUR KITCHEN COUNTERTOP
Changing your countertop is a big job. I wouldn't recommend it unless you are changing your lower kitchen cabinets or adding an island, but with the hundreds of colours, designs and material choices upgrading your kitchen countertops will certainly freshen up your kitchen.
Quartz and granite continue to be popular choices for countertops as they are both easy to maintain and durable. However, unlike granite quartz is non-porous, making it virtually maintenance free. Not to mention the endless colours and design styles available and that can also mimic natural stone, slate and marble.
If you don't want to do a major renovation, some companies can overlay a new quartz countertop over your existing surface. This custom sized overlay can be installed over virtually any countertop surface including existing tile, laminate, stainless steel, granite or butcher-block.
Moreover, lots of homes have laminate or Formica countertops and if screws were used to keep it in place, then you should be able to remove the countertop without damaging the existing cabinets. Laminate and Formica countertops have come a long way since the 60's and are a good economic alternative to quartz or other stone countertops. They come in a wide range of colours and design choices that will provide a modern feel to your kitchen.
And, if you are feeling really creative laminate countertops can be painted, covered in concrete or a resin finish to create a completely new look.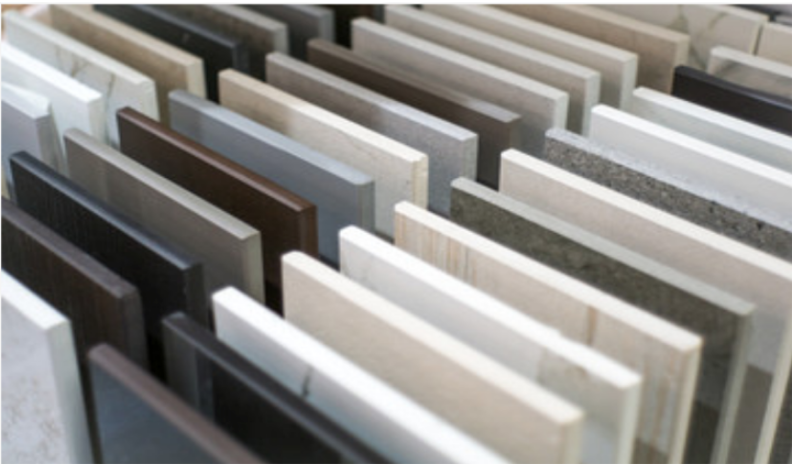 GTA Countertops Depot Unit 295 can help you transform your kitchen no matter how big or small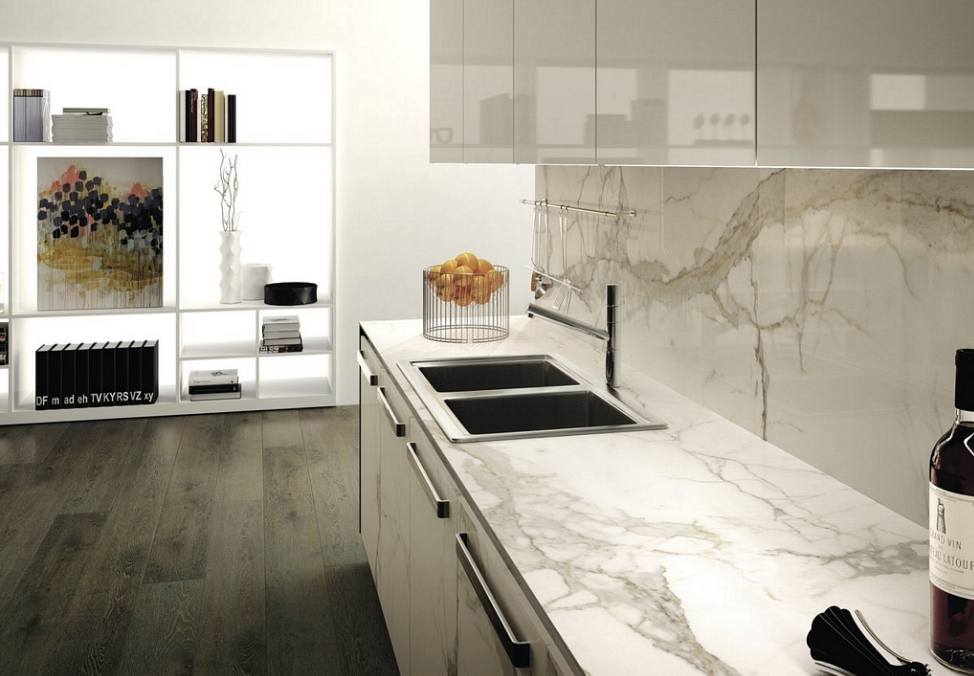 Surfaces for All Purposes, Unit 374 & 375 at Improve Canada
6. UPDATE YOUR KITCHEN APPLIANCES
Like most things, appliances have a shelf life. On average, fridges last about 13 years, gas ranges about 15, and dishwashers about 9 years. Chances are, they aren't going to breakdown all at the same time so if you are considering freshening up your kitchen appliances and they are more than halfway through their lifespan then you might want to consider investing in new ones.
Appliances today, are much more energy-efficient, come with SMART technology, and a wide range of colours, finishes and sizes that allow you to freshen up your space. A word of warning, make sure you triple check the size of your new appliances and make sure they will fit with the existing spaces and be able to get through the access door. Also, allow 1" on every side for the fridge – this allows airflow and prevents the fridge from over heating. And finally, make sure you do a door test to allow for opening the fridge door, oven door and dishwasher door. You should always make sure you have sufficient room to work around the space.
5. CHANGE UP YOUR LIGHTING
Changing your kitchen lighting can improve the functionality and overall ambiance of the space. Ever say to yourself, "the light just isn't good here"? – I think most homeowners say this once or twice. Adding or switching out a new set of pendant lights over a kitchen island or breakfast niche or table can brighten up the room and provide extra lighting for having meals or even schoolwork.
Add more light to your kitchen with under cabinet lighting. LED lighting strips or light bars are easy to install, long-lasting, and energy efficient without emitting a lot of heat. Plus, they come in a variety of colours (warm, cool and multicoloured) with programmable sequences.
RELATED: KITCHEN LIGHTING: GREAT WAYS TO LIGHT UP YOUR KITCHEN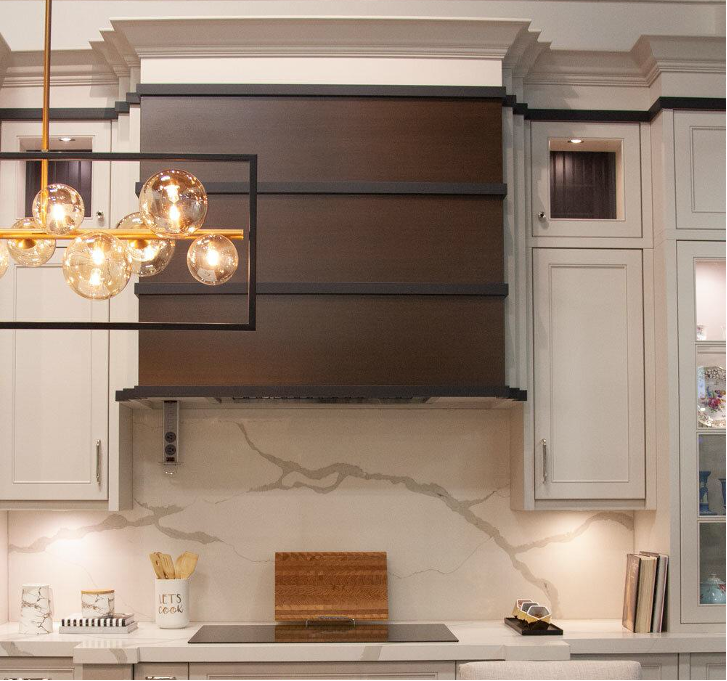 If working with a design professional they may have suggestions for light fixtures to fit your kitchen space. Design by Azure, Unit 25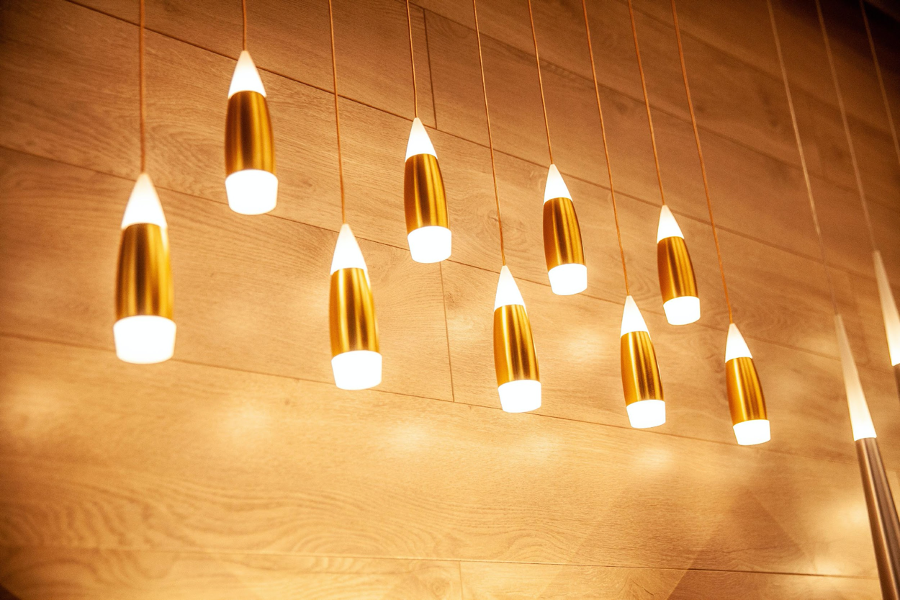 Horizontal lighting fixtures can go great above an island. Tubicen, Unit 282, 283
4. GLAMOUR UP YOUR WALL OR WALLS
A simple and easy way to brighten up a kitchen is to paint the walls or create an accent wall. Painting the walls is a relatively easy job that most homeowners can do themselves, but do your homework, and be prepared and organized with all the necessary materials.
RELATED: PAINTING TOOLKIT – YOUR INTERIOR PAINT JOB TOOLKIT

Another idea, that will add some fun to any blank kitchen wall is to install a large blackboard. You can write inspirational messages, reminders, or have it be a creative space for your kids. You can choose between building a chalkboard with a frame or simply create one on the wall with blackboard paint. There is even blackboard paint that is also magnetic, so double the fun.

I'm big fan of adding a splash of colour and personality with a piece of artwork on a blank wall and the best part is you can have a couple of pieces on hand so you can switch them out depending on our mood or season.
Need an area to show off books, cookware? Why not install some floating shelves. These shelves can provide a clean, uncluttered illusion of "floating", adding a light and airy element to any wall while still being functional. Floating shelves are a great way to display cookbooks, plates, canisters, houseplants or herbs.
And finally, another great way to spice up a wall is to add a backsplash. A backsplash area can be large or small and can become a focal point with some funky tiles and imagination. There are endless possibilities with so many different types of tiles available.


RELATED: 25 AWESOME KITCHEN BACKSPLASH IDEAS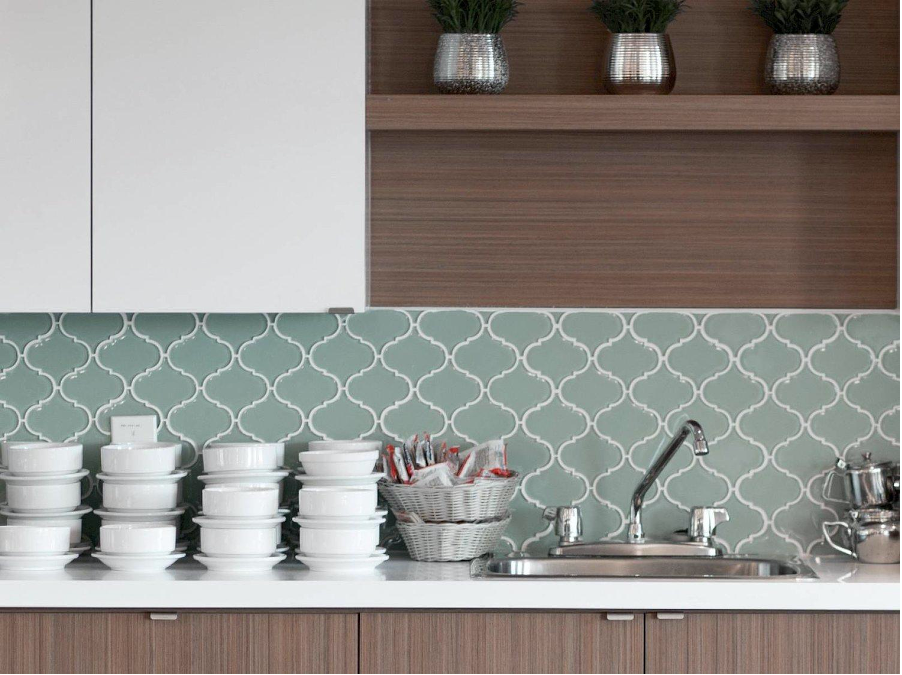 Add some patterns in your backsplash to contrast the solid cabinetry and add life to your kitchen. Metropolitan Tile & Stone, Unit 275
3. CHANGE UP YOUR HARDWARE
One of the easiest things to do is swap out your existing hardware (door handles) with something new. This is also a good time to find hardware that matches or complements your new sink or faucet. Single knobs will be the easiest to replace as you can always use the same holes. There are tons of different styles to choose from like metal, ceramic, and glass. Hardware comes in many colours too – matte black seems to be one of the trending colours for 2021, along with copper, gold and brushed nickel. But what if you want to use drawer or cabinet pulls? You still can, but it will work much better if you are also planning to paint your cabinets as the single hole will have to be filled in with wood filler, properly sanded and painted before new holes can be created for the drawer pulls.
2. UPGRADE YOUR CABINETRY
Upgrading the cabinetry in your kitchen can transform the space without doing a total gut. Consider replacing just the cabinet doors and drawer faces, especially if the actual cabinet box is in good shape and secure. If you have an Ikea kitchen or are in the process of purchasing one but looking for a little custom addition to suit your design and needs, then I suggest you visit Vangarde Cabinet Design and Factory at Unit 79. They specialize in cabinet fronts and accessories that fit Ikea kitchens, simply taking all the benefits of an Ikea kitchen and making it better. Vangarde has a wide variety of cabinet doors ranging from textured to ultra surfaces and high gloss finishes, so you're sure to find something that matches what you're looking for.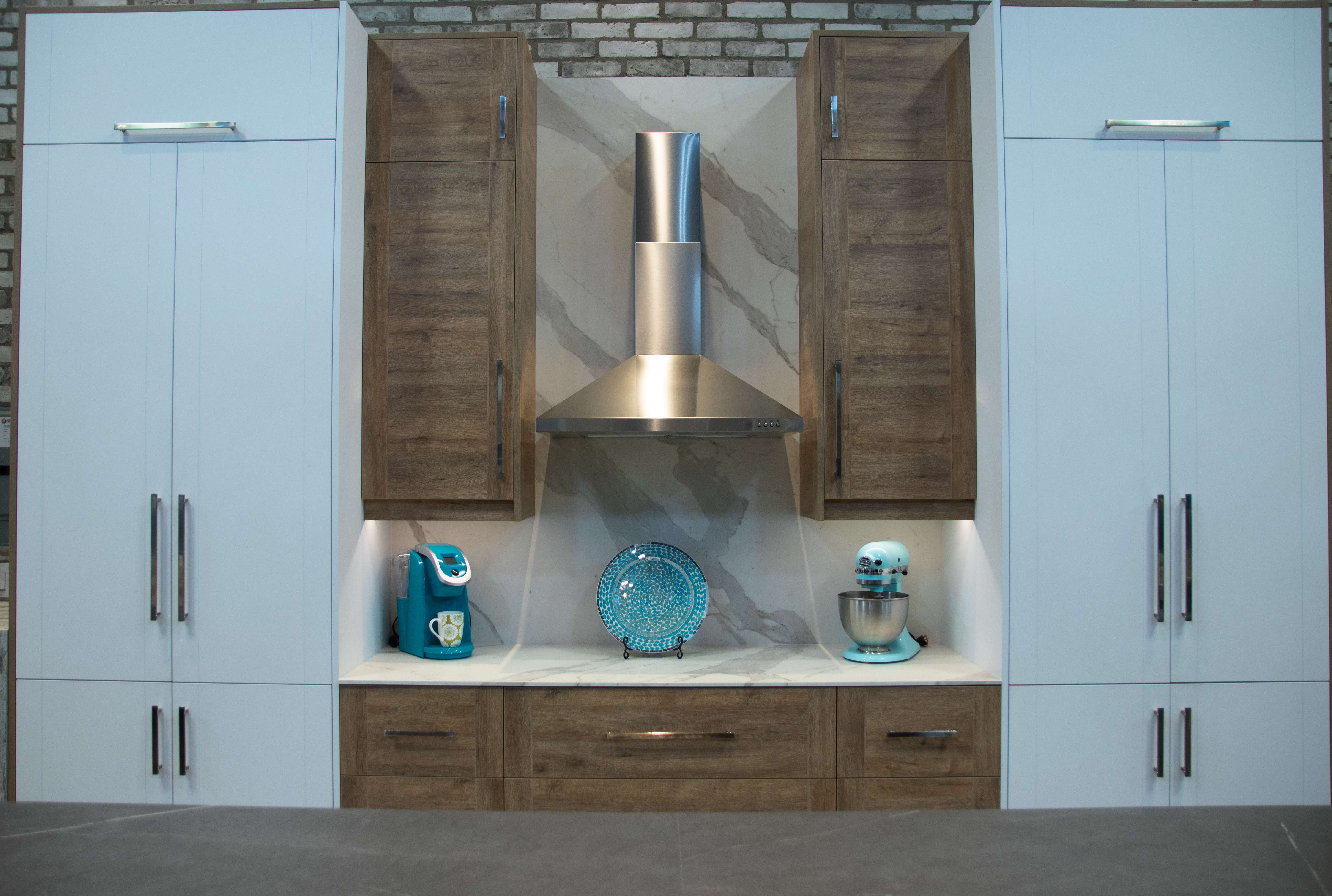 Vangarde Cabinet Design and Factory, Unit 79 can beautifully upgrade your Ikea Kitchen
Another option is to paint your existing cabinet doors. If they are in good shape, this is a route you should consider for an easy and quick upgrade to your kitchen. Wood cabinets are the best material to paint but make sure they are in good condition – if they are warped or chipped then you might have to replace the cabinet doors all together. Choose semi-gloss or high-gloss paint as the finish helps reflect light and is more durable. For contrast, use a darker colour on the bottom with a lighter shade on the upper cabinets.
And a final note, painting kitchen cabinets is a big job! Be aware of the tremendous amount of prep that is required - from removing the cabinet doors, drawers and hardware to thoroughly cleaning all the surfaces, sanding, priming, painting several coats, drying and then putting it all back with new hardware. Plus to get a professional look you should be using a spray gun to apply the paint and not a paintbrush. There are a lot of things to consider, so you might also want to think about hiring a pro!
1

. CHANGE YOUR FAUCET
Having the right sink faucet is key to a functioning kitchen. Whether you have an island sink or one that's part of the perimeter countertop, many different faucets are available with varying functionality and features as well. Of course, you want it to look great but don't forget to consider height and reach, pull-down sprayers vs. conventional, number of holes and handles in the sink set as well as finishes. For example, you may want to consider a faucet with a ceramic valve as they tend to function better, last longer, and do not drip.
The height is more of a concern if your sink is below a set of cabinets versus an island sink; but always remember to measure to make sure it will suit your needs. Faucet with ceramic values as they tend to function better, last longer and do not drip.
The range of finishes has exploded in recent years but I always suggest that you pick something that either matches, or complements your cabinet hardware. Chrome tends to be the most popular as it is durable and easy to clean compared to other finishes like nickel or bronze. Brushed nickel and satin finishes are durable too but tend to easily show fingerprints and water spots, and can chip or wear over time. The same goes with bronze finishes, which are typically called "oiled or rubbed".
Most sinks have 3 holes, one for the hot and cold water and one for the spout. However, if you want to switch to a more practical single-handled faucet, most brands include a cover plate to hide the extra holes. Single handled faucets are easier to use, and water temperature adjustments are more effortless too. There are many innovative faucets that have also hit the market in recent years, so you may also consider getting a faucet with a pull-down sprayer as they are much more practical than conventional sprayers. Motion-sense touchless faucets have recently become very popular as well, as part of a new healthy home movement.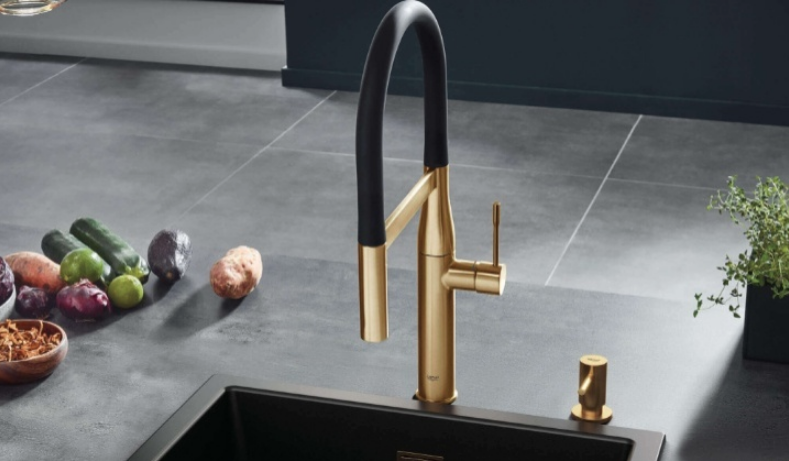 Pyramid Home Improvements, Unit 111 offer a wide selection of kitchen faucet brands, like Grohe and Moen.
For blogs on kitchen improvements and more check out:
RELATED: 15 WAYS TO UPDATE YOUR KITCHEN ON A BUDGET
5 TIPS TO GET THE MOST OUT OF YOUR MULTI-PURPOSE ROOM